This EP is a research paper and love letter to wildfires and the feedback loops of change.
Surf Philosophies released their debut album last year and they are now working on the follow up.
Today they are releasing a perfect in-between EP. An EP of compressed creativity.
The leading track - Seven Words - is a cover of the artist Weyes Blood.
All the other tracks are remix/collaborations in an all female compilation.
Lolina is the world well known electronica artist that also goes under the name Inga Copeland and been in the project Hype Williams.
Artist: Surf Philosophies
Title: Cherrytini EP
Label: Adrian Recordings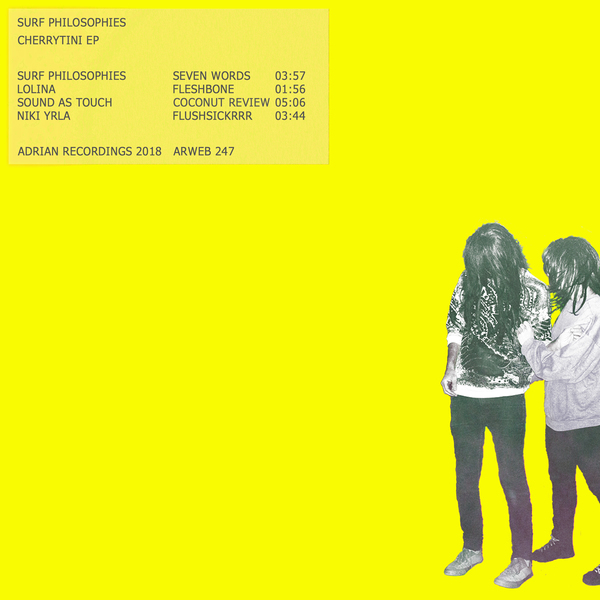 1. Surf Philosophies - Seven Words (Weyes Blood Cover)
2. Surf Philosophies & Lolina - Fleshbone
3. Surf Philosophies & Sound As Touch - Coconut Review
4. Surf Philosophies & Niki Yrla - Flushsickrrr
Listen to their debut album here:
Surf Philosophies - Surf Philosophies

"We asked several artists we admired to scorch our record and grow new fruits from the burnt pieces. In addition to Lolina (Inga Copeland), Sound As Touch and Niki Yrla's wild remixes we have re-imagined one of our favourite artist's songs Seven Words by Weyes Blood. In her press and photos for Weyes Blood's record "Front Row Seat to Earth" she posed amongst the deserts and mountains of Salton Sea and the plastic dinosaurs along the 10 out past Palm Springs. Late last year wildfires swept California and torched vast swathes of forest along the coast and even as close as the Getty in the city.

This Ep recognises the natural inexplicable power of burning away the present.
Only to discover a new nature.
From us to you, this Cherrytini is raised in defiance."
- Surf Philosophies
Adrian Recordings
magnus@adrianrecordings.com
www.adrianrecordings.com
ALICE BOMAN ANDREAS TILLIANDER BITCH HAWK BJÖRNS VÄNNER BOEOES KAELSTIGEN DAVID & THE CITIZENS DAVID FRIDLUND DEN SVENSKA TYSTNADEN DMITRY FYODOROV DÖDEN EDDA MAGNASON EMIL JENSEN FAMILJEN HENRIC CLAES HEY ELBOW JONAS LUNDQVIST LAAKSO LATELY LA LA MARCUS CATO MARCUS NORBERG AND THE DISAPPOINTMENTS MEDBORGARBANDET MF/MB/ OLD POIZON_SW3 PRINTER RA SHARIF SHE'S WILD AGAIN TONIGHT
SURF PHILOSOPHIES
SVART KATT THE BEAR QUARTET THE FINE ARTS SHOWCASE THIS IS HEAD ULF STURESON VED YAST NEED FOR SPEED BO MEHR