PALESTINIAN CHURCHES WELCOME ISRAEL BOYCOTT
Mitri Raheb, a Palestinian pastor of the Evangelical Lutheran Church in Bethlehem in Palestine welcomed the vote saying: "For Palestinians [Muslim and Christian] living under Israeli occupation this vote sends a strong signal that Palestinians are not alone, and that there are churches who still dare to speak truth to power and stand with the oppressed [Palestinians].
Click here for info.
PALESTINE SCARFS FOR SALE: SMALL R60, BIG=R150

Authentic Palestinian scarfs are available from BDS SA offices in Johannesburg and Cape Town. Alternatively send an email to shop@bdssouthafrica and we'll arrange for it to be mailed to you at a minimal cost. All BDS SA sale proceeds (of hoodies, golf shirts, tshirts, scarves, books etc.) go toward the running costs of BDS South Africa. Small scarfs are R60 and big scarfs are R150.
Click here for more information or to buy.
BDS SOUTH AFRICA

BANK: First National Bank
NAME: BDS South Africa
NUMBER: 62273997943
BRANCH NAME: Rosebank
BRANCH CODE: 253305
SWIFT CODE: FIRNZAJJ
 
BDS SA, is a registered Public Benefit Organisation (PBO) with Section 18A tax-deductible status. This means that any donations made to us can be used to apply for tax exemptions. Kindly send copy of proof of payment to finance@bdssouthafrica.com / 0866664995 for receipt.
JOIN BDS SOUTH AFRICA'S EMAIL MAILING LIST
To join BDS South Africa's email mailing list (& receive these newsletters) send a blank email message to alerts@bdssouthafrica.com
BDS VICTORY: UNITED CHURCH OF CHRIST VOTES TO BOYCOTT AND DIVEST FROM ISRAELI OCCUPATION

The United Church of Christ (UCC) with over 1.1 million members and over 5000 churches, has overwhelmingly voted by a two-thirds majority to boycott
Israeli settlement products a
nd divest from companies that profit from Israel's illegal occupation (such as G4S Security, Caterpillar and others). 
The United Church of Christ's pension board and investment fund together are worth over $4 billion dollars.
The landmark vote took place at the church's 30th General Synod in Cleveland, Ohio where 508 delegates voted in favour of the boycott Israel motion, 124 voted against the motion, while 38 abstained. A second resolution, which called the actions of Israel against Palestinians "acts of apartheid" received 51 percent of the vote — 312 for, 295 against and 31 abstentions but not a two-thirds majority.
Rev. John Deckenback of the UCC said after the vote: "As disciples of Jesus, we hear and seek to heed his call to be peacemakers, responding to violence with nonviolence and extending love to all. It is in that spirit of love for both Israelis and Palestinians, and a desire to support Palestinians in their nonviolent struggle for freedom, that the United Church of Christ has passed this resolution."
Click here for more information.
PRO-BOYCOTT JEWISH GROUP WELCOMES UCC VOTE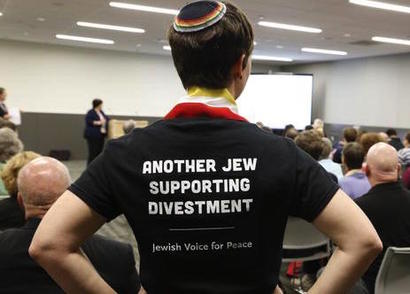 The Jewish organization Jewish Voice for Peace (JVP) has expressed its support for the United Church of Christ (UCC) boycott of Israel vote. JVP board member Lev Hirschhorn praised the church saying that the vote is a "a courageous step [putting] words into action...we're on the precipice of a new political moment. Progressives are speaking up, and it's only a matter of time until Israel is held accountable for its human rights abuses."
Boycotting Israel is not anti-Semitic and not anti-Jewish. In fact, a growing number of peace and justice loving Jews (and progressive Israelis) are beginning to not only support but also advance BDS boycott of Israel campaigns as a non-violent way to pressure Israel to end its violations of international law and human rights abuses against the indigenous Palestinian people.
Today's non-violent boycott, divestment and sanctions (BDS) movement (like the anti-apartheid movement of the 1980s) is a place for all peace and justice loving people: black and white, Muslim and Christian, young and old, Jewish and Hindu. Its on the BDS picket-lines and the picket lines of struggle that we truly find each other. Are you with us? Click here for more information.