We are proud to present a brand new solo single from the ever shining star Nina Persson, legacy of The Cardigans, A Camp and much more.
Artist: Nina Persson feat. Thomas Öberg, Moto Boy & !Regeringen
Title:
Var ligger Sverige?
Produced
by !Regeringen
Music
& Lyrics: Thomas Öberg & !Regeringen
Label:
Adrian Recordings
Release
date: OUT NOW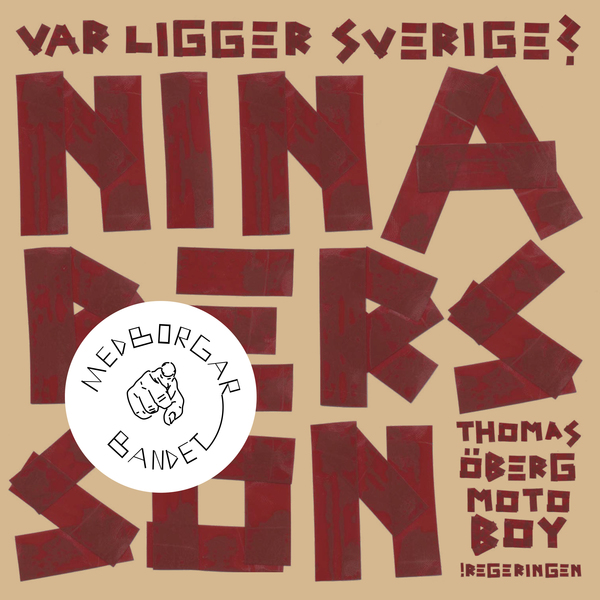 Nina Person is on of Swedens most celebrated and respected singers and songwriters ever, her work in The Cardigans and A Camp has given her indisputable legend status and world reputation.

"Var ligger Sverige?" is the first single where Nina sings in Swedish. On the track we can also hear two other well known voices, Thomas Öberg (bob hund) and Moto Boy.

"Var ligger Sverige?" speaks with a contemporary voice about democracy, citizenship, refugees and the importans to talk to each other about our common society. It is all that and also just a really good pop song.

The track is taken from an upcoming 5 track EP with music inspired and taken from that performance. The artists collaborations is among the best and most creative you can find in Sweden at the moment. Look forward to music from artists Nina Persson, JOY, Panda da Panda, Kristin Amparo, Moto Boy, Thomas Öberg, !Regeringen & Selma Modéer Wiking.
Nina Persson is here performing as a solo artist but she is also a part of the Swedish "Medborgarbandet" a collective inspired by "The Citizens Band" in New York that Nina participated in during 10 years. As its precursor in New York, "Medborgarbandet" here in Sweden, puts up contemporary cabarets. During 2018 the performance "Vinnaren tar allt" will premiere at Malmö Stadsteater in Malmö and go on tour to the rest of Sweden. Among the actors, performers and contributors you will find Emil Jensen, Jenny Wilson, Joy M'Batha, Panda da Panda, Thomas Öberg, Kristin Amparo, Athena Farrokhzad, Nina Persson and many more.

Adrian Recordings
Sweden

magnus@adrianrecordings.com
www.adrianrecordings.com

Marcus Norberg and the Disappointments
The Fine Arts Showcase
Den svenska tystnaden
Boeoes Kaelstigen
Andreas Tilliander
The Bear Quartet
Surf Philosophies
Dmitry Fyodorov
Jonas Lundqvist
Edda Magnason
Björns vänner
Alice Boman
This Is Head
PoiZon_Sw3
Lately La La
Ulf Stureson
Emil Jensen
B Hawk
Hey Elbow
Svart katt
Familjen
DÖDEN
MF/MB/
Laakso
YAST
VED
OLD
Cato
RA