A Message from the Executive Director
On Wednesday, February 6, 2019, Mundelein Community Connection hosted its "26th Annual Awards and Fund-Raising Event" at Dover Straits Restaurant-Mundelein.  Fifty-six guests attended our Annual Dinner and the 2019 Board of Directors was installed:  Sybil Schechter-Kelly-President, Gerald Brin-Treasurer, Nancy Piasecki-Secretary, and Directors: Tony Christie, Mike Flynn, Ray Mullen, Gary Gunther, and Christopher Piazzi-our new Director.
Among our guests were Steve Lentz, Mayor of Mundelein, Peter Vadopalas, Assistant Village Administrator, Trustees: Dawn Abernathy, Bill Rekus, and Robin Meier; Ray Ladewig-our volunteer Santa, Stephanie Smith-Howard-our Mrs. Claus volunteer, and Carol Levin, GLMV Chamber of Commerce Marketing Director.  Thank you to ACE Hardware-Mundelein, Dover Straits and all the other raffle donors. 
During the event, MCC presented the "Leland "Trig" Watson, Jr. Business Of The Year Award" to McDonald's-Mundelein (their support and generosity at all our events is unbelievable), the "Dr. Chester Ciecko Organization Of The Year Award" to The Kirk Players (the happiness that they bring to our community is spectacular) and the "Debbie Mullen Volunteer Of The Year Award" to Lars Rasmussen (his desire to help and support at our events is incredible).  These awards acknowledge the efforts of this special business, organization and individual, and inspire the many volunteers who share the "heart and soul" of MCC.   
Thank You!
Village of Mundelein Announces 2019 Gold Star Business Awards
MCC would like to congratulate year's Gold Star Business Award winners.  The Gold Star Business Awards Program, an initiative spearheaded by the Mundelein Economic Development Commission, recognizes Mundelein businesses that have made a significant contribution to the community or have achieved notable success in their industry.  The 2019 honorees are:
Patterson Glass:  located at 888 Tower Road, owned and operated by master glass blower Peter  Patterson.  Peter has been making glass art, and teaching the art of glassmaking for over 40 years.  He is one of a handful of successful art entrepreneurs operating in the Village.


Gustafson's Body Shop:   23 West Maple, owned by the Hoskins family since 1975.  A certified repair facility for 12 major car manufacturers, Gustafson's is a long-time supporter of Park-on-Park, Lochfest, Mundelein Police Department and Mundelein Community Days.


Karina's Bakery:  401 N. Seymour Ave., this family-owned bakery has operated in Mundelein since 1999.  The newly remodeled, 3,700 square foot, former bank at the corner of Hawley and Seymour is a wonderful addition to downtown.


Los Magueyes Mexican Grill:  660 South Street, specializing in Mexican seafood dishes. In September 2018 the owners sponsored Celebrando Nuestras Fiestas Patrias festival at Lake Plaza. A popular celebration of Mexican Independence Day.
Park on Park Cruise Nights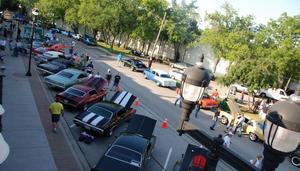 Park on Park Cruise Nights opens its 19
th
season on May 8th, showcasing the best assembly of pre-1977 classic cars in Northern Illinois.   Park on Park is held on the 2
nd
Wednesday of the month, May thru September from 5 pm to 8 pm at the intersection of Seymour and Park Streets in downtown Mundelein.  On a nice night you can expect over 500 cars and at least 1,000 spectators.   This year's on-site food vendors are Lukes, Brothers Ribs, My Funnel cake truck, and Grun n Go.  Dining and libations are available at nearby restaurants and taverns like Greg's Old Town Tap, Karina's Bakery, Tina G's, Emil's or Park Street Restaurant.   Music is provided by DJ Randy Oliver.  For a complete list of our 50 sponsoring businesses from throughout Northern Illinois visit
www.parkonpark.com
.   For more information contact Tony Christie at 847-710-4629 or email
parkonpark@hotmail.com
.   Come out and join the fun.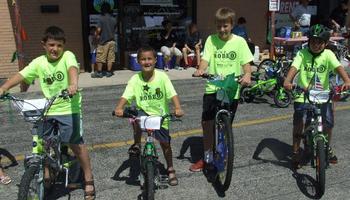 The 2019 Bike Rodeo sponsored by Ray's Bike and Mower, 612 E. Hawley Street, will be held Sunday, June 9th in the Fair Haven shopping center from 10 a.m. to 1:30 pm.
Families with young children are invited to participate in this fun, educational event.  The rodeo focuses on bicycle safety and safe bike riding around Mundelein and throughout the Lake County bike Trail system. Participants learn how to properly fit a helmet, conduct basic bike inspections, learn about family-safe bike rides, obtain copies of the Lake County trail system map, and talk with knowledgeable riders about biking in our community.  Fire truck rides and a bike decorating contest will also be available.
Each participant ages 3 to 13 will receive a free raffle ticket to win a bike bicycle from Ray's Bike and Mower.  Decorate your bicycle at home or at the event.  Prizes will be given for 1st, 2nd, and 3rd place contest winners!  Attendees will be treated to a FREE hot dog lunch, with chips and cookies (while supplies last).  Lunch is served from 11 am to 12:30 pm.
A 3-mile family bike ride through the Fairhaven neighborhood is planned for kids 8 and over accompanied by a parent.  The family ride will be led by Police Officers from the Mundelein Bike Patrol.  
Around Town (Community News)
Restaurant Specials featured for 2019 Downtown Summer Concerts
The MHS Jazz Band will open the 2019 summer concert season on Sunday, May 26
th
at 5 pm at the Kracklauer Park Gazebo stage.  The weekly concert series continue every Sunday through August 18
th
.  A diverse range of music will be featured over the 13 week schedule, including Big Band Jazz, Bluegrass, Country Rock, Latin, Caribbean-flavored rock, tributes to the Eagles, the Allman Brothers, and the Beatles, Symphonic, Swing Jazz, Blues, and Americana.  For more information on the concerts visit the Village (
www.mudelein.org
) or MCC (
www.mundeleintds.org
) websites.
What better way to enjoy a nice summer evening than listening to live music, in the sunshine, with a picnic and refreshing beverage.  New this year, MCC is partnering with 9 downtown restaurants to offer food specials—take-out, or dine-in—on concert nights.  MCC Board member, Mike Flynn explained that: "Over the years, we have tried a variety of ways to add food options to the concerts--food trucks, hotdog carts, on-site restaurant booths—with marginal success.  This year we would try something different—a twist on the restaurant-special concept."  The participating restaurants are:  Jake Moran's, Family Fishery, Emil's, Luke's, Tina G's, Park Street, The Caboose, Taco Burrito Express, and Azteca.  "The process is simple", Flynn added.  "Each participating restaurant will offer a 'Concert Special' of its choice.  It might a discount, a free item etc.  Specials would be either take-out (a picnic-style meal to bring to the concert) or a dine-in option (stop by the restaurant after the concert for a sit-down dinner.  To get the special," Flynn said, "all you have to do is mention that you will be going to the concert and you would like the take-out special, or you are coming from the concert, for the sit-down special."  To find out the special of the week, contact the restaurant. 
MCC Board President, Sybil Schecter-Kelly, said that, "the Board felt this was good opportunity for MCC to drive business to local restaurants allowing them to capitalize on the growing popularity of the Concert Series".  Concert attendance averages 300 to 400 each week.  "Try a different restaurant special every week", she added.
2019 Beerfest Tickets On-Sale Now/Sponsor Opportunities Available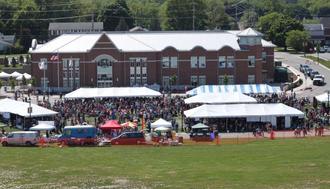 For beer-lovers in Lake County, the highlight of spring and the Kick-Off to summer is the Mundelein Beerfest.  Mark your calendar for June 8
th
from 1 pm to 5 pm at Village Hall Plaza Circle.  Beerfest is MCC's primary fundraiser for the year.  It is a cooperative venture between MCC and Tighthead Brewing Company.  The festival features over 40 craft breweries, each with several draft beers to sample.  Live music by two bands: OTR and the Fox Crossing String Band; plus, bags games, food vendors, a commemorative logo glass and fun, friendly, beer-savvy attendees.  Tickets are available at Tight Head Brewery or at
www.mundeleincraftbeer.eventbrite.com
--$45 in advance ($50 at the door).  Attendance is limited to 2,000 so get your tickets early.
Are you looking for a business promotion opportunity?  Consider becoming a Beerfest Corporate Sponsor.  Two sponsorship levels are available: 
Stage Sponsorship
$1,000; and,
Event Sponsorship
, $500.  Sponsors will receive 2 Entrance Tickets, 2 Complimentary T-Shirts, 2 Commemorative Craft Beer Glasses, Access to the Brewers Hospitality Area, and Signage at each entrance.  Stage Sponsors receive additional signage on the stage and stage announcements.  All sponsors receive the satisfaction of supporting MMC and a great community event.  Interested?  Email
mundeleincc@tds.net
; or contact Terry Skirba at 847-970-9235. MCC is a 501 C(3) non-profit corporation.
Farmers Market Returns for 2019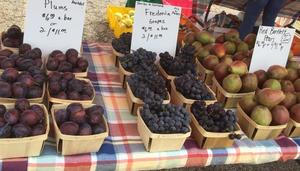 Back in January, we reported in the MCC Newsletter that the future of the Mundelein Farmers Market was uncertain.  "It was not apparent at that time", market manager Gary Gunther explained, "that we would get the mix of vendors we needed to operate a successful market.  As it turned out", he added, "we had interest from a core group of small, local farms, to go along with our regular cheese, meat, bread and specialty food vendors, to provide a nice selection for shoppers."
Opening day will be Friday, June 14th, and open every Friday for 16 weeks.   Yes!  We are returning to Friday's. The Tuesday experiment of 2018 was not popular with vendors or shoppers.  In addition, the market is returning to Park Street between Rt. 45 and Seymour Ave.  Mr. Gunther noted that, "this year visitors will experience a more compact, simplified market, right on Park Street, with convenient parking in the adjacent public parking lot."  Gary feels that, the pleasant, intimate atmosphere of the new layout will be a win-win for the market and the nearby restaurants and retail businesses.
Corporate Sponsorships Now Available for Farmers Market
Along with a new look and a new location, the MCC Board decided to expand its informal business support program.   The new Sponsorship Program provides more benefits and exposure to our business supporters and capitalizes on the fun and vitality of the Market. The following sponsorship levels are being offered:
$100 Level:  
Corporate link on Farmer's Market Facebook; Post on Facebook as a sponsor; Corporate Name on Sponsor Board
$300 Level:  
All of the above, plus: 
Corporate link on Mundelein Community Connection website
$500 Level: 
All of the above, plus: 
Featured article in MCC newsletter
$1000 Level 
All of the above, plus: 
Announcements by "Jazzman", Jeff Justman, periodically during the market