3. Did you en
joy
this Heart Beat? Can you describe the memory of this event in a few words?
I honestly didn't know what to expect from the show as it was my first time playing in Vietnam.
In the end I was blown away by the passion and intensity of the crowd. Seeing people build a
scene from the ground up is always very inspiring. I came away from the show that night with
some great memories and I really hope to have the chance to return one day.
4. We really love Token Records and obviously also many of the artist releasing here we truly
admire and have been our guest as well. You already have your sophomore album out on Token
Metabolism and that is a beauty if we may say so.
a. But what is your own favorite track on Metabolism and why?
Thank you! It's hard to pick a track off the record as I struggle en
joy
ing my own music most of
the time. If I had to pick one I'd say maybe Stabbing or Strobing, these were key tracks for me in
terms of the writing process and discovering what I wanted to say with the record and it's sound palate.
4 b. What makes Token in your opinion such a good label according and can you name another personal
favorite label.
Without a doubt I think Kr!z is what makes It such a great imprint. The label is all him, and he runs it
perfectly. He picks the right artists and gives them as much room as they need to write without interfering
in the creative process. I'm incredibly happy to be working with both Kr!z and Token, it's without a doubt
one of the strongest and most consistent labels at the moment.
Other labels I obsess over are subtext, hospital productions and room40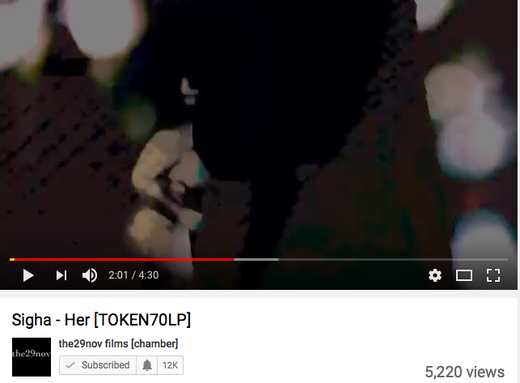 5. Considering your live performance A Vision of Love, could this be possible to do in Asia
considering this is modular? And what made you decide to start with A Vision of Love (AVL)
I played as AVL live in Tokyo earlier this year as part of Berlin Atonals New Assembly Festival.
I travel fairly extensively with a modular set up around Europe for my sigha live shows but bringing
fragile gear further afield can be difficult.
AVL has morphed over the years from a techno project into something that's much more loosely defined.
The focus has shifted on to drone and textural movement rather than beats.
The freedom having this sort of alias grants you is something I find invaluable as an artist.
6. What is one of your favourite all time productions and what is one of your
favourite productions you are now listening to frequently
The Fragile by Nine Inch Nails. I listen to that record at least once a week.
Also virgins by Tim Hecker, in terms of contemporary electronic music that lp is utterly perfect.