SIRA

Notice
Northern Beaches Council COVID update
NSW health has reported 28 cases of Covid 19 on the Northern Beaches (as at midday 18/12/2020).

To assist contact tracing and to contain any potential spread of COVID-19, NSW Health asks that from Friday 18 December to Sunday 20 December 2020, people living in the Northern Beaches Local Government Area take the following steps.
Work from home and remain at home as much as possible.

Do not visit friends or relatives in aged care facilities or hospitals unless essential.
Avoid unnecessary gatherings.
Keep to your household group.
Avoid visiting high-risk venues including clubs, restaurants, places of worship and gyms.
Avoid unnecessary travel outside the Northern Beaches area.

People from outside the area should avoid unnecessary travel to the Northern Beaches during this time.

NSW Health has issued advice about locations where

self-isolation and testing is required
monitoring for symptoms is required
confirmed COVID-19 cases traveled on public transport routes
COVID-19 virus fragments detected in sewage.


---
18 Dec 2020

Following the release from NSW Health last night requesting all Northern Beaches residents stay home for the next three days in an effort to prevent any further spread of COVID locally, Council has taken steps to support the Government's action and protect the health of the community.

Please see the NSW Public Health Alert for more details.

Effective from today (Friday 18 December) and for the next 3 days, Council will continue to operate only essential services such as waste collection, childcare, Meals on Wheels, road maintenance and customer service will be maintained online and via the phone.

However, all other facilities and services will be temporarily closed until Sunday 20 December, including:

Skate parks and playgrounds
Community sporting activities in parks and reserves
Outdoor gyms
Manly and Warringah aquatic centres
All community centres
Glen Street, Dee Why and Forestville library branches and community libraries
Glen Street Theatre
Manly Art Gallery and Museum
Creative Space in North Curl Curl
Manly Visitor Information Centre
Kimbriki Buy Back Centre and the Eco House & Garden
Environmental centres and programs
The Aboriginal Heritage Office in Freshwater
Council managed golf and tennis courts
---
NSW public health alert - urgent call for testing
18 December 2020

​Due to increasing COVID-19 case numbers associated with the Avalon cluster and concerns over wider transmission, NSW Health is issuing an urgent call to all residents of NSW – not only those in the Northern Beaches – to monitor for COVID-19 symptoms.

Anyone in the state with even the mildest symptoms such as headache, fatigue, cough, sore throat or runny nose, is asked to come forward immediately for testing, then isolate until a negative result is received.

The source of these infections remains under investigation, though genome sequencing points to the strain being of US origin.

Residents of the Northern Beaches have been asked to stay home as much as possible over the next three days to assist with contact tracing and reducing transmission.

Anyone in the Northern Beaches LGA has also been asked today to wear a mask when indoors for at least the next 72 hours, excepting your own home.

Confirmed cases of COVID-19 have visited a number of locations around Sydney.

Close and casual contacts:

Sienna Marina, 7-41 Cowper Wharf Road, Woolloomoolo, 11 December, 12-2pm.
Anyone who spent one hour or longer at the restaurant at this time must get tested and isolate until December 25. Other patrons should monitor for symptoms, and isolate and get tested immediately if symptoms appear.
Pilgrims Vegetarian Café, 97 Gerrale St, Cronulla, 16 December 11.30am-2.30pm
Anyone who was at the café during this time for one hour or more must be tested immediately and isolate until 30 December. Other patrons should monitor for symptoms, and get tested immediately if they appear.
Cronulla RSL Club, 38 Gerrale St, Cronulla on 16 December, 5pm to closing time.
Anyone who was at the RSL at this time must get tested and isolate until further notice. Close contacts will need to isolate until 30 December.
Anyone who attended the following locations is considered a close contact and must get tested and isolate for 14 days regardless of the result:

Hair by Erika, Village Shopping Centre Lane Cove, 11 December, 3.30-5pm
Rusti Fig Café Newport, 12 December, 9-10am
• Salon of Hair Turramurra, 15 December, 10am-3pm, and 16 December, 9.30am-3.30pm
People who have visited the following locations are casual contacts, and should get tested immediately and isolate until they receive a negative result:

• Coles Newport, 11 December, 5-7pm, and 12 December, 3.15-3.30pm
Hills Florist, Terrey Hills, 12 December, 8-8.45am – close contacts have been contacted directly by NSW Health
Restaurant Lovat, Newport, 12 December, 2.15-2.25pm and 4.10-4.15pm
Nourished Wholefood Café, Avalon, 12 December, 7.30-7.40am
RAN Sailing Association Darling Point, Navy Bear Café and Christmas party, 13 December, 10am 4pm
Sabiang Thai Restaurant, 4/49 Old Barrenjoey Rd, Avalon Beach, 13 December, 6-8pm
Seven West Media Building, 8 Central Ave, Eveleigh, 14 December, 8-11.30am
Mentmore and Morley Café and public toilets, 55 Mentmore Ave, Roseberry, 14 December 10am-3pm
Harris Farm, Mona Vale Plaza, 14 December, 11-11.10am
Paris Seafood Café, 136 Cronulla, 15 December, 8.30-9pm
Cronulla Mall, 15 December, 8-9pm and 16 December 11am-12pm
Blend @ Grantham Café, Riverstone, 16 December 11-11.45am
Westfield Bondi Junction, 15 December, 1-2.30pm
Forest Way Fruit Market, 2 Myoora St, Terrey Hills, 16 December, 4-4.10pm
Transport

Confirmed cases travelled on the following transport services. Other passengers are considered to be casual contacts, and should get tested and isolate until a negative result is received.

Ferry from Palm Beach to Wagstaffe, 16 December, 6.15pm-6.35pm
Forest Coach Lines buses between Forestville and the CBD

Route 273, 15 December, Departing Jamieson Square, Forestville, 7.10am and arriving QVB, 8am
Route 271, 15 December, Departing QVB 5.25pm and arriving Austlink Business Park Belrose 6.28pm
Route 273, 16 December, Departing Jamieson Square, Forestville 7.10am and arriving QVB, CBD, 8am
Route 271, 16 December, Departing QVB 5.25pm and arriving Austlink Business Park Belrose, 6.28pm
Many other locations have been added to the list of venues of concern visited by confirmed cases in recent days. The complete list of these venues are available on the NSW Health website www.nsw.gov.au/covid-19

Everyone is urged to ensure they maintain physical distance at all times. Please wear a mask in places where this is not possible, such as on public transport and in taxis and rideshares, in supermarkets, shopping centres and at places of worship.

All businesses are urged to ensure full compliance with their COVID-Safe plans, including appropriate electronic recording of patrons' contact details.

There are more than 300 COVID-19 testing locations across NSW, many of which are open seven days a week. To find your nearest clinic visit https://www.nsw.gov.au/covid-19/how-to-protect-yourself-and-others/clinics or contact your GP.

Source - https://www.health.nsw.gov.au/news/Pages/20201218_02.aspx










---
Community Vehicle Xmas Notice
---
Church Point Ferry Service

CHRISTMAS SERVICE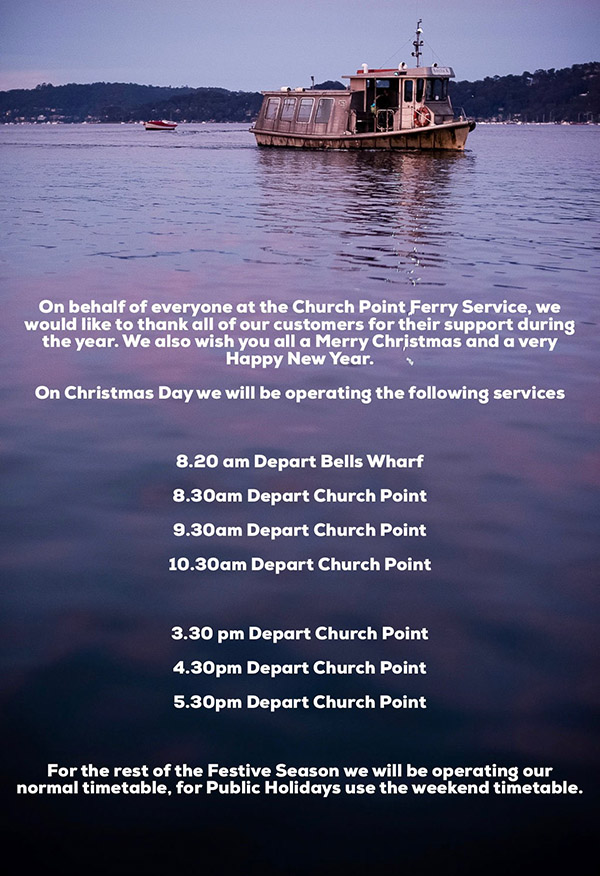 ---
Sewpro Pty Ltd - Holiday Closure

Dear residents

Thank you again for your local support throughout 2020

I will be away on leave from 22nd Dec 2020 to 18th Jan 2021

Merry Christmas and Happy New Year!

Best regards, your offshore plumber
Steve Blackwood



---
Polycraft For Sale
---
For Six Months or more at a reasonable cost
Scotland Island, Elvina or Lovett Bay areas .
Retired active couple used to Island living
Starting this year or next .
We own our home on South Coast but would love to return to Pittwater in the near future .

Tel 0435758776 or 0414604748
---
---
---
To Contribute
If you would like to contribute to this newsletter it's easy!. Send an e-mail to the editor (editor@scotlandisland.org.au) or by clicking here. Type your contribution (100 words or so would be fine) and assuming it is of general interest to the community, does not include matter of a political nature and is not offensive, it will appear next month.
Subscription Information
To get on and off this newsletter,

click here

or got to:

http://www.scotlandisland.org.au/signup .


To change your address, click the 'modify' link at the bottom of this newsletter or send an email to the

editor@scotlandisland.org.au


---
Follow the PON
---
The Online Local Contacts Guide
Click HERE to load
---
The views expressed in this newsletter are not necessarily the views of the Scotland Island Residents Association (SIRA), or the Western Pittwater Community Association (WPCA)