NEXT TASTING 'THE WINE SYNDICATE' - PITTWATER OFFSHORE GROUP
A number of us have been members of The Wine Syndicate, a highly successful wine buying group, for many years. Tastings have always been conducted on the mainland. We recently arranged to conduct our own offshore tastings and ordering.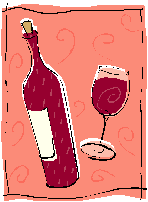 The Wine Syndicate is a wine buying group that has been in operation since 1974. It is a non-commercial, non-profit making group that selects a broad range of wines every 4 months, using its significant purchasing power to obtain very good prices, arranges tastings in some 35 locations around Australia, receives the orders, and organises delivery either to specific pick-up points, or despatches via parcel delivery to the addresses of the members. Its orders per tasting session are around 3000 cases, so it has a pretty good buying clout.
All the wines selected are good quality, and the prices vary from around $6 to $16, meeting the Wine Syndicate's founding purpose – 'cheaper better wine'.
The wines are available only in dozens, but there is always a mixed white and a mixed red, and of course you can arrange to split with your friends, neighbours etc.
The inaugural tasting was held at Paul and Joy Purvis' boatshed back in October 05.
The Second Wine Tasting will be held in Alan and Ruth Gaines' RED boatshed (by water:- short jetty, two jetties North of the Starboard marker on the Eastern side – by land: – 'Shiraz' 71 Florence Tce., next door to Bob Blackwood, look for the balloons) on :-
SATURDAY 25TH MARCH 2006 from 4.30 to 6.30 pm
Please RSVP to Paul Purvis, preferably by Email, by Saturday 18th March (paul@paulpurvis.net) .
Or, if you prefer, ring any of the following:- Greg Roberts 9979 9599, George Gaal 9979 9141, Edna Carew 9979 3490, Paul Purvis 0403 42 764,
We will register you (if you are not already registered). There is no cost or obligation to buy. If you register by 24th March, we'll have time to send out information on the wines for you to study, plus a short history of The Wine Syndicate.
We are organising enough sample wines to cater for 60 people, about the same number as last time.
SO, first in best dressed!
Please bring your best tasting glass, plus a few interesting nibbles that will aid in the tasting process, as well as the information/ordering sheets.
Any wine you order will be ready for collection (or delivered, if that's your choice) around the end of April (dates to be advised).
We look forward to seeing you.