HAPPY ANNIVERSARY HOLDEN HOUSE!
Celebrating 33 Years June 9, 2019
(Then and Now - Sallie & Welling Clark, Innkeepers)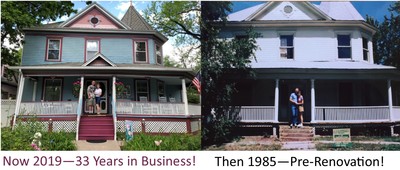 For more information and to make a reservation,
visit
HoldenHouse.com
or call 888-565-3980 to speak personally to an innkeeper.
Reservations can be made via our website 24 hours a day.
*Remember, only when you #BookDirect through our official inn website at
---
---

ROMANCE & SPA PACKAGES -
Your special Summer Getaway is made even more special by taking advantage of our add-on romantic packages! Imagine an ensuite massage, a breakfast served in the privacy of your room or a package that includes fresh roses, breakfast ensuite, rubber ducky and our signature wine glasses. These and more can be yours for an additional fee when you #BookDirect your stay directly with us at HoldenHouse.com. Reserve now to guarantee availability.
---
Summer in the Sun is Fun while staying at Holden House in the Pikes Peak Region! Here are a few of the many local events which take place during the summer season:
---
INN THE KITCHEN WITH HOLDEN HOUSE
Crepe recipe:
2 Tablespoons of melted butter
1 Teaspoon of lemon extract
Directions: Make 8-inch crepes using greased skillet or crepe maker and set aside
Filling:
2 cups fresh Bing cherries, halved and pitted
1 Tablespoon Grand Marnier
1 Teaspoon of cornstarch mixed with 1 teaspoon water
¼ cup of sour cream (room temperature)
4 oz. (1/4 package) of softened cream cheese
½ cup semi-sweet chocolate chips or chocolate chunks
Directions: Mix cherries, Grand Marnier, sugar, apple pie spice and cornstarch mixture together in saucepan over medium heat for 10 minutes or until slightly thickened. Set aside to cool.
Blend together sour cream and cream cheese until it is a smooth and spreadable consistency.
Lay each crepe flat, gently and lightly spread sour cream and cream cheese mixture over crepe, so as not to tear crepes. Evenly spoon approximately ½ inch high, cherry mixture in middle area of crepe, then sprinkle a handful of chocolate chips over cherry mixture. Fold crepe sides to middle and invert with folds placed on bottom side of plate. Place 2-3 crepes on each plate and garnish with additional cherry sauce, a sprinkle of chocolate chips, a sprig of fresh mint and several whole fresh cherries with stems. Lightly sprinkle nutmeg over crepes and top with a dollop of whipped cream.
Summer is a wonderful time to visit Colorado Springs as we kick off the summer months. Whether you want to experience hiking, biking, horseback riding, shopping, dining, culture, art, theatre, sightseeing and more, our area offers it all! Check out VisitCOS.com and PeakRadar.com for all the latest information...

Whether you're celebrating something special,

joining us for a holiday vacation or looking for adventure,

Romance Package with Breakfast EnSuite

Couples Massage at the Inn

Ducky Bubbles and Breakfast
1102 West Pikes Peak Avenue
Colorado Springs, Colorado 80904
719.471.3980 888.565.3980
Join Holden House on Social Media!