Dear Friends & Neighbors,
Below you will find just a few of the many wonderful books for kids and teens that make ideal gifts this holiday season - all at 20% off through the month of December!

Harry Potter and the Chamber of Secrets: Illustrated Edition
J.K. ROWLING (Illust. by JIM KAY)
This illustrated version of J.K. Rowling's award-winning book makes a fabulous gift for fans of the Harry Potter series! Illustrated by Jim Kay, who won the Kate Greenaway Medal in 2012 for his artwork in A Monster Calls by Patrick Ness.

When the Chamber of Secrets is opened again at the Hogwarts School of Witchcraft and Wizardry, second-year student Harry Potter finds himself in danger from a dark power that has once more been released on the school.

Ada Twist, Scientist
ANDREA BEATY (Illust. by DAVID ROBERTS)
The duo that created Iggy Peck, Architect and Rosie Revere, Engineer> introduce an insatiably curious girl named Ada Marie, who "comes from an African-American family so stylish that its time-out chair is an Eames." (Publishers Weekly) As Ada attempts to determine the source of a noxious smell, Beaty's bouncy rhymes emphasize the qualities that make for a great scientist.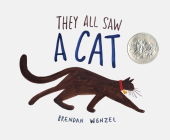 They All Saw a Cat
BRENDAN WENZEL
"Simple yet surprisingly sophisticated. beautifully conceived." - The Wall Street Journal

Brendan Wenzel's beautifully simple, New York Times bestselling new book, has been called a "game-changer" by The Huffington Post. A cat walking by is seen through the eyes of all the animals it passes. Wenzel has received rave reviews for the ingenious way he illustrates empathy and self-reflection.

The Princess in Black Takes a Vacation
SHANNON & DEAN HALE (Illust. by LeUyen Pham)
The award-winning husband-and-wife team behind the bestselling Princess in Black series are back with a hilarious new book. A sleepy Princess in Black takes a much-needed vacation and rides her bicycle to the seaside, where she plans to nap in a hammock. A new hero, the Goat Avenger, offers to handle monster duty in her absence. But just as the princess gets settled in her hammock, she hears a "ROAR!" Seriously? A monster? On the perfect beach? Impossible! "The dual storylines keep the pace exciting, and even though the heroine is sleepy the art is energetic and charming." - Kirkus Reviews

The Wild Robot
PETER BROWN
Bestselling and award-winning author and illustrator Peter Brown has created a heartwarming and action-packed novel about what happens when nature and technology collide.

When robot Roz opens her eyes for the first time, she discovers that she is alone on a remote, wild island. She has no idea how she got there or what her purpose is--but she knows she needs to survive. She realizes that her only hope for survival is to adapt to her surroundings and learn from the island's unwelcoming animal inhabitants.

As Roz slowly befriends the animals, the island starts to feel like home -- until, one day, her mysterious past comes back to haunt her.

The Secret Keepers
TRENTON LEE STEWART (Illust. by DIANA SUDYKA)
Fans of the award-winning, bestselling Mysterious Benedict Society series will love this long-awaited new novel from Trenton Lee Stewart: A heart-pounding mystery adventure laced with magic and humor.

When Reuben discovers an extraordinary antique watch, he soon learns it has a secret power and his life takes an intriguing turn. At first he is thrilled, but as one secret leads to another, Reuben finds himself torn between his innately honest nature and the lure to be a hero. He embarks on a dangerous adventure as he races to solve the mystery before it is too late.

"This novel has everything: sharp writing, dynamic characters, a well-paced plot, a detailed setting and, most importantly, lots and lots of heart." - BookPage

The Sun is Also a Star
NICOLA YOON
From the New York Times bestselling author of Everything, Everything (soon to become a major motion picture) comes a gripping new novel about two people who wake up as strangers on a day that could catapult their lives into entirely new directions that neither of them wants to take. Natasha has only hours left to prevent her family's deportation to Jamaica, after a minor legal infraction jeopardizes their stay in the U.S. Daniel dreads sealing his fate with an alumni interview that will pave his way to a career in medicine, as his Korean family expects.

"Despite a day packed with Natasha's desperate race against time and a tangled system, and Daniel's difficult tug-of-war between familial pressures and autonomy, love finds a way in, takes hold, and changes them both forever." - Booklist, starred review

Like a River Glorious
RAE CARSON (Illust. by JOHN HENDRIX)
Rae Carson, acclaimed author of the Girl of Fire and Thorns series, has written a sequel to her New York Times bestselling and National Book Award long-listed Walk on Earth a Stranger.

After her harrowing journey west to California, Lee Westfall has finally found a new home, rich in gold, thanks to her magical power, a power that seems to be changing every day. She has friends who are searching for a place to be themselves, just as she is, and Jefferson, her longtime best friend who hasn't stopped trying to win her heart. But her uncle Hiram hasn't given up his quest to get Lee and her power under his control. He's already murdered her parents, and he will do anything to have Lee and her talents under his control. No one is safe. When he kidnaps her, she sees firsthand the depths of his depravity.

"A celebration of great courage, the ability of people to come together as family, and the healing power of love." - Booklist