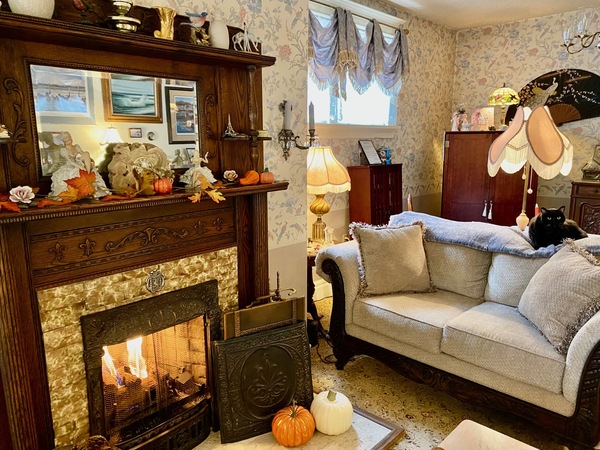 Here at Holden House, you will find three side-by-side Victorian homes, situated in a tree-lined residential area just one mile west of downtown Colorado Springs, one mile east of historic Old Colorado City and four miles from quaint Manitou Springs. Within our adjacent complex of three Victorian painted lady homes, we feature the turreted Main House, the Rose Victorian and the Carriage House, each with two separate and well-appointed suites. While the world of travel has changed with an increasing number of alternative overnight accommodations, you can be assured that Holden House is dedicated to maintaining the overall quality, hospitality and cleanliness in our traditional boutique-style inn, combined with a delicious gourmet breakfast served each morning.
5 out of 5 Bubble Rating!
V
ictorian Retreat:
"

This is a lovely little gem, in the Old Colorado City area of Colorado Springs. The owner and staff were all exceptionally cordial and friendly. We loved the charm of the old Victorian buildings, filled with antiques and collectibles. The sit down breakfast was first rate. If you are looking for a relaxing stay, in a beautiful old home, this is a great find. Thanks for a lovely visit. We will be back."
---
Breakfast Included! Each morning, our guests are treated to a complimentary full breakfast that's included in your room rate and served in the main house dining room. An optional breakfast served ensuite is also available for an additional fee. As an added value, you can partake of our afternoon snacks and glass of wine or beverage to take to your suite or enjoy in one of our many common areas. And, fresh welcome cookies in your guest suite will greet your arrival!
Fireplaces to cozy up... each of our six lovely suites feature private baths, sitting areas and fireplaces, the perfect place to cozy up on cool evening after a day of shopping or sightseeing. Just a short distance to historic Old Colorado City, Manitou Springs and downtown Colorado Springs, you'll find Holden House a great central location for shopping, dining, art galleries and outdoor places such as Garden of the Gods. Our resident InnCat Mingtoy loves to greet our guests in the Main House. If you prefer pet-free accommodations, choose the Rose Victorian or Carriage House suites.
STAY 4 AND GET 4th FREE OR STAY 2 MIDWEEK AND RECEIVE 2ND NIGHT 1/2 OFF! Apply the package discount at online checkout or call 719-471-3980 to reserve with a personal innkeeper. #BookDirect now. (not valid on existing reservations or with other discount offers and must be mentioned at time of booking). Only valid by booking directly through our official Holden House website or by calling the inn directly.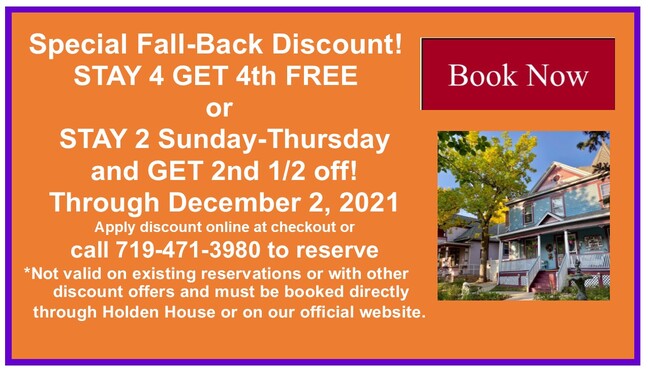 ---
Meet our Innkeeper Team at Holden House
Heather, Miriam, Mandy, Tiffany, Connie, Malia and Sierra!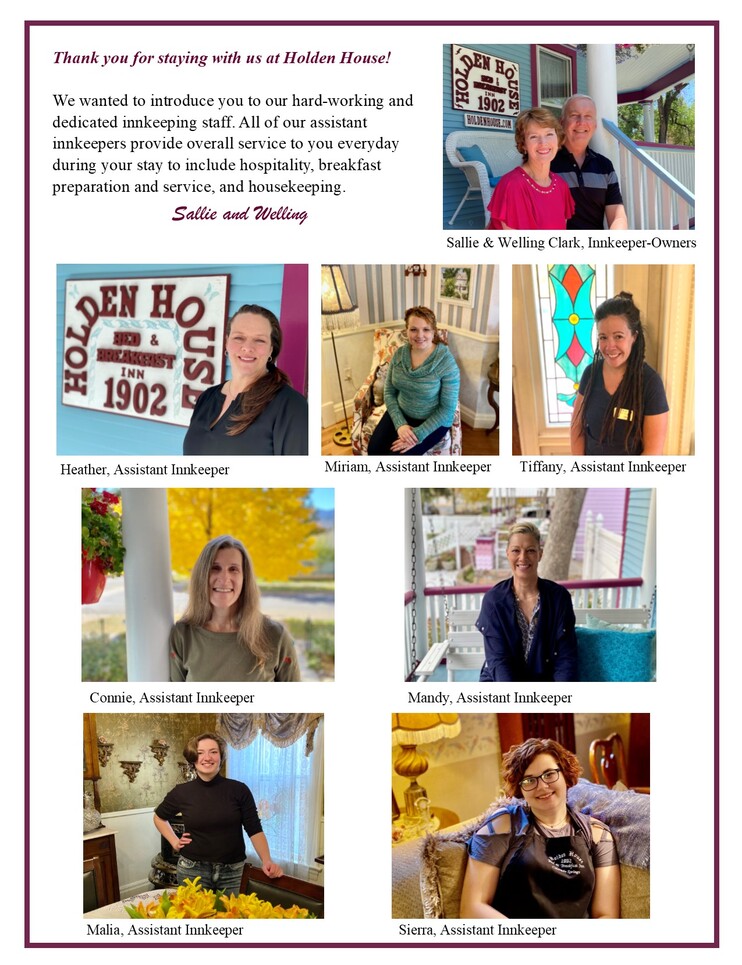 INN THE KITCHEN WITH HOLDEN HOUSE -
It's another "Great Pumpkin" Recipe!
1 cup shortening, butter or margarine
½ of 16-oz can of pumpkin (approximately 1 cup)
½ cup chopped nuts (walnuts/pecans-optional)
Cream shortening and sugar. Add pumpkin, eggs and vanilla and beat well. Stir together flour, baking powder, baking soda, salt and spices. Add to shortening and sugar mixture and fold in raisins and nuts if desired. Drop by rounded teaspoonful 2 inches apart on greased cookie sheet. Bake in preheated oven at 350 degrees for 12 to 15 minutes and cool on rack. Makes 3-4 dozen.
---
UPCOMING DECEMBER LOCAL EVENTS
Glen Eyrie Madrigal Dinner and Eidolan Acoustic Concert in December

Cinderella December 2-January 9

All Wrapped Up December 14

Fab Four December 16

Deck the Hall December 18

Colorado Nutcracker December 21-22

Sofakillers at Boot Barn Hall December 31
---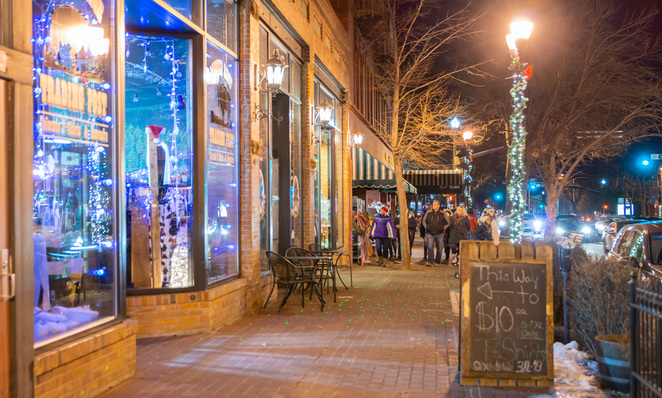 The Old Colorado City historic district offers great shops for holiday gifts, restaurants and activities to welcome the Christmas spirit! The best part, it's only 14 blocks from Holden House and a short 1 mile drive with lots of free parking in back of the stores.
Because we live and work in our historic Westside neighborhood, we wanted to share just a few of our recommended shopping and dining districts.
Read our Blog Post about why staying at Holden House is the best place to dine in (for your included breakfast) and dine out (for lunch & dinner) with great referrals!
When you arrive, our innkeepers will help you with your selection of cuisine and restaurants, no matter your culinary tastes and budget. Looking for some holiday shopping? We're close to several unique shopping districts to find that perfect gift!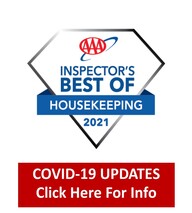 For continuous years and as a AAA Diamond "Inspected" property, we continue to receive excellent housekeeping ratings, including our award for "Housekeeping Excellence" once again in 2021.
Here at
Holden House 1902 Bed & Breakfast Inn
, our innkeeping staff has years of combined experience in the hospitality, restaurant and edical fields and longtime on-the-job-training. Our inn first opened its doors in 1986 and is still under the same ownership today of Sallie & Welling Clark, ensuring staying power and meticulous attention to detail. Here are just some of the ways in which we are continuing our commitment to provide a clean and safe stay. Read more...
for the Christmas Holidays

Decorations will be up in early December

Read our Holden House Blog

for inn updates,

recipes and more!

VIRTUALLY YOURS...

TAKE A HOLDEN HOUSE
1102 West Pikes Peak Avenue
Colorado Springs, Colorado 80904