Autumn is here, and it seems that this years harvest was a bumper one for most people! Please feel free to add pictures of your harvest to our website or facebook page, its always good to see what people have produced!
Allotment Strategy Consultation
The response to the online survey has been exceptionally good, with nearly 800 people having completed it so far, this response rate is very good indeed and shows how interested people are in the allotments service and how it is run. The survey has been extended and remains open for a few more days. It will close on Monday 7th October, so there is still time to respond to it if you havent already. Click Here to take the survey.
Allotments are about access to affordable, healthy, sustainable food but they are also about mental wellbeing and connections to other residents. Initial results from the survey show that the majority of plot holders say that having an allotment is about access to healthy and sustainable food but 80% also feel that allotments benefit their mental health, 95% say it is good exercise and 72% say they feel part of a community.
As part of the strategy, together with The Food Partnership we are also planning a consultation event.

Are you on the waiting list for an allotment?

As part of the strategy, the Council and the Brighton and Hove Allotment Federation have decided to take the opportunity to 'clean up' the waiting list. It seems that many people on the waiting list have either moved away or no longer want an allotment. This creates problems for us when letting plots and planning for the future. Please keep an eye on your inboxes for an email from the Allotment Service asking you to reconfirm your application. You will need to respond to the email to stay on the waiting list. So its very important to respond to the email, check your spam boxes and if you know other people who are on the waiting list, please tell them to do the same. Applicants without email are being sent the letter by post. If you are on the waiting list but do not receive the email then please email info@bhfood.org.uk with your full name and contact details.
We are pleased to announce the the results of the Allotment Competitions, the prizes were given at The City in Bloom awards ceremony at The Thistle Hotel in Brighton on 26th October. Congratulations to you all!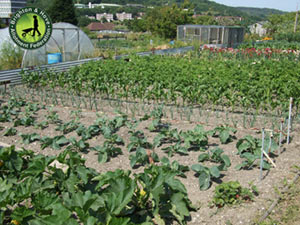 Photos of all the winning entrants plots, vegetables and scarecrows can be seen here

The Coronation Bowl
1st Giuseppe Todaro, Moulscome Estate
2nd David Short, Pankhurst Avenue
3rd Daniel Carton, Eastbrook Farm
1st Kaye Hurrion, Foredown Tower
1st Ali Hasan, Patcham Court
2nd Julie Hussey, Coldean
3rd Daniel Matthews, Racehill Farm
1st Hannah Clark, Foredown Tower
2nd Seth and Clement Wariner, Ovingdean
3rd Adam Randall, St Louie Home
1st Aibhlinn Carrole and Oona Brown, Roedale Valley
2nd Connor Mcgouran-Collins, Roedale Valley
Childrens Best 1 metre X 1 metre
1st Alexander Martyn, Foredown Tower
1st Oscar Thomas-Sjostrom, Roedale Valley
2nd Lila Brown, Whitehawk Hill
3rd Harvey and Ruby Long, Weald
Video Tips for New Plot Holders

The Food Partnership's 'Harvest' together with The Brighton and Hove Allotment Federation commissioned videographer Dylan Howitt to produce 3 short videos looking at the experience new plot holders have when they take a plot.
We interviewed them at the end of their first year to find out what it's really like. They explain the time and commitment involved in taking on an allotment, to help others decide whether it's right for them.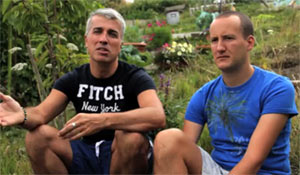 "Taking on an allotment can be a wonderfully fulfilling experience, there is little to match being in the great outdoors growing your own food. The health benefits both physical and mental, are huge, but maintaining a plot is much more effort than most people realise. In these videos new plot holders talk honestly about the effort needed and the benefits gained, while sharing their top tips for a successful first year. They paint an honest picture of taking on a new plot, which we hope will inform, warn and inspire those considering becoming an allotmenteer." Mark Carroll BHAF Publicity Officer
A Date for your diary. On the 13th November 2013 we are planning an Allotment Strategy Consultation event. It will be a chance to hear a presentation about the findings of the surveys of plot holders and the waiting list and an opportunity to comment on the key themes of the strategy as drafted by the working group. Unfortunately we do not have a confirmed venue as yet, so if you are interested, keep an eye on our facebook page or website or wait for our next newsletter.
Allotment Strategy Documents Minutes from the meetings.
iRecord If you are interested in Bio-diversity and wildlife, especially on allotments, then this site allows you to record and share your sightings so they can be collated and checked by experts.

Harvest Blog Jess Crocker describes the video project we have just completed.