---
---
Scotland Island energy reliability project Update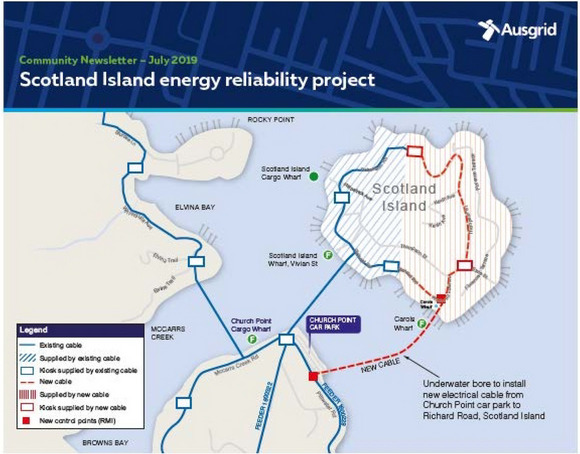 Reminder - Information Session 2

Session 2

Saturday 27 July 2019 – 10:00am-12:00pm
The Waterfront Café
1860 Pittwater Road CHURCH POINT NSW 2105
Update Details in attached PDF below
Summary from Briefing Session 1
The project is scheduled for 16 weeks.

For most of the time, approx. 13 weeks, 47 carspaces are needed for plant and equipment.


70 carspaces ( 25%of the old carpark ) is needed at the start and finish of the project for a week and a half.

Work is to be completed by 20 December, if that can't be achieved work will stop, the site area will be returned to carpark until February when work will recommence.

The site will be used for plant and equipment including project sheds, materials storage, waste (sludge) processing, the drilling equipment, and vehicles.

The vehicles are trucks and 2 utes. 

The trucks obviously transport waste/sludge and materials, the 2 utes will be used as required during the day and transfer of the workers. 

There will be a small team of 10 who are coming from interstate, no private vehicles on site or at Church Point anywhere.

Compensation to those who agree to relocate to Rowland Reserve is by way of a discount of $350 on the Church Point parking sticker and, to facilitate transfer to Church Point from Rowland Reserve, a choice of either an Opal card or an Uber card loaded with approx. $200 (to be confirmed, may be more), and possibly a taxi option too.

There will be no time limit to use the card credit which may increase the appeal to those who have an infrequently used vehicle.


The actual offers are expected to be finalised shortly. 

Ausgrid really does need those who park at Church Point to do the survey to get a better handle on how people use their cars.

Please visit the link at https://www.surveymonkey.com/r/sctlndind to complete the questionnaire, so that we can fully understand your needs.
NBC has not agreed to the 1 hour limited spaces being made available during the period on the grounds that the businesses and local onshore residents have needs too and changing the hours will create a precedent.
---
INTERNATIONAL FOLK DANCING EVENING
Put on your dancing shoes this Saturday night
The SIRA Recreation Club has organised another Folk Dancing Evening this
Saturday, 27th July, from 7:00-9:00pm.
Come along for a great time with our hosts and experts, Annabelle and Branko!
These evenings are held on the last Saturday of each month, until October so save these dates:
31st August
28th September
26th October
---
Farewell to Colin & Adriana
Get together at the Park Sunday from 3pm
---
A complete set of past electronic newsletters since May 2000 can be found and read at https://ymlp.com/archive_gesgjgm.php  or by clicking here or by visiting the Mona Vale Library.

The Island website is at www.scotlandisland.org.au



---
To Contribute
If you would like to contribute to this newsletter it's easy!. Send an e-mail to the editor (editor@scotlandisland.org.au) or by clicking here. Type your contribution (100 words or so would be fine) and assuming it is of general interest to the community, does not include matter of a political nature and is not offensive, it will appear next month.
Subscription Information
To get on and off this newsletter,

click here

or got to:

http://www.scotlandisland.org.au/signup .


To change your address, click the 'modify' link at the bottom of this newsletter or send an email to the

editor@scotlandisland.org.au


---
Follow the PON
---
The Online Local Contacts Guide
Click HERE to load
---
---
The views expressed in this newsletter are not necessarily the views of the Scotland Island Residents Association (SIRA), or the Western Pittwater Community Association (WPCA)
---