ISRAELI LEADER CALLS FOR BURNING OF CHURCHES
Benzi Gopstein, leader of the right-wing Israeli organisation Lehava, has publicly called for arson attacks on Christian churches. Gopstein's incitement comes in the midst of a growing number of Palestinian churches and mosques being firebombed by Israeli settlers. Gopstein later explained that he was not calling on
individual
Israelis to carry out the attacks on Churches but that the destroying of Palestinian churches should be
"the responsibility of the [Israeli] government,
not of individuals". 
Click here for more info.
WHAT YOU CAN DO TO STOP ISRAEL'S KILLING OF PALESTINIAN CHILDREN

Israel, both its government and its citizens, kill Palestinian children (see alongside). Ordinary citizens of the world are beginning to hold Israel accountable for its crimes and violence through the international non-violent boycott, divestment and sanctions (BDS) against Israel campaign. Students are advancing the academic boycott, businesses are ending ties with Israeli-linked companies like G4S Security, artists are cancelling Israeli gigs, BDS lobby groups are pressuring governments for sanctions, shareholders are divesting from Israeli companies ... and you too can play a role. At a personal and consumer level you can join the #BoycottWoolworths campaign that forms part of the larger BDS movement and its many campaigns. BDS seeks to hold Israel accountable similar to how Apartheid South Africa was isolated and forced to end its violence against our children. Click here for more info.
BDS SOUTH AFRICA

BANK: First National Bank
NAME: BDS South Africa
NUMBER: 62273997943
BRANCH NAME: Rosebank
BRANCH CODE: 253305
SWIFT CODE: FIRNZAJJ
 
BDS SA, is a registered Public Benefit Organisation (PBO) with Section 18A tax-deductible status. This means that any donations made to us can be used to apply for tax exemptions. Kindly send copy of proof of payment to finance@bdssouthafrica.com / 0866664995 for receipt.
JOIN BDS SOUTH AFRICA'S EMAIL MAILING LIST
To join BDS South Africa's email mailing list (& receive these newsletters) send a blank email message to alerts@bdssouthafrica.com
SAD NEWS: FATHER OF PALESTINIAN BABY (THAT WAS BURNED ALIVE IN ISRAELI SETTLER ATTACK) ALSO DIES
Saad Dawabsha (father of the little Palestinian toddler Ali 
Dawabsha 
who was burned alive in an Israeli settler attack last week) has succumbed to his burn injuries. 
The photo above is of Saad (now deceased) playing with his murdered son Ali.
The 32-year-old Palestinian father died in hospital, where he was being treated for second-degree burns to more than 80 percent of his body (caused as a result of last week's early morning firebomb attack by Israeli settlers on the Dawabsha family home).
The mother and 
four-year-old brother (
to little Ali Dawabsha who was killed last week) remain in a critical condition.
Click here for more info
.
ISRAELI KILLING OF PALESTINIAN CHILDREN NOT AN EXCEPTION BUT A NORM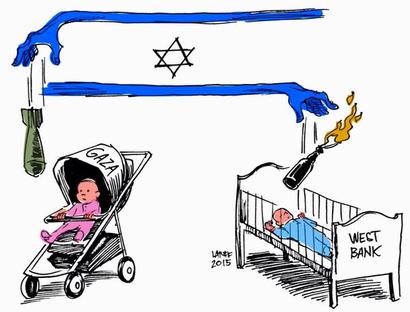 Writer and author John Wight has provocatively asked: "[L]liberals came out in their droves to condemn the slaying of Cecil the Lion in Africa. How many will now come out to condemn the savage slaughter of a Palestinian infant, Ali Saad Dawabsha, by Jewish terrorists?"
Wight goes as far as suggesting that the international community could be "an accessory to this child's murder with the political, economic, military, and diplomatic support it provides the apartheid state of Israel". 

Following the killing of baby Ali Dawabsah, writers, analysts and authors have explained how this Israeli incident is not an exception but the norm. Ali Dawabsha's killing is linked to and forms part of other Israeli crimes against Palestinian children. Recent Israeli crimes against Palestinian children include:
2014 Israeli lynching and burning of Palestinian teenager Abu Kheider;

2013

 Israeli killing of over 550 Palestinian children in Gaza;

2012 Israeli killing of more than 30 Palestinian children;

2009 Israeli killing of 300 children during Israel's "Operation Cast Lead".
A long-standing pattern exists of Israeli abuse and killing of Palestinian children. Israeli violence against children is perpetuated by both inidividual Israelis (often settlers) as well the Israeli government and its military. 
John Wight concludes that: "Those [Israelis] responsible for Ali Saad Dawabsha's murder are the human product of the injustice that sits at the very foundations of a state that wears its brutality as a badge of honour…this is why the international campaign of boycott, divestment, and sanctions (BDS) against Israel offers the Palestinians a lifeline of solidarity, providing them with a semblance of hope". Click here for more information.