PRESS ALERT
Change of BDS South Africa's Spokesperson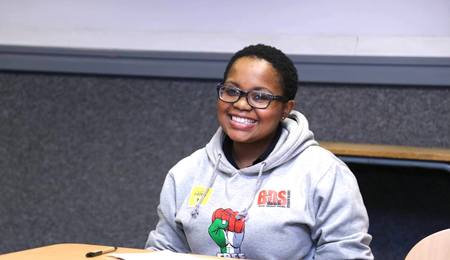 This is our spokesperson Kwara Kekana's last month at BDS SA as she is taking up a new and exciting job opportunity.
While we wish Kwara (one of the shortest but loudest spokepersons) strength in her next steps, her departure is still sad for us. Her dedication and consistent contribution to the development of BDS SA and championing of the Palestinian struggle against Israeli Apartheid has been both unique and invaluable. But it is precisely because of this, her incredible and generous contribution, that we will be able to continue. We will remain motivated by Kwara's love and laughter as well as her fierce commitment to internationalism and international solidarity.
Click here for a recent TV interview with Kwara Kekana.
Going forward, our acting spokesperson is BDS SA board member, Mr Tisetso Magama, who can be contacted on 0614146348
--------------------
Cde. Hargreaves Tisetso Magama, a political activist since the early years of his life, has always been active in the political and public sphere. After its unbanning, Magama served in various regional and provincial roles of South Africa's ruling party, the ANC.
Magama was elected as a Local Government Councillor in 1994. In 2000, he co-founded the Employment and Economic Empowerment Foundation, a community based organisation which initiates and manages poverty alleviation projects.
In 2009 Magama was appointed as a Member of Parliament and served on the Portfolio Committees on Public Works as well as International Relations and Cooperation. He was later elected Chairperson of Parliament's Portfolio Committee on International Relations and Cooperation, a position he served until 2014.

ISSUED BY BDS SOUTH AFRICA
BOYCOTT, DIVESTMENT AND SANCTIONS AGAINST ISRAEL IN SOUTH AFRICA (BDS SOUTH AFRICA)
5th Floor | Mishumo House | 77 De Korte Street | Braamfontein | Johannesburg
PO Box 2318 | Houghton | 2041 | Johannesburg
T: +27 (0) 11 403 2097 | M: +27 (0) 74 054 3826 | F: +27 (0) 86 650 4836
BDS South Africa is a registered Non-Profit Organization. NPO NUMBER: 084 306 NPO
BDS South Africa is a registered Public Benefit Organisation with Section 18A status. PBO NUMBER: 930 037 446