If you cannot view this BAP E-Blast correctly CLICK HERE and click on
Black Businesses & Non-Profits Selected by the Heinz Endowments, the POISE Foundation and Ford Foundation as this year's Pittsburgh Cultural Treasures Initiative!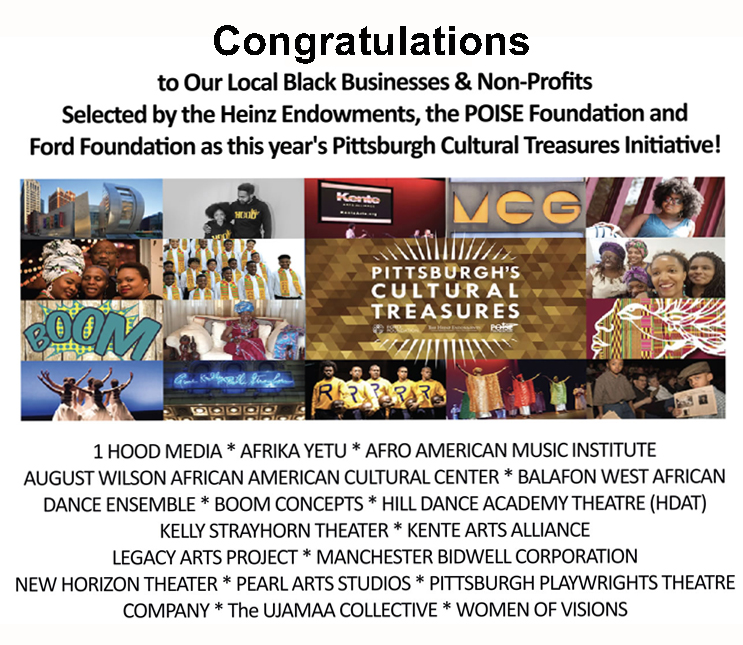 1 HOOD MEDIA
AFRIKA YETA
AFRO AMERICAN INSTITUTE
AUGUST WILSON AFRICAN AMERICAN CULTURE CENTER
BALAFON WEST AFRICAN DANCE ENSEMBLE
BOOM CONCEPTS
HILL DANCE ACADEMY THEATRE (HDAT)
KELLYSTRAYHORN THEATER
KENTE ARTS ALLIANCE
LEGACY ARTS PROJECT
MANCHESTER BIDWELL CORPORATION
NEW HORIZON THEATER
PEARL ARTS STUDIOS
PITTSBURGH PLAYWRIGHTS THEATRE COMPANY
The UJAMAA COLLECTIVE
WOMEN OF VISIONS
There will be two information sessions about Phase II of the Pittsburgh's Cultural Treasures Iniative. If you are interested in learning more, they will be offered virtually from 10a.m. to noon TODAY, September 21 and from 5 to 7p.m. on September 26.
Organizations interested in registering for the program should email info@pacepgh.org