I am delighted to say that the Council and the Allotment Federation, with the support of the Food Partnership, have reached a consensus agreement on an allotment Strategy for Brighton and Hove. It will be presented to the Environment, Transport and Sustainability Committee next month.

We had hoped to have completed this work by autumn 2013, but changes in the senior management in the Council and the complexity of the Strategy led to understandable delays. However the good news is that we are just in time for the new growing and letting season.
The strategy has developed from the mandate that we were given at the 2013 AGM. It is based closely on your views expressed in the survey of over 800 allotmenteers and 900 people on the waiting list the results of which we shared with you at the beginning of this year. It offers an exciting way forward based on cooperation and trust.
A short summary of the key issues in the strategy can be seen here

The more detailed Strategy Briefing document can be seen here
The survey responses from both the plot holders survey and the wating list survey can be seen here
In recognition of the seriousness of the strategy work being done, in 2014/15 the Council are proposing only to increase allotment rentals in line with inflation. This good news comes at a time when the Council's budget is under great pressure alongside many family budgets.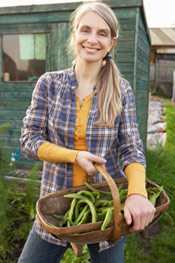 We are also delighted to announce that we have negotiated a way forward on many issues including allowing for a choice of plot sizes and the end of automatic plot-halving. We will soon share details on how this will be implemented.
I would like to pay tribute to the great work of my colleagues, who between them spent over 100 days of voluntary time on the strategy in 2013. Both the Council and the Food Partnership have been very supportive too. If you have any queries or comments on this agreed strategy or simply wish to join with me and thank the BHAF Strategy Team for this constructive work then please do not hesitate to contact us now by emailing us at bhaf.contact@gmail.com
I know that many of you are eager to move ahead with the Action Plan of implementing the strategy in 2014. We would like to hear from you if you would like to participate in taking it forward either
a. On your own site with your local allotment community/association.
b. At a City wide level using your personal and professional skills.
Thank you again for your fantastic support with the survey and the consultations. We are looking forward to the new partnership between us and the City Council in making Allotments enjoyable, inclusive, sustainable and affordable. Now we need to work together to achieve this with your help.
Best wishes,

Brighton and Hove Allotment Federation


Dont forget our AGM on 13th March

All plot holders are invited
AGM Annual General Meeting BHAF
13th March 6.30-9.30pm
Brighthelm Centre

North Road
Brighton

See here for more AGM details.
Manure delivered by tractor load. Call Perrets Farm on 843235


Horse Manure.
F
REE TO COLLECT !
Very well rotted horse manure (no shavings in it) 95% pure manure 5% hay.
A few bags or a lorry load to share with other allotmenteers.
On going offer...open 7 days a week 9am to 6pm...no need to make appointment.
Pulborough Stud,
Blackgate Lane,
Pulborough,
RH20 1DD
Please get in touch with us with any stories from your allotment site! We are always on the lookout for local stories. Also please remember that our website is a community site, which means you can post up your own pages. Its not hard to do and we will always be able to help if you have difficulties.
Best Regards,
Mark Carroll
BHAF Publicity Officer