---
---
Community Vehicle Out of Service Notice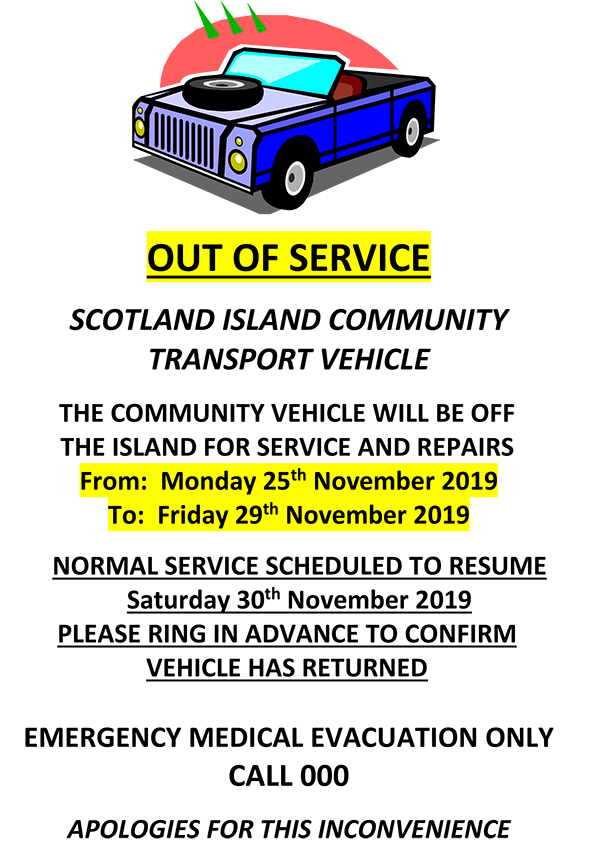 ---
Offshore Climate Action Group Meeting.
Thurs the 21/11 @ 7.00 pm. Scotland Island Community Hall.
We are clearly living in the era of climate change. As Greta Thundberg said, 'I want you to act as if your house was on fire, because it is.'

It's time to take action. Join us next


Thurs the 21/11, @ 7.00 pm at the Scotland Island Community Hall.



We will brainstorm ideas for local action, and discuss the possibility of joining an exciting campaign that Greenpeace has developed. (Some of us are part of a mainland Break Free group as well.)

If you can't make the meeting but would like to be involved in the group, please email jessica_mcgowan@yahoo.com.au
or call 0422 474 279.



---
New Wakehurst Parkway Bus Service Commences
Sunday 17 Nov.

Member for Pittwater Rob Stokes is reminding residents that the new bus service between Pittwater and Northern Beaches Hospital commences this Sunday, 17 November.
The existing 155 bus service from Bayview Garden Village to Narrabeen has been extended hourly to Northern Beaches Hospital.


"This bus will use the Wakehurst Parkway as a scheduled public transport route for the first time," Rob Stokes said today.

"Passengers can

take the 155 from Mona Vale, opposite Village Park, to Frenchs Forest Road West

, next to the main entrance of Northern Beaches Hospital.

"The new service also provides a convenient, direct link between Mona Vale Hospital and Northern Beaches Hospital."

Passengers continuing to Chatswood can transfer at Northern Beaches Hospital to the 136 service which travels past the same bus stop every 15 minutes.

The new 155 timetable is available at or download below

17-155-PrePay-Only-Bayview-Garden-Village-to-Northern-Beaches-Hospital-20191117.pdf   


Source


Pittwater Online News


November 17 - 23, 2019: Issue 429
http://www.pittwateronlinenews.com/community-news.php




---
---
A complete set of past electronic newsletters since May 2000 can be found and read at https://ymlp.com/archive_gesgjgm.php  or by clicking here or by visiting the Mona Vale Library.
The Island website is at www.scotlandisland.org.au




---

---
To Contribute
If you would like to contribute to this newsletter it's easy!. Send an e-mail to the editor (editor@scotlandisland.org.au) or by clicking here. Type your contribution (100 words or so would be fine) and assuming it is of general interest to the community, does not include matter of a political nature and is not offensive, it will appear next month.
Subscription Information
To get on and off this newsletter,

click here

or got to:

http://www.scotlandisland.org.au/signup .


To change your address, click the 'modify' link at the bottom of this newsletter or send an email to the

editor@scotlandisland.org.au


---
Follow the PON
---
The Online Local Contacts Guide
Click HERE to load
---
---
The views expressed in this newsletter are not necessarily the views of the Scotland Island Residents Association (SIRA), or the Western Pittwater Community Association (WPCA)
---