Having trouble reading this newsletter? Visit https://ymlp.com/archive_gesgjgm.php

March 1, 2011
Newsletter for Offshore Residents of Pittwater, Australia - Volume 12, Issue 560
---
Editorial



Well the big news for all of us this month is finally we have the new Scotland Island website up and running. www.scotlandisland.org.au has been completely reworked over the last 3 months, with a lot of effort been put into it by some very committed people. Everyone is encouraged to have a good look through the site and to make comment, as we are looking for feedback, ideas and suggestions on how it can be improved and be more relevant to all. Do bear in mind that the website has just been switched on and as yet it is not quite complete. Over the next few months additional content will be added to round out the website. Please address your comments and suggestion to the editor@scotlandisland.org.au. A very special thanks must go to Carol Floyd for driving this project so effectively and efficiently and to Dan Humphrey for weaving his html magic.

The recent sighting of sharks around our shorelines has generated a lot of conversation and numerous stories over these last few days. It also prompted some letters to the editor which are worth reading.

Finally Shayne Chamen-Kraal kindly contribute a number of great photos of this years Australia Day Cricket Match on Scotland Island. These can be seen at the Offshore Photo Gallery at the following link.. https://picasaweb.google.com/

offshoregallery



Enjoy


---
Contents
---
Gwyn's March 2011 Calendar

To download a full version (A4 size) of this months calendar, ready for printing, just click on the calendar image.

You can contact Gwyn Perkins by email at g.perkins@gwyn.com.au


The file is quite large and in PDF format. To view PDF documents you will need the Adobe Acrobat Reader installed on your computer.

To download Acrobat Reader please

click here



---
SIRA News




NEW SIRA COMMITTEE


The SIRA AGM was held Sunday, February 27 at 10 am in the Community Hall. Elections were held and the new committee is:

President: Bill Gye
Vice Presidents: Sue Dickson and Jaya Param
Treasurer: Cass Gye
Secretary: Carol Floyd
Committee members: Victoria Jay, Sharon Kinnison, Alan Gaines, Maria MT, Betsi Beem, Ian Souter, Graeme Crayford, Judy Redma




SIRA'S NEW LOGO!


Congratulations to Amber Ellis, who has won the SIRA logo competition.
Thanks to everyone else who submitted lovely designs: Paolo Meucci, Miranda Summers, and Nettie Lodge.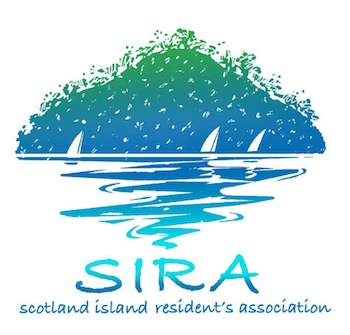 LAUNCH OF NEW SCOTLAND ISLAND COMMUNITY WEBSITE


Visit http://www.scotlandisland.org.au and view the new Scotland Island Community Website, which was officially launched on Sunday February 27 at the SIRA AGM.

There are still some pages to add (SIRA information, Fire Safety Information and a few other things) but it is mostly complete. We welcome feedback from users as our aim is to make it functional, useful and appealing.

My thanks go to the a number of people who made this possible: Dan Humphries (website designer extraordinaire!), Julian Muir (technical help and photographs) June Lahm (photographs from her vast collection), Cass and Bill Gye (content and ideas).

Please address any comments to the contact information on the website, or to Carol Floyd at floydcbg@ozemail.com.au.



---
Gone Fishing Gallery now Online

You can now visit us on line



www.gonefishinggallery.com.au



or paste this url
http://www.gonefishinggallery.com.au/gonefishinggallery/Home.html

There will be exciting things to see,
lots of news and a different featured artist every couple of weeks.



---
Elvina Bay Hazard Reduction Burn


Important Information





The hazard reduction burn on the South side of Elvina Bay is now complete.



However:

Residents are asked NOT to walk through the bush, other than on the fire trail, for some days. The ground is still hot and dead trees might shed branches and cause serious injury.

IF you see what is, in your opinion, a serious flare up, with quantities of smoke and or flame, please ring 000



---
Offshore Grameen Group




SPECIAL MEETING



At our next meeting Shan Ali the CEO of Grameen Foundation Australia will be speaking about the work Grameen has done to improve the lives of impoverished families in third world countries. We invite you to attend this special event to find out more about our work.

The meeting will be held on

Sunday the 13th of March at Nila's house at 3.00pm

.. From Tennis, cross the park and go up the steps then turn right along Robertson Rd. We are next to Sandy's A frame on the bend opposite Yamba. It is a log cabin.

Please ring Nila on 99992445 for details. Bring a plate for afternoon tea if you would like. Hope to see you there.



---
Scotland Island Rural Fire Brigade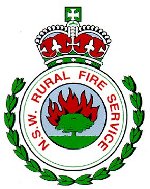 Established 1955





Notice of Annual General Meeting





2.00pm

Sunday 13 March 2011




Scotland Island Rural Fire Brigade Station




Catherine Park, Scotland Island





All members are invited to attend.





Election of Officers


At the meeting, all current officers will stand down and nominations are invited for positions in the
Brigade. All current officers are eligible to stand for re-election. All Financial Members are eligible
for nomination as an Administrative or Other Officer of the Brigade. Nominations for Field Officer
positions are available to Active Financial Members only, with appropriate pre-requisite training if
required.



Nominations

for positions within the Brigade must be received by the Secretary at least seven
(7) days prior to the Annual General Meeting, ie by 21 March 2010 at latest. Nomination Forms
(attached) must be signed by the nominee and by two (2) members of the Brigade.



Voting


Each financial member present at the meeting, with the exception of probationary members, shall be
entitled to one vote.

The positions open for election are:

Field Officers


Captain
Senior Deputy Captain
Deputy Captain 2
Deputy Captain 3
Deputy Captain 4
Deputy Captain 5

Administrative Officers


President
Vice President
Secretary
Treasurer
Social Secretary

Other Officers


Training Officer
Equipment Officer 1
Equipment Officer 2
First Aid Officer
Safety Officer
Station Officer
RFSA Delegate
SIRA Delegate
The final list of nominations will be posted on the noticeboard at the Fire Station after all nominations
have been received.

If you have any queries, please contact either the Station on 9999 4404 or Kerry Borthwick on 9999
4092.

Membership subscriptions ($10/member GST free) are due and payable at the AGM.

Scotland Island Rural Fire Brigade
P O Box 30, CHURCH POINT NSW 2105
Tel: 02 9999 4404
Fax: 02 9999 4324
Emergency: 000



---
News from the Pittwater Offshore Wine Syndicate
Details:
Date: Sunday, March 20th March 2011



Time: 3pm




Place: The Muirs




Address: 58 Richard Road, Scotland Island.




Much thought, consideration and drinking has been done by our experts, showing wines full of flavour and value. We will be forwarding you the tasting notes, the price list and more information shortly.

You can invite your neighbours by suggesting they visit www.wine.hostcell.net where they can sign up to receive our quarterly 'notice of tasting'




** Don't forget your Tasting Glass and some food for us all to share **



Best Wishes - your committee

If you want further information, you could ring:
George Gaal 9979 9141
Alan Gaines 9979 2070
Julian Muir 9999 4449
Paul Purvis 9979 9667 <----- the culprit
Greg Roberts 9979 5228



---

Local Council Notices

Helping Learner Drivers become Safer Drivers


A free workshop for parents and supervisors of learner drivers will be held by the NSW Roads and Traffic Authority (RTA) in conjunction with Pittwater Council at Mona Vale library on Wednesday 9 March 2011.

The course, 'Helping Learner Drivers Become Safer Drivers', will offer parents and supervisors hands-on advice on how to provide the most effective driving practice for learner drivers.

Council's Road Safety Officer, Michelle Carter said licence conditions for learner drivers mean there is a minimum of one year on 'L' plates and 120 hours of supervised driving, including a mandatory 20 hours of night-time driving.

"A more rigorous driving test has also been introduced, focusing on hazard perception and driver reactions.

"Parents and supervisors of novice drivers have a crucial role to play in making our roads safer, and that is why the RTA has developed a course to better support them.

"The course will cover topics such as:
• laws for learner and P-plate drivers
• how to use the Learner Driver Log Book
• how to plan on-road driving sessions

Parents and supervisors who have attended this course found it boosted their confidence, helped them better plan driving sessions and allowed them to share experiences with other parents and supervisors," added Ms Carter.

Bookings for the Helping Learner Drivers Become Safe Drivers course are essential and can be made by calling Michelle Carter from Pittwater Council on 9970 1196 or by email at michelle_carter@pittwater.nsw.gov.au

Media contact:
Michelle Carter, Pittwater Council
Ph: 9970 1196


---
Suicide Bereavement Support Group available





Do you know anyone who has recently been bereaved by the suicide of a loved one?



A suicide bereavement support group will be available from 28 March run by Lifeline Northern Beaches.

The support group is open to adults who have experienced the loss of a loved one through suicide.

Lifeline Northern Beaches CEO Shirley Eggleton said that some people find the experience of talking to someone who has been through a similar experience invaluable.

"They can truly understand the shock, the depth of loss and the complexity of emotions felt, " said Ms Eggleton.

"Receiving support from the group can begin the process of relieving the intense pain associated with suicide bereavement, " she said.

The sessions will be facilitated by experienced and accredited counsellors and will offer participants a place where:

• emotional issues can be shared, heard and acknowledged without judgement
• information is provided about aspects of the complex grief process after suicide
• coping skills are explored to assist in healing and recovery.

Those interested in attending the support group should ring Lifeline Northern Beaches in the first instance on 9949 5522 and a trained facilitator will be in touch.

The support group will meet fortnightly from 28 March at Lifeline Northern Beaches located in Balgowlah.

Media contact: Susan Machar, Pittwater Council Ph: 9970 1241


---
Be on the Lookout for Cane Toads



Pittwater Council is urging residents to be vigilant for cane toads in their gardens.

Council Reserves and Recreation Manager Les Munn said that there had been a couple of recent sightings in Pittwater.

"If you think you have spotted a cane toad or managed to catch it, please contact us as soon as you can," said Mr Munn.

"One of our bushland officers will come to your home if needed and dispose of the toad humanely. It's important for us to log sightings of cane toads and destroy them as soon as we can to prevent their spread."

Cane toads were introduced to the cane fields of Queensland from South America in 1935 in an unsuccessful attempt to control cane beetles. Having no natural enemies they quickly spread throughout Queensland. They have since reached the Northern Territory and moved south into New South Wales.

In the past five years cane toads have been found in Newport, North Narrabeen and Mona Vale. It is believed that the animals were transported into Pittwater unwittingly under cars or trailers. All the toads were destroyed.

Mr Munn said that cane toads compete with native animals for food, prey on smaller animals and are toxic to larger reptiles such as goannas and snakes. They can also pose a risk to household pets including dogs.

Council's bushland management officer Lavinia Schofield said that sometimes cane toads can be onfused with native frogs.

"They are generally larger than native frogs and have a rough warty skin, with enlarged glands behind the eardrums," she said.

"They also have a very distinctive call."

"The best way is to trap them under a bucket, then place a weight on top and call the Council, " said Ms Schofield.

"But make sure if you are handling them that you use rubber gloves," she added.
For more information on identifying cane toads and how to dispose of them humanely visit
www.pittwater.nsw.gov.au/canetoad

Lavinia Schofield, Pittwater Council Ph: 9970 1365



---
Letters to the Editor

Dear Editor

After reading your notice regarding shark alert today, I thought you might be interested in a reminiscence of the late Graham Botham. In 2003, when he and I were discussing the possibility of naming the beach beside his family's previous residence at 12 McCarrs Creek Road, he told me:

He "used to dive for huge mud oysters in McCarrs Creek and said that the oysters and scallops along the waterfront are coming back. A natural phenomenon known as "white death" seems to kill the scallops about every twenty years.

"The family remembers the huge sharks that came into McCarrs Creek each July, one white pointer being as long as the 18' fishing boat. Graham was not allowed to go into the water above his knees until he was twelve but later became a professional diver. In recent years he caught a bronze whaler about four to five feet long off Scotland Island.

"1,000 lb sharks were often seen off West Head and the fishermen used to blow them up using gelignite. There is a memorial outside the Bayview Hotel at Woy Woy to seven local fishermen who were never found after going shark fishing."

He had lots of fascinating stories about Church Point and this was just one of them. It is special that the family are remembered today by Botham Beach.

Barbara Davies
CHURCH POINT.



---
Sharks and other nasties



Dear Editor

I have lived on the Island for 27 years and every February sharks are spotted. So take evasive action Don't swim at dawn or dusk and no midnight dips either. This has been our rule since moving here.
No-one has ever been taken in the Pittwater and sharks are generally habitual about where and what they eat. They seem to be in larger numbers this year but that is because we have had a bumper year for bait fish, Taylor, King fish etc. They are well fed.

It really concerns me that people are prepared to seek and destroy the native flora and fauna of this region.
Recently a lone Mangrove tree on the North of the island was pulled out and destroyed . It was only 30cm high and we have nurtured that tree for 12 years. If we remove the mangroves the fish have no where to breed.and our pittwater becomes a desert.

Taking away our resident snake named Neil (diamond) is an appalling act of insensitivity. He was harmless and kept the rat population down.

We live here because of the natural beauty and chance encounters with nature. If you don't like this idea return to suburbia.

Tracy Smith



---
Logo Survey



Dear Editor ,

The logo survey will give a kind of result…but perhaps not allow for the discussion that such an important step deserves.

Some observations: the options are all wonderful and each presents a certain focus….looking out to surrounds of the island - the Pittwater and Park; looking at the island as a world to itself - with houses, fish, dinghy, and trees…also a parrot; and, water-focus with piles, boats and even a dog!!!

I'd love to see one with all! (perhaps not the dog)
Best regards and Good Luck Karen Lambert, Lovett Bay



---
Women on Water


THE SEASONS OF WOW (A NEW LOOK FOR 2011)



Hello Fellow WOWers,

We had a lovely Xmas break-up at the Point and it was nice to catch up with some of you who can only come from time to time

Next year we have decided to reformat WOW. There will be four seasonal WOWs (and anyone is free to organise additional informal gatherings).

Imagine Winter WOW around an open fire with warm mead perhaps or marshmallows toasting! We need a willing WOW member to volunteer an appropriate winter house.

In Spring we will hopefully enjoy an outdoor WOW in someone's lovely garden surrounded by cheerful flowers or on a deck overlooking many colourful blooms. Who thinks their house might fit the bill?

Xmas WOW will be at a local restaurant as usual and Joy Purvis has volunteered her house this Autumn. We will hopefully enjoy some autumn tones with nuts and berries featuring on the menu.

Our food choices and clothes might also reflect the seasons in some way perhaps?

The tentative dates are as follows:

AUTUMN WOW April 6th at Joy Purvis's House

WINTER WOW August 10th Who has a lovely open fire?

SPRING WOW Oct 19th Who has a colourful flower filled garden or deck looking onto a garden of blooms?

XMAS/SUMMER WOW Dec14th

If you think you house might be perfect but you need to tweak the date, that's fine.
Nila



---

Author Talks at Mona Vale Library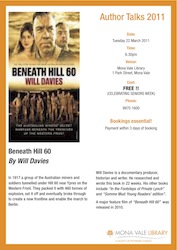 BENEATH HILL 60



Mona Vale Library will host author, historian and producer Will Davies who will present his latest book, Beneath Hill 60 on Tuesday 22 March from 6.30pm.

Beneath Hill 60 depicts the story of the Australian miners and soldiers who tunnelled under Hill 60 near Ypres and eventually broke through to create a new frontline and enable the march to Berlin.

Local film-maker Bill Leimbach from Bilgola Plateau produced the movie of the same name last year, which was mainly filmed on location in the Top End.

Will Davies is a noted historian and documentary producer, producing a number of works over the past 30 years.

He has also written five books including the bestseller 'Somme Mud' (editor) and 'In the Footsteps of Private Lynch' and wrote the driving tour 'Villers-Bretonneux to le Hamel'.

Davies draws on the diaries of one of the key combatants to tell the little-known, devastatingly brutal true story of this subterranean war waged beneath the Western Front - a dark battle-ground where men were suffered from the effects of viscous chalk, blue gray clay and poisonous air or died in the darkness, caught up in vicious hand-to-hand fighting.

Pittwater Council's librarian Catherine Buddin said the story was a compelling read that acknowledged the vital role 4,500 Australian minors played in tunnelling beneath no man's land.

"What makes this book interesting is that it was written after the film. The author Will Davies believed the story was one of great interest, yet so little was known about the secret struggle beneath the Western Front," said Ms Buddin.

The Author Talk will take place at Mona Vale Library from 6.30pm on Tuesday 22 March. Book signings will follow the talk.

Entry to the Author Talk will be free of charge, to coincide with Seniors Week activities hosted by Pittwater Council. Bookings are essential; to book phone 9970 1600.

Media contact: Catherine Buddin, Events Librarian Ph: 9970 1605



---
International Women's Day
Pittwater Community Breakfast 2011

---
Vote for Jessica Newham - Borneo competition




Jessica Newham of Elvina Bay, has entered a competition to spend 5 months in Borneo, and take part in a movie to raise awareness about deforestation and the orangutans loss of habitat.



Ten young people are going to be selected from around the world, partly based on number of youtube views, votes on the web site, and media coverage. You can see more about it here :

http://www.youtube.com/watch?v=-PYK57HERWc&feature=related

Would love if people could spare a minute and view Jess's youtube and then vote for her.

View Jess's youtube entry here :

http://www.youtube.com/watch?v=FYEDDU8E1Pg

You can view multiple times, 25 views from each internet address will be counted.
Count doesn't update immediately. Great if you could also 'like' and 'share'.
Then to vote for Jess, go to :

http://gg.tigweb.org/tig/deforestaction

scroll about 3/4 of way down page - Jess is currently on top right hand side (white Captain Planet t-shirt :-)
Click on her screen to vote for her.

Voting closes on 18th March. The current leader has 793 views on youtube - as at 22nd Feb - Jess is up to 770 views.

(BTW the mispelling of the desforestaction is right).
Thanking everyone in anticipation - will keep you posted !
Alison and Jess



---
Stolen


Car stolen from Carpark



Mick's car got stolen out of the carpark sometime between the evening of Thursday 10 February and Monday 14th of February.

It was a red Toyota Hilux Ute and was parked between Cargo Wharf and Holmport.

It was in REALLY poor condition and we actually found it quite laughable that anyone would actually want to steal it!!!!

What isn't too funny, however, is that we were not insured.

If anyone saw anything suspicious we would really appreciate them giving us a call on 9997 5469.

Thanks
Kirsty Cardiff


---
There seems to be a lot of "car activity" at the moment.


Last Friday Graham (Earl) had all 4 wheels stolen from his car (Mazda 3 SP3) which was parked at the top end of CP car park.

He arrived at his car to find it propped up on 2 old car batteries and a block of cement.

We were also puzzled why they chose the wheels of this car as the car is not new (5 years old) and the wheels were very scratched.

Watch out, there are a lot of thieves about in Church Point!

Di Scrivener



---
Lost


Black Makeup Case


Asha Forsyth has lost her black makeup case, on the night of 'Dogside of The Moon' Friday 18th FEB.
It is a 'smiggle' pencil case with some netting on the front.
It was left on the bench near the Tennis BBQ during intermission and was spotted on Sunday, but is now gone.
Please return it if you have taken it.
Call 0421979993/ 99792296.




Swipe Key




(it looks a bit like a USB flashdrive)

that was mislaid at Computer Wharf on Thursday morning?
I am hoping that someone saw it and kindly picked it up, if so could they please call Gary at
mob 0410 314567.



---
The Local Guide
Community Information
Scotland Island Residents Association (SIRA) Membership Application

- click here to download
West Pittwater Community Association (WPCA)

- http://www.wpca.org.au
Scotland Island Water


SI Emergency Water Contacts and Guidelines for water: click here for information and contacts
Scotland Island 'Water Agreement' - click here to download
Scotland Island Children's Centre

- (SIOCS - Scotland Island & Offshore Childrens Services)
Catherine Park (Long Day Care Service) 8.30am - 4.30pm (Tues, Weds & Thurs)
Playgroup @ Children's Centre every Monday, 10.00am - 12 midday
Other services include: School Holiday Programme / Facility & Equipment Hire
For information call 02 9979 7856 or email: siocs@comcen.com.au
Scotland Island Community Hall Bookings:

Kez on 9999 4092 or kezborthwickbolton@gmail.com
---

Transport
---
Real Estate
---
Services, Clubs & Accommodation
Scotland Island Traders - On-line shopping

from your computer, through your door on Scotland Island. Contact Graeme on 0419 460 331 or click here for full details

Justice of the Peace

- Bob Bolton - 9999 4092
Justice of the Peace

- Paul Purvis - 9979 6017
Justice of the Peace

- Paul Burchall - 0414 975 793
Justice of the Peace

- Bob Mitchell (Mackeral Beach) - 0419 745 628
Pittwater Community Arts Inc.

- Enquiries Lorrie Morgan 9997 8079 lorriemay@bigpond.com
Woody Point Yacht Club

- http://www.wpyc.com.au commodore@wpyc.com.au
Royal Prince Alfred Yacht Club

-

02 9997 1022

http://www.rpayc.com.au/
Royal Motor Yacht Club

- http://www.royalmotor.com.au/ 02 9997 5511
Scotland Island Lodge - Bed & Breakfast -

02 9979 3301 or http://www.scotlandislandlodge.com.au
Elvina Escape - B & B at Elvina Bay -

Alison Newham 0423 598 760
Treetops on Towlers Bay -

02 9332 2611 info@walkabouttours.com.au
Pittwater Youth Hostel

- 02 9999 5748 www.yha.com.au/hostels/details.cfm?hostelid=31
Nila Chambers - Celebrant (marriages, funerals etc)

Discount for all offshore residents. 9999 2445
Offshore IT Computer Services

- Contact Robert 0427 890 357 or 9999 2942
Handy Service

- "No job too small" - Call Alan 0447 775 541
---
Island Classes (Fitness, Dance, Art etc)
Pilates, Meditation and Group Fitness with Patrice

- 0406 483 036 patrice.corrie@gmail.com
Anusara Yoga

- Thursdays - 0421762236 dominiquemarill@gmail.com or floydcbg@ozemail.com.au
Art with Max

- Watercolour classes. Phone Max on 9997 4527
Art Classes

- drawing and painting in oils, acrylics and mixed media- Marion 9979 3993 or 0431 457 431
---
Groups
Gurdjieff / The Forth Way

- Call John on 9979 5584, Marion on 9979 3993 or Anne on 9999 3478
Green Group For Catherine Park

- Run by SIOCS - Emmie Collins on 0405 330 781
WOW - Women on Water

- second Wednesday of the month - contact Nila on 9999 2445
Parents & Kids Groups Playgroup

- Run by SIOCS - email Emma trysemz@tpg.com.au
Scotland Island Players

- contact Bob or Kez on 9999 4092
Catherine Park Bush Care Group

, 2nd Sunday @ 9.30am, Sharon Kinnison @ 9997 6017
Elizabeth Park Bush Care Group

, 1st Saturday @ 9 am, Bob Bolton @ 9999 4092
Island Thinking Group -
Roy Baker, 9999 6891, roybaker99@yahoo.com
---
Government Organisations
---
Airlines, Buses and Railways
---
Weather
Scotland Island Tides, Moon phases, Sun rise & set
Local Weather Forecast

Radar weather for Sydney (128k circle)
---
Emergency Contact Numbers
| | |
| --- | --- |
| ALL EMERGENCIES (Police - Fire - Ambulance) | 000 |
| Police Assistance Line & Information | 13 1444 or 9281 0000 |
| Broken Bay Water Police | 9910 7899 or 0412 162 093 |
| Scotland Island Rural Fire Brigade | 9999 4404 |
| NSW Fire Service General Information 9265 2999 | 9265 2999 |
| Rural Fire Service General information | 9450 3000 |
| State Emergency Service, Warringah/Pittwater SES | 9486 3399 |
| National Parks & Wildlife Service: 000, general information | 9457 9322 |
| Dept of Community Services: general information | 9977 6011 |
| Sydney Water | 132 090 |
| Energy Australia | 131 388, (ah) 131 909 |

---
Join SIRA
You can now join the Scotland Island Residents Association by
clicking here.
Please print the page and return the completed form to SIRA at this address:
The Treasurer, SIRA, PO Box 70, Church Point 2105.
Please NO CASH.

Contact SIRA at
sirapittwater@gmail.com
Join WPCA

To join the Western Pittwater Community Association, contact Michael Wiener at
m2wiener@bigpond.net.au
---
Archived Newsletters


A complete set of past electronic newsletters since May 2000 can be found and read at https://ymlp.com/archive_gesgjgm.php or by clicking here or by visiting the Mona Vale Library.

The Island website is at www.scotlandisland.org.au


---
To Contribute


If you would like to contribute to this newsletter it's easy!. Send an e-mail to the editor (editor@scotlandisland.org.au) or by clicking here. Type your contribution (100 words or so would be fine) and assuming it is of general interest to the community, does not include matter of a political nature and is not offensive, it will appear next month.

Subscription Information


To get on and off this newsletter,

click here

or got to:

http://www.scotlandisland.org.au/signup .


To change your address, click the 'modify' link at the bottom of this newsletter or send an email to the

editor@scotlandisland.org.au


---

---
The Online Local Contact Guide

Click HERE to load
The views expressed in this newsletter are not necessarily the views of the Scotland Island Residents Association (SIRA), or the Western Pittwater Community Association (WPCA)

---