PRESS INVITE
South Africa's Minsiter of Higher Education to deliver #IsraeliApartheidWeek Palestine lecture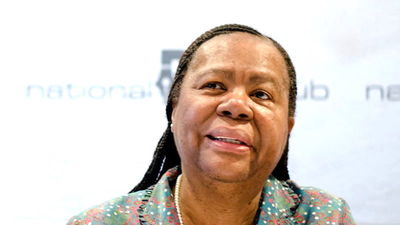 [14 March, Western Cape] South Africa's Minister of Higher Education and Training and ANC NEC Member, Naledi Pandor, will deliver a lecture titled "Cutting Ties With Israel: Ebassy Downgrade? Academic Boycott of Israeli Institutions?" on Wednesday 14th of March at 18h30 (New Lecture Thearte, Upper Campus, University of Cape Town. The event, hosted by the University of Cape Town PSF, forms part of this year's 14th #IsraeliApartheidWeek.
[13 March, Limpopo] Deputy Minister of Higher Education and Training, Buti Manamela, will be speak at the launch of the Palestine awareness National Comedy tour titled "Apartheid Ain't Funny" with South African entertainer and comedian Mashabela Galane. The launch will take place at 18h00 on Tuesday 13 March at the Onkgopotse Tiro Hall at the University of Limpopo.
[13 March, Gauteng] Prominent Palestinian-American journalist, activist, media-analyst, author and co-founder of the widely acclaimed and award-winning online publication The Electronic Intifada, Ali Abunimah, will speak at the University of the Witwatersrand on Tuesday 13 March at 18h30 with BDS South Africa chairperson, Professor Farid Esack, among others.
---------- * ----------
#IsraeliApartheidWeek (12-18 March 2018), endorsed in South Africa by over 100 organizations, is an international series of self-organized rallies, protests, lectures, cultural performances, concerts, sports events, films and workshops held annually in over 250 cities, communities and campuses across the globe. With "Afro-Palestinian solidarity" as this year's theme, #IsraeliApartheidWeek in SA will focus on both Israel's apartheid policies against the Palestinians as well as the regime's discriminatory policies against Africans.
Israel is expelling thousands of Africans, giving them an ultimatum: leave by 1 April 2018 or risk indefinite imprisonment. Israel has offered one hundred thousand rands in bonuses to civilians who aide in forcibly deporting African asylum seekers. Israel has portrayed non-Jewish Africans as a threat to Israel's Jewish character calling them "infiltrators" with Prime Minister Benjamin Netanyahu repeatedly calling for their expulsion saying that Africans "threaten the social fabric of society." Israel's Minister of Interior, Eli Yishai, has said that African immigrants "think the country doesn't belong to us, the white man." And the Israeli Minister of Culture and Sport, Miri Regev, has compared Africans to "a cancer". In 2013 Israel was revealed to be forcibly sterilising African women without their consent.
Click here for more information on #IsraeliApartheidWeek.
---------- * ----------
For media interviews with the IAW South Africa Team, please contact:
Justin de Swardt, #IsraeliApartheidWeek National Spokesperson [Afrikaans, English +27 (0) 65 915 3803]
Alex Mdakane, #IsraeliApartheidWeek Deputy Spokesperson [Zulu, English, +27 (0) 78 526 8663]
Michia Moncho, #IsraeliApartheidWeek National Convener [Setswana, English +27 (0) 78 295 4668]