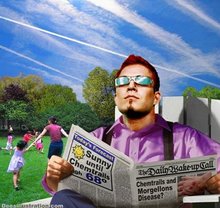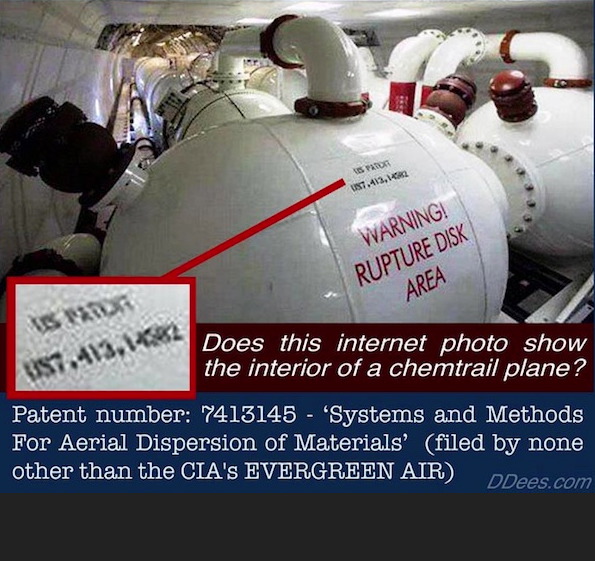 Read this article "West Nile Virus- They're Lying To You Again" about the most recent phony alleged "West Nile Virus Outbreak" which is causing the CDC and WHO genocidal killers to spray us all with toxic pesticides (adding insult to injury on top of the chemtrails we're already being hammered with.....
Please watch this Chemtrail Awareness Day Video from Mt Shasta CA...... shocking stuff...... Oh yeah....

look up! look up! We ARE what we BREATH!!!
Please folks.... share this with friends and relatives...... how else will anyone know? I don't care if anyone thinks I'm wearing a "tinfoil hat" hell, I went up before the congregation in my local church and flat out told them about the genocide and how to protect themselves using sulfur, I went before the Senior's lunch and told them, I even give sulfur away to get my message out, I'm not doing this for money, I am doing this to help as many people as I possibly can because most are like lambs being led to the slaughter.
Please help me get the word out!
Please call up as many friends as you can and tell them about this, let them know you will be forwarding this to them! Let them know about the

new Executive Orders that have us all under Martial Law right NOW.....

. read this....
Whoa.... and you VOTED for the demented smarmy genocidal bastard ???
(I'm not for the OTHER jerk either just so ya know...... trust NEITHER..... the only one who won't have us glowin' in the dark has been totally railroaded and the Republicrats all hate his guts....... my main man RP....Now they have a HAARP generated Hurricane Isaac heading directly for the RP Rally which will be held outside the day before the Republicrat Con-vention..... Nice, eh? They haven't had a hurricane hit Tampa in the past 90 years..... you really think this is a coincidence?

(Just because you're not paranoid

doesn't mean

they're not out to git ya.........
got sulfur???
Got God, Guns, Gold and Groceries? Hang onto your hat people, don't act like deer caught in the headlights when you CAN ACT NOW to do something positive to protect yourself, your family even your dogs and cats!!
Whoa...... can't eat money, but you CAN eat sulfur, got a few pounds to barter with for when your dollars are worthless? That day is on its way folks.....
prepare for it now any way you can.....