Hello CSA members,
This is just a reminder that today, Wednesday September 20th is a CSA share pick-up. Your share will be ready for you to pick up at your chosen pick-up location between 4-7 pm.  We have 4 weeks left in the main season CSA share.  Your last csa pick-up is Wednesday, October 18th here at the farm. 

We are looking forward to seeing you on the farm!
Our morning meeting now is cast in the early morning shadows as we are all up and ready to start the day before the sun crests the horizon. The plants are heavy with dew, the sun light golden and all of the birds are flocking. By 10 am the cab of the famvest tuck is full of vests, coats, hats, and sweates....sure signs that it is fall.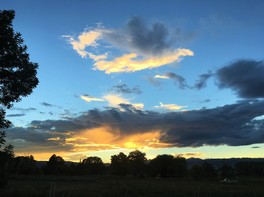 And with the fall comes the bounty of beans, tomatoes, summer squashs, cucumbers, peppers, potatoes and greens. All of which are planted, grown and are havested by 8 fiecely dedicated and passionate young famers who have come to experience the rhythms of the agrarian lifestyle and the pure joy of getting to know who they are feeding. The heart of agiculture is connecting your community with where their food is gown; we couldn't do this with you! As each fall comes my internal mantra is "stay strong, do good work and be humble."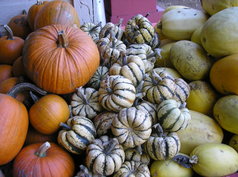 The main season CSA will finish up on Wednesday, Oct. 18th.  We have 4 more weeks of CSA pick up. The Wednesday evening farmers market finishes befoe our csa season, on Oct. 4th.  CSA members who pick up at market, please mark your calendars to pick you you last two shares of the season here at the farm on Wednesday, 10/11 and 10/18. We will be sure to remind you as it gets closer and are happy to make other arrangements with you if you can not get out here.
Fermenting with Hatch Lab coming up on the farm
Join
Hatch Lab
on one, two, or three Sunday afternoons in October to turn the
Cure Organic Farm
autumn bounty into jars of tasty fermented goodness to enjoy all year round.
This fermentation thing is part art, part science, and a whole lot of experimentation and creativity. Let's experiment together, in a beautiful place, with other curious people, using straight-from-the-farm veggies, and with the guidance of our peers, great books, and our intuition. After each event, we'll each leave with four jars of goodies to stock the fridge.
Each gathering is limited to 12 participants, so register early. Children 12 and older are welcome to register and join us.
1 1/2 tablespoons rice vinegar
1 1/2 tablespoons white miso
1 bunch quartered radishes, with root and 1-in. stem attached
Cooking spray
1 tablespoon unsalted butter
1 tablespoon granulated sugar
2 tablespoons chopped cilantro
1/2 teaspoon black or white sesame seeds
Whisk together vinegar and miso in a small bowl. Heat a large cast-iron skillet over medium. Generously coat radishes and skillet with cooking spray. Add radishes to skillet; cook, stirring occasionally, for 10 minutes or until just tender. Add butter, and sprinkle with sugar; cook 30 seconds, stirring to coat. Remove from heat; add miso mixture, and stir until radishes are completely coated. Add cilantro; toss to combine. Sprinkle with sesame seeds.
Haricot Vert with Toastes Almonds & Caramelized Shallots

2 lb. haricots verts or regular green beans, trimmed
1 Tbs. unsalted butter
1 Tbs. plus 2 tsp. olive oil
4 shallots, thinly sliced
Freshly ground pepper, to taste
1/2 cup sliced almonds, toasted
Bring a pot of salted water to a boil over high heat. Add the green beans and cook for 2 to 3 minutes. Drain and immediately transfer to a bowl of salted ice water to stop the cooking. When the beans are cool, drain and set aside.

In a large sauté pan over medium heat, melt the butter with the 1 Tbs. olive oil. Add the shallots and season with salt and pepper. Cook, stirring occasionally, until the shallots begin to brown, about 6 minutes. Reduce the heat to medium-low and cook, stirring occasionally, until the shallots are caramelized, about 6 minutes more. Transfer to a paper towel-lined plate.

In the same pan over medium-high heat, warm 1 tsp. of the olive oil. Add half of the green beans, season with salt and pepper and cook, stirring occasionally, until they are heated through and lightly browned, 3 to 4 minutes. Add half each of the shallots and almonds and stir to combine. Transfer to a bowl. Repeat with the remaining olive oil, green beans, shallots and almonds. Toss all of the beans together, then transfer to a serving bowl and serve immediately. Serves 6.



Cure Organic Farm

7416 Valmont Rd.
Boulder, CO 80301
cureorganicfarm@yahoo.com
www.cureorganicfarm.com
In your CSA share this week
haricot vert beans
tomatoes

potatoes

salad mix or arugula
cucumbers
bell peppers
anaheim pepper
radishes
zucchini & summer squash
Coming next week... tomatoes, peppers, potatoes, beans, zucchini, greens, eggplant and more.
Fruit share - Ela Farm Gala Apples
Flower share - finished for the season
Egg share - every week
Coffee share - this week
Bread share - this week
Wine & cheese - this week
Winter Share Registration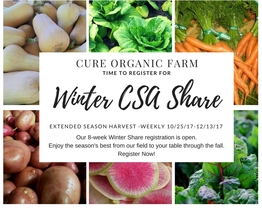 Winter Share registration is open. Many Thanks to all of you who have registerred for Winter Share. Registation will continue through early October. We hope that you will consider joining to extend the CSA season into December.

First pick-up is on October 25

th

 (the first Wednesday after summer CSA share ends)

Winter share is eight weeks long:  

October 25th -  December 13

th

.

Pick up's take place Wednesday from 3:30-6:30pm in front of the farm store or inside depending on weather. 

Winter Share is one size and includes both veggies and fruit. $240 for the eight-week bounty of veggies and fruit ($30 per week).

 
We will continue to offer our other shares as well including:
Egg Share $48

Bread Share (every other week) $30

Wine + Cheese (e/0 week) $120

Coffee Share (every other week) $44

Miso Glazed radishes
Summer's best veggie chili
Haricot Vert w/ Toasted Almonds & Caramelized Shallots
Detailed recipes are below
"Winter is an etching, spring a watercolor, summer an oil painting, and autumn a mosaic of them all."
   -Stanley Horowitz
Wine: The Frank Family winery was first constructed in 1884, part of the Larkmead winery. The beautiful stone building was refinished with native sandstone from the nearby hills in 1906 and today, is on the National Register of Historical Places and listed as a Point of Historical Interest in the state of California. Frank Family produces distinctive Cabernet Sauvignon, Chardonnay, Zinfandel, Sangiovese, Pinot Noir and Petite Syrah.
The 2013 Napa Cabernet Sauvignon is made of 80% Cabernet Sauvignon, 13% Merlot, 3% Petit Verdot and 4% Cabernet Franc. Aged in 67% two year old French oak barrels and 33% in new French oak, this wine has the perfect balance of fruit, oak and tannins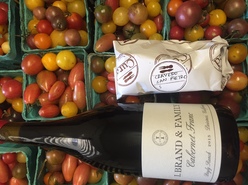 Cheese:Parmigiano Reggiano has been hand selected and matured by the Cravero family in Bra since 1855. These cheeses are handmade in the San Pietro dairy in the Appennini hills of Modena from the raw milk of a small herd of less than 100 cows.  After meticulous maturation at the dairy for six months, the finest cheeses are graded by Giorgio Cravero and taken to Bra for ripening.  At two years old, its succulent, moist, nutty texture has a complex fruity, caramel sweetness that is very different to the dry and often bitter cracked cheeses matured by the large cooperatives.  The San Pietro dairy produces just six wheels a day.
Enjoy!
Summer's Best Veggie Chili

2 tablespoons olive oil
1 zucchini, sliced
1 yellow squash
1 red bell pepper
1 green bell pepper
1 fresh jalapeno 
4 cloves garlic
1 onion, chopped
1 -2 pounds tomatoes
3 ears of corn
2tbl spoon tomato paste
1 can black beans
1 tablespoon chili powder
1/2 teaspoon dried oregano
1/2 teaspoon ground black pepper
Heat oil in a large pot over medium-high heat. Stir in zucchini, yellow squash, bell peppers, jalapeno, garlic, and onion. Cook 5 minutes, just until tender.
Mix tomatoes, tomato paste, black beans, and corn into the pot. Season with chili powder, oregano, black pepper, and cayenne pepper. Bring to a boil. Reduce heat to low and simmer 20 minutes, stirring occasionally