A BLACK BEAD STORY AFRO-CARIBBEAN
SUMMER DANCE & DRUM INTENSIVE
JULY 3-10, 2022
@ THE HILL DANCE ACADEMY THEATRE
2900 BEDFORD AVENUE, PGH., PA 15219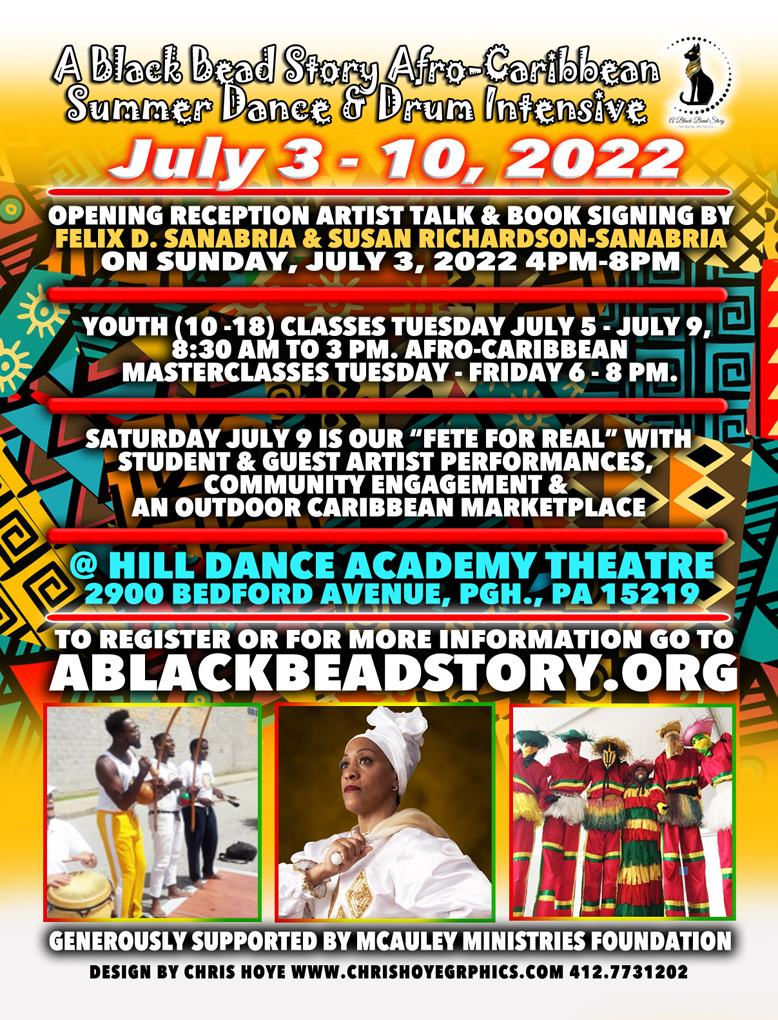 A Black Bead Story: The Digital Spectacles will hold our first annual Afro- Caribbean Summer Dance and & Drum Intensive at the Hill Dance Academy Theatre Campus in the historic Hill District. The ABBS Afro-Caribbean intensive brings together a global cadre
of dance, drum and song performing artists from Haiti, Cuba, Puerto Rico, Brazil, Bahamas, Guyana, Virgin Islands, and Trinidad and Tobago for a week of immersive instruction.
Students will have the opportunity to learn, share, perform and engage in masterclasses with:
Instructors ~Felix Sanabria~Susan Sanabria~DJenane Saint Juste~Marisol Blanco~Solomon Steel Pan Co.~Brooklyn Moko Jumbies~Norma Jean Barnes~Akinlana Lowman~Anthony Mitchell~Dante Mitchell~Thomas Chatman~Kaceem Barnett~Nick
Spivey~Alexander Hugo Cruz~Gena~Sheriden Booker
The intensive opens Sunday, July 3 with a reception and book signing featuring esteemed percussion and dance scholars Felix Sanabria and Susan Sanabria from 4 pm - 8 pm.
You (10 -18) classes run Tuesday July 5 - July 9, 8:30 am to 3 pm. Afro-Caribbean masterclasses are Tuesday - Friday 6 - 8 pm. Saturday July 9 is our "Fete For Real" with student and guest artist performances, community engagement and an outdoor Caribbean
marketplace. All intensive classes are reasonably priced and discounts are available. For more information call (724) 715 - 3278 and to register for classes go to ablackbeadstory.org. The ABBS Afro-Caribbean Summer Dance and Drum Intensive is
generously supported by the McAuley Ministries Foundation.
We have something to behold!
Have you ever seen a
spectacle? Yesterday and here
a mask in high grass fields,
rivers dancing across the
floor, feathers in glistening
woods. Spectacles of stilts on
a busy street. ~A Black Bead Story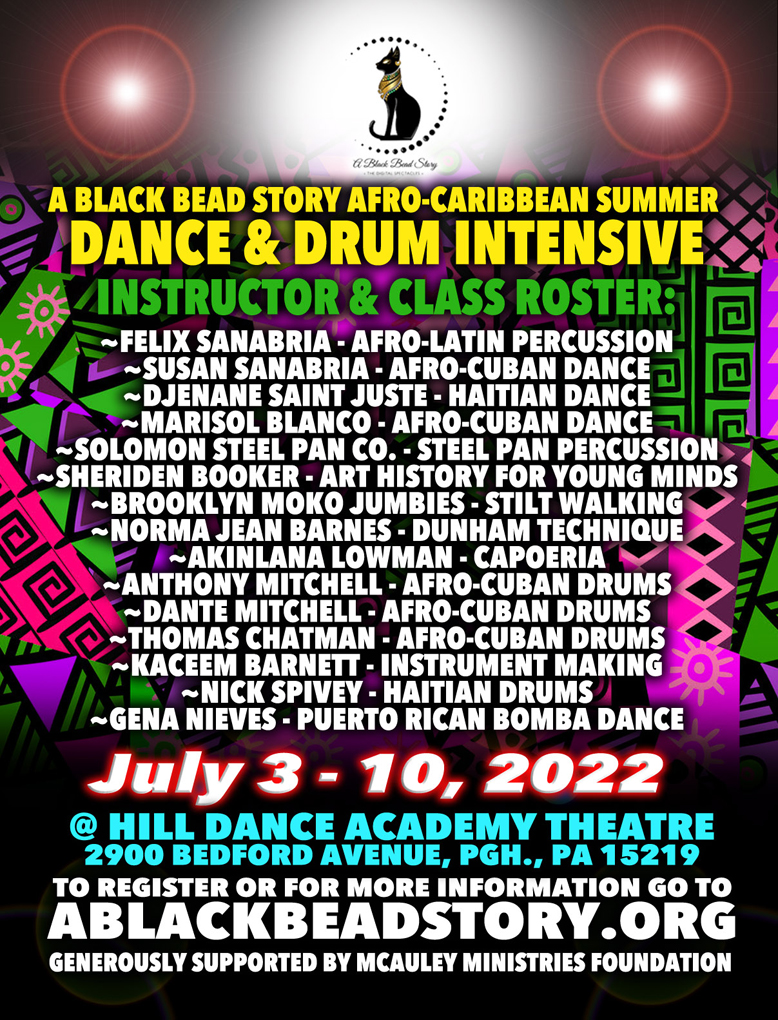 TO REGISTER OR FOR MORE INFORMATION GO TO
ABLACKBEADSTORY.ORG
Generously supported by MCauley Ministries Foundation
A Black Bead Story: :The Digital Spectacles
Afro-Caribbean Summer Dance & Drum Intensive
July 3 - 10, 2022
Hill Dance Academy Theatre Campus
2900 Bedford Avenue Pittsburgh, PA 15219
Contact: Celeta Hickman, Artistic Director & Founder
Phone: (724) 715 - 3278