The Pittsburgh Hip Hop Collective Presents:
RACE, RELIGION, AND HIP HOP
A ONE ON ONE CONVO WITH
BROTHER ALI
HOSTED BY JASIRI X
SEPTEMBER 5, 2014 @ 7PM | $5
ALLOY STUDIOS | 5530 PENN AVENUE
SPECIAL GUEST: BLAK RAPP MADUSA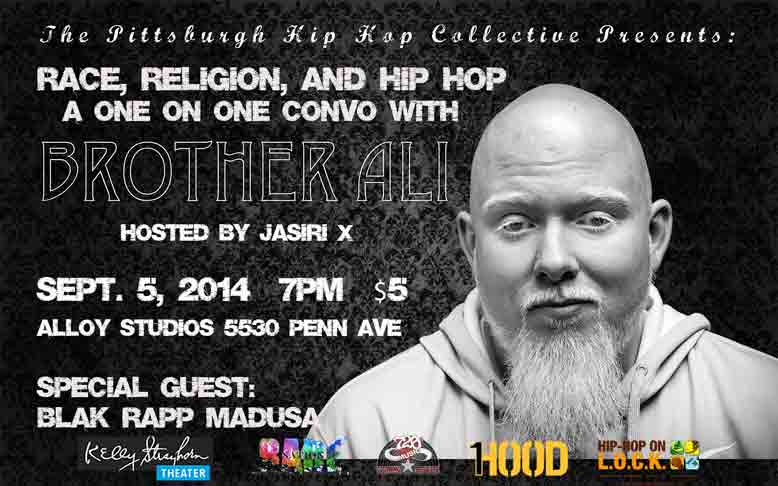 Due to recent tragic events around the country, we need this conversation more than ever. On Friday, September 5th, the Pittsburgh Hip Hop Collective will host successful hip hop artist Brother Ali in a discussion about "Race, Religion and Hip Hop." Come join The Collective as Brother Ali provides a truly unique perspective on the current role of race in hip hop and religion's place in the genre. The discussion will be held at Alloy Studios (5530 Penn Ave), hosted by vocal artist and activist, Jasiri X, and will feature an opening performance from Blak Rap Maddusa.
The Collective asks for a donation of $5 at the door to help them to continue hosting unique and education events such as this.
The Pittsburgh Hip Hop Collective was responsible for organizing the "Cultured Steel Hip Hop Festival," two days filled with live performances, art galleries, film screenings, and performances from local artists as well as headliners Talib Kweli and Rapsody. Additionally, The Collective has hosted successful monthly events beginning in February 2014, hosting legends like 9th Wonder, Jean Grae, Pharoahe Monch and Black Ice for discussions and performances aimed to educate and enhance the hip hop and arts culture in Pittsburgh.
R.A.R.E. Nation, a growing local hip hop music company, has partnered with Jasiri X and 1Hood Media to create the Pittsburgh Hip Hop Collective. The Collective's major goal is to revive and shift the culture of hip hop in Pittsburgh, and has been loosely referred to as a "Pittsburgh Renaissance" of hip hop and art. The city has seen a lot of rappers, but very little culture here, which is troubling for the genre's future. The collective has recently received a grant from Advancing Black Arts in Pittsburgh, a joint project of The Pittsburgh Foundation and The Heinz Endowments, to organize several different types and sizes of hip hop events in the city during this year. Many of these events are focused on laying the foundation for initiating change: educating people about hip hop, its history and its culture.
For more information visit
RareNation.com or 1Hood.org.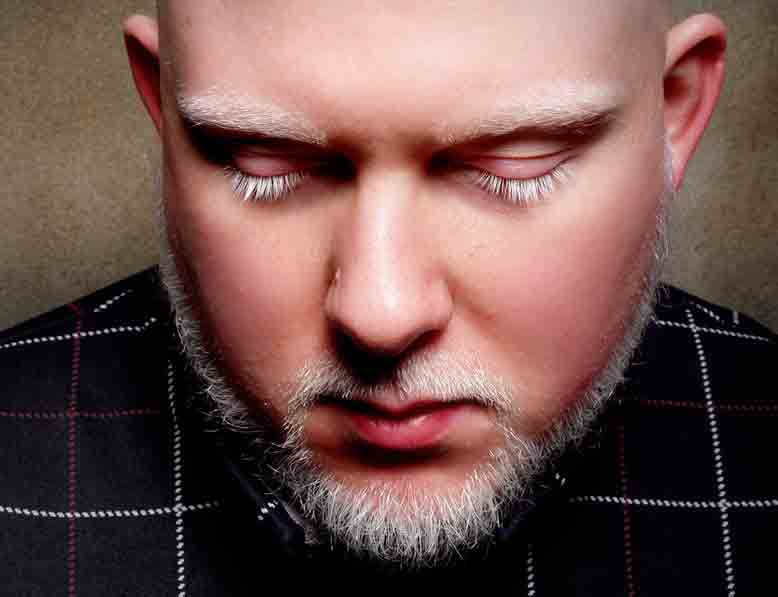 ABOUT BROTHER ALI
Ali Newman (born Jason Newman, July 30, 1977), better known by his stage name Brother Ali, is an American hip hop recording artist signed to Rhymesayers Entertainment. Brother Ali was born in Madison, Wisconsin, and spent his early childhood moving from city to city in the Midwest (mostly in Michigan). Ali's family settled in Minneapolis, Minnesota, in 1992. He attended Robbinsdale Cooper High School in New Hope, Minnesota. He converted to Islam at age 15 and followed Imam Warith Deen Mohammed. During this time, Ali was selected to join a group of students who went to visit Malaysia to study a way that a more liberal Islamic society could have a peaceful coexistence between different religions. Rapper Brother Ali spent much of his life living in various cities in the Upper Midwest, starting in Madison, Wisconsin, then moving to Michigan as a young child -- where he was first introduced to breakdancing and graffiti and rapping -- and finally settling in northern Minneapolis with his family when he was 15. Eventually, his demo tape Rites of Passage made it into the hands of the still young Rhymesayers crew, who signed the MC and brought him along with them to the 2000 Scribble Jam, at which Ali was a finalist. In 2003 his debut, Shadows on the Sun, produced by Atmosphere's Ant and including a song ("Forest Whitiker") that spoke of his albinoism, came out, followed by the Champion EP in 2004. The next few years were tough for Ali, a devout Muslim, as he was dealing with a divorce and struggling for custody of his son. However, all of this just provided fodder for his music, and in the spring of 2007, after a few months of delays, Brother Ali's sophomore record, The Undisputed Truth, hit shelves. His 2009 effort Us advocated a return to true hip-hop, and was followed in 2012 by the more political minded Mourning in America and Dreaming in Color.....FOUND OUT MORE AT BROTHERALI.COM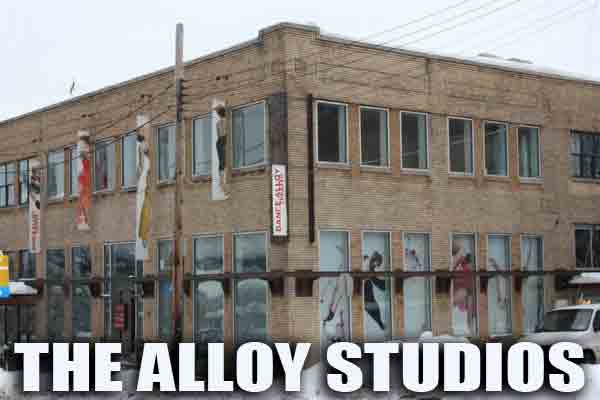 5530 PENN AVENUE, PITTSBURGH, PA 15206