Laser Training Center

Cabarete, Dominican Republic

.

August 2014



---
In this issue:
Seidenberging your hull.
Welcome new coach Judith Krimski.
Month long training programs in Cabarete, starting at $1,690.00 Laser, hotel, and Gym.
All winter clinics schedule in Cabarete.
---
Secure a watertight hull by "Seidenberging" your Laser.
Peter Seidenberg has been racing the Laser since 1980. He has won 4 North Americans, 4 European and 9 World titles in the different Masters age groups.
When Peter took delivery of his brand new Laser here in Cabarete, we realized how meticulous he is about boat preparation. Water inside the Laser is not very common but a totally dry Laser is faster, and allows the sailor to concentrate on racing as it eliminates speed doubts. Peter's treatment to the hull also secures a longer dryer life for the boat. We have coined the process "Seidenberging."
Goal: Making sure your Laser is always dry inside the hull.
How?
By creating more room for silicone to seal around any screw going through the hull, AKA re-calking.
Process: Completely remove all screws from hull. To make sure you did not forget any screws we circled them in red in the attached diagram.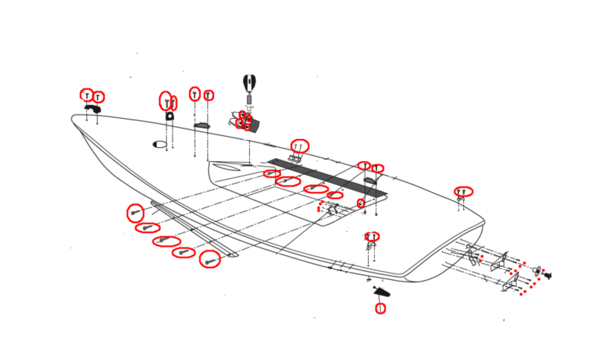 With a counter sink-bit (exhibit A), counter sink the point of entry of the screw to the hull (exhibit B). When possible counter sink also the piece that needs to be screwed in. (Grab rails for example).

When the hole is too big to countersink, as is on both sides of the bailer, use a file or small knife to remove the burr on the cockpit and bailer side.

Put a generous amounts of silicone on the screws and the hull, and screw all parts back in.

Install deck hatches.

When the cockpit is filled all the way to the top with water, i.e. after a nosedive down a wave, the "breathing" hole under the hiking strap in the forward cockpit wall may allow water to enter the hull.

To access the inside of the boat easily, Peter adds a hatch on each side of the centerboard case.(Exhibit C).



The cut- out boat material is similar in weight to the hatches and therefore the weight of the boat stays the same. It is much easier to use a big sponge to dry the inside while the boat is laying flat on the dolly, rather than propping it upright to assure every last bit of water drains out the minuscule stern plug. Other advantages to installing hatches are the ability to wash the inside of the hull with fresh water to remove saltwater, and ventilating the boat to keep it dry inside. Peter's Lasers are always the most rigid boats around and a contributing factor may be that they are always dry inside.
---
Welcome coach Judith.
Different coaches have different views on many aspects of racing, and of course have their own unique way of delivering a message. We even realized that some sailors respond in a totally different way to the same instructions given by two different coaches. Therefore it has always been part of our policy to bring in new coaches with new ideas.
For the winter of 2014/2015 our coach of choice is Judith Krimski from the USA. Many of you follow '
Center of effort
' her blog for racers. Others know her as a contributing coach to
The Laser Sailor
magazine.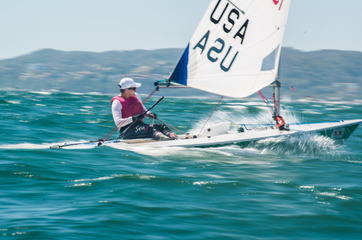 Here is Judith's story in her own words: I started my sailing career as a competitive windsurfer and Fanatic team rider competing in events around the U.S. After a few years hiatus to raise a family I went back to big boat racing but soon realized my heart was in single handing. In 2007 I took up the laser and quickly developed a passion for the boat. I love the physical and mental aspects of the boat and since racing is my thing I have worked hard to push myself performance and knowledge-wise.
The laser is a challenge on all levels while simultaneously being a boat that is fun for the average sailor and there aren't many singlehanded boats that can be sailed from youth to seniors.
As an adult sailor learning the laser I have faced and conquered numerous challenges. Keeping up physical fitness for maximum performance on long regatta days, developing muscle memory so boat handling becomes seamless, not to mention learning to "feel" the boat.
I am excited to bring my perspective on laser coaching to the Laser Training Center. My goal will be to give every sailor the specific, focused coaching they need to improve quickly. With it's consistent conditions, Cabarete is the perfect place to do that.
To reach Coach Judith directly and discuss your goals contact her at
judith@caribwind.com
We are sure that you will immediately feel her unique and thoughtful interest for individual success whatever your current level of sailing is.
---
The cheapest month long training session ever.
Starting at $1,690.00 including Laser, accommodation and gym classes.
February, March 2015.

If you thought taking a month off in the winter to travel to a warm and windy place, improve your boat speed and boat handling techniques, all the while enjoying the vibe of a Caribbean town that lives and breathes watersports was out of your budget, it is time to reconsider.
In February and March 2015 we are offering a package that includes everything a sailor can wish for.
Laser coaching: Five days a week, our coach will set up marks, or start lines, and run drills for all participants. These on the water sessions will be two hours long, followed by video debriefing of the day's training. Optional private or group coaching is also available.


Gym: Join one of the classes offered at Rouge Gym, Cross fit, TRX, or Yoga.
For those who don't want to beach run to the gym, Mototaxi are readily available and do not make a dent on the budget.
Accommodation: Take advantage of one of Cabarete's hotels to pick the comfort that fits you best.
Our packages start at $1,690.00 a month based on shared lodging at the Laguna Park Hostel.

Who are the other sailors? This new program was created in response to sailor's demand. To make sure you are challenged by other sailors, forward this newsletter to your Laser buddies, and make sure they join you.
The program will run from February 1st to March 30th, 2015. The rate of $1,690.00 is for four (4) weeks of training. Rates are available for shorter or longer stays.
Just ask
.
While in Cabarete, take advantage of this great opportunity to learn to kitesurf, surf, or just chill, and concentrate on Laser sailing. Wifi is widely available so staying in touch with work or family is quite simple.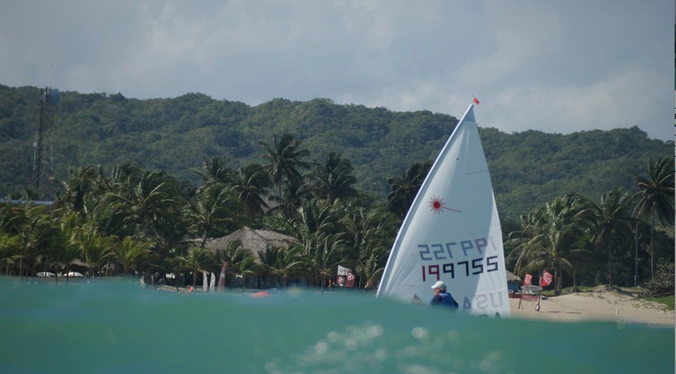 ---
---
---
Laser Training Center, Cabarete. Tel. + 1 (809) 571-0640. www.caribwind.com