Mundelein Community Connection (MCC) is a not for profit organization dedicated to the economic development, historic preservation and healthy community spirit of Mundelein's central business district. Working together we provide an atmosphere where new and established businesses can grow and where families find the hometown they always wanted.
A Message from the Executive Director
The 2020 "Event Season" is drawing to a close.  It has been a tough year, with a lot of cancelations, but got through it, and we have already started planning for next year.  Hopefully, things will turn around and we will be able to have a full complement of events next year. 
There are still things to look forward to in 2020.  The Farmers Market is going strong.  Great weather in September and a nice variety of vendors has kept attendance up; and, the fun atmosphere created by the Open Mic night at AREA Coffee and the outdoor dining at Tina G's and Park Street Restaurants has complimented the Market and made downtown a great place to be on Friday evenings.  The Mundelein High School video club joined in toward the end of September.  Student videographers have been filming the event with plans to produce a short video at some point in the future.  Weather depending, the Market will continue until October 16th.
. 
A few things to keep an eye on in the final months of this year are the Residential Halloween decorating contest and Christmas decorating contest which MCC is hosting in collaboration with the Village of Mundelein; and, the annual Santa's Cottage.  There will be no Village Holiday Tree Lighting ceremony this year, but Village Hall Plaza and Holiday Tree will be lighted, and a modified Santa's Cottage will be available.  See below for more information on each of these events.
Thank you for bearing with us during this very trying year and for supporting the Farmers Market and Mundelein Community Connection.
Virtual Artist of the Day

The Covid-19 pandemic meant we had to cancel the 10th Annual Mundelein Arts Festival even though we were well into planning for the event.  Fortunately, many of the artists that had already applied for the Festival agreed to let us put their application fee to the 2021 show. This was a great financial help. As a thank you, the Mundelein Park District featured these artists during the month of September on its Instagram Page in a section titled "Virtual Artist of the Day".   Please visit the Mundelein Arts Festival Facebook page or the Mundelein Park & Recreation District Instagram page to see their art. Please share and comment on these artists creative efforts!  Here are the links to the Facebook and Instagram pages:
Residental Halloween Decoration Contest
In the spirit of the season, the Village of Mundelein and Mundelein Community Connection are pleased to announce the launch of the 2020 Halloween Decoration Contest. All residents are invited to participate in this fun community-building event by decorating their front yards in spectacular (and frightening!) fashion. This contest challenges residents to create their best Halloween displays in celebration of the upcoming holiday. Winners will receive a gift card to a local Mundelein restaurant. 
Our thanks to our prize donors:  Jason Coroneos-Country Financial, Tammy Maranto-Key Mortgage Services Inc, and Mylifeinaflash.com.
Three winners will be selected, one from each of the following categories:
Scariest House
Most Creative
Best Fall Display
Anyone can 
nominate
 their favorite home(s) by completing the form below. You can 
nominate
your neighbors or your own home. For best results, take the picture of the display on your smart phone and simply upload the photo on the Village website.  The 
submission form
 is easy to use and it is simple to upload your photos.
Nominations must include the address of the nominated home AND a photo of the decorations. The deadline to submit nominations for the contest is 
Sunday, October 18, 2020
.  Community voting will take place during the week of 
October 19-25, 2020.  
Residents can vote for their favorite displays during this time. Winners will be announced during the week of 
October 26, 2020
.
"Yes, boys and girls, there is a Santa Claus" and he will once again be in Downtown Mundelein at his cottage in front of the Village Hall, 300 Plaza Circle.  However, this year things will be a little different than in past years.  Due to the current pandemic, visitors will not be able to sit on Santa's lap and tell him what they want for Christmas.
Santa and Mrs. Claus will be at the cottage on Saturday, December 12th and December 19th from noon until 3 pm.  They will wave to visitors as they drive by the cottage.  One of Santa's helpers will take letters from children and deposit them in a specially designed Santa Mailbox that will be installed in front of the cottage.  Santa's helper will also distributing gift bags to children as they pass by. 
The Village of Mundelein's Holiday Tree will be set up in the circle as usual, and the lawn around the tree will be cheerfully decorated with holiday lights.  Children are encouraged to include a return address on their letter to Santa so Santa can mail them an autographed postcard of himself and Mrs. Claus, with a special holiday message.
The Cottage will be fully decorated the week before opening day.   Anyone wishing to stop by the Cottage for a photo opportunity, or to mail a letter will be able to do so any time prior to Christmas day.  It will be a little different this year, but the tradition continues, with a twist.
Gary Gunther "Retires" as Farmers Market Manager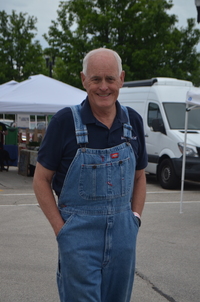 After seven years, the longest tenure of any other Farmers Market Manager, Gary Gunther is stepping down as the Farmers Market Manager at the end of this season. 
We will miss him greatly!  The position of Market Manager is essential to the success of the market and Gary has been a great Manager.  The Market Manager is responsible for finding a diverse variety of vendors; accepting applications; securing the Village permit; organizing and setting up the market every week for 18 weeks between June and October; advertising and promoting the event; being on-site each week to deal with questions, concerns, weather emergencies; problems and complaints.  It is a difficult job.  The kind of job that if it is done well, very few people notice; if not, the Manager bears the burden.  For seven years, the Mundelein Market has run very smoothly thanks to Gary's hard work.
This year has been particularly difficult; by far the most challenging year ever.  But, Gary has persevered in the face of adversity with great determination. Once again the Mundelein Farmers Market has been one of the best in the area.  The vendors recognize his great organization skills and his sincere interest in their welfare.   In spite of the competition from other Markets, plus operating during a pandemic, Gary has built the market up to a level that attracted 20 vendors and hundreds of visitors weekly.   
"He has left big shoes to fill", MCC Board Member Mike Flynn said, I hope we can find a replacement so we can continue the market. The good news is that Gary has created a highly respected market, and left a detailed manual of operations for a new Manager to follow".  
Around Town (Community News)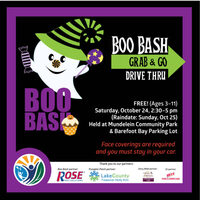 October 24, 2:30– 5 pm
Barefoot Bay Parking Lot
This is a FREE Halloween-themed event for the children ages 3 to 11. To promote safety guidelines, we are making the event a "Grab & Go" this year. Please dress for the weather. Candy and treats will be provided by local businesses. No registration is required and costumes are encouraged. Parental supervision is required of all children. Children should bring a bag for candy. Face coverings are required at this event.
Rain date: Sunday, October 25
Special thanks to our partners: Rose Pest Solutions, Holly Kim, Lake County Treasurer
and Hitz Pizza.
Mundelein Heritage Museum Reopens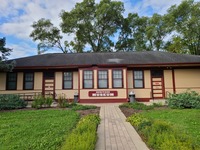 The Mundelein Heritage Museum, 601 Noel Drive, reopened on Saturday, September 19, 2020.  Formerly known as the Fort Hill Museum, the facility has been closed since 2018.  Museum Operations were taken over by the Mundelein Historical Commission in February 2019 under a cooperative agreement between the Village of Mundelein and the Mundelein Park District.  The Historical Commission serves as the Museum Board of Directors, the Mundelein Park District owns the land, building and the artifacts. 
The Heritage Museum is open on Saturday's from 1 pm to 4 pm and on Wednesday's  from  4 pm to 7 pm through December.  Group tours are available by appointment.   It will be closed over the winter, and reopen again in March.  For Public Health purposes facemasks are required; the use of hand sanitizer is mandatory; no more than 10 people can be in the museum at any time; and a frequent cleaning schedule is being followed. 
Bricks from the former Hawley Street Village Hall are available for sale at the museum for $5.00 each and come with a Certificate of Authenticity signed by Mayor Lentz.