12 Septembe
r
- SMIDSY talk by Stephen Wilkinson-Carr - see main text for full details of this event
10 October
- AGM followed by Peter Genet the Big Van Trip
SkillShare

3 September
-
3 Guys Cafe
Bike Ride-Outs on the 3rd Saturday of every even numbered month and the 3rd Sunday of every odd numbered Month. Email will be sent out to Bikers and added to the Forum.
Next ride out Sunday 17 July with IAM invited too. Details will be forthcoming via email to all bike members. It looks like a good day out too!
Do you have a topic you would like discussed, or know of an interesting speaker?  Please contact speaker at
speakers@wiltshireroadar.co.uk
Congratulations to the following members who have passed their Advanced Tests recently:
Derek Hill - Gold, Bike, Retest
Please welcome the following to the Group

:
Don't forget that we have a range of clothing available to purchase. We also offer a range of books, such as Roadcraft, Motorcycle Roadcraft and the Highway Code, and these are available at discounted prices.

For more information visit the Merchandise page of our web site 
We are always looking for more articles, ideas and news for the newsletter. Have you been somewhere interesting recently that would make a good story? If you attend any group events then take a camera and send us your pictures!

Please forward all contributions to
newsletter@wiltshireroadar.co.u
k
We're now on
Facebook
AND
Twitter!
Wow this was a hot one! I hope you all enjoyed our scorching summer.  I was on my motorbike for one of the days which was fine whilst travelling at 50mph but anything lower meant boil in the bag – but I am not complaining!
A reminder it is the AGM in October  - our annual governance meeting.  I know many of you have decided to stay away from our Monday meetings but do please try and come along as we have had some excellent speakers. 
The AGM is important as it is your opportunity to let the committee know what you want from the Group – better still come and join the committee.  We have all been on it for a few years now and we may be missing some good ideas.  Help us run the group please it is not too onerous a task and there is only one meeting per month on the third Tuesday evening.  It can be a bit demoralising though as there are fewer people volunteering to help. 
We have had to cancel our stand at the Calne Bike meet as no one was able to help coordinate the event.  This is a real shame as it is fertile recruiting for both car drivers and bike riders.  Please step up and help the Committee run the group – happy for another Chair to take over and for me to be in support but I suspect I will not be bruised in the crush to do so.  Please do come back to me if you have an idea or think I am asking too much!
There is no meeting in August so please enjoy the summer - no doubt the gardeners amongst you are praying for rain. 

We are planning more speakers for our Group Meetings so come along to hear what they have to say over a coffee or cup of tea - and a biscuit too. We may go for Hob-Nobs if we're feeling in a good mood!  
 


I hope to see many of you at the meetings and on the road.
Not long now for the next AGM in October where we renew our group subscriptions and look for new members to join the committee. Without a formal committee, our group will fold.
The current committee members have been in post for several years with six out of seven being bike members. We would like to welcome new members to join us and take over the running of the group.  Change of committee members is good as it brings in new and fresh ideas and perspectives.
The workload isn't too time consuming, but we would really like to re-dress the balance between car and bike members. 
Please let the Secretary know if you would like to come along and see the workings of your committee.  
Understanding and avoiding SMIDSY (Sorry Mate I Didn't see You) collisions 
Ever had a vehicle pull out on you at a junction?
Ever pulled out from a junction into the path of another vehicle?
Ever wondered why such incidents happen?
There are numerous reasons such potential and actual collisions happen and most are
more to do with human physiology (our eyes tell us lies), vehicle design and
environmental factors than driver / rider ability.
Join us for a free talk designed for both riders and drivers by
Stephen Wilkinson-Carr, RoSPA Senior Tutor, Glos RoADAR
Monday 12th September 2022 at 7:30 p.m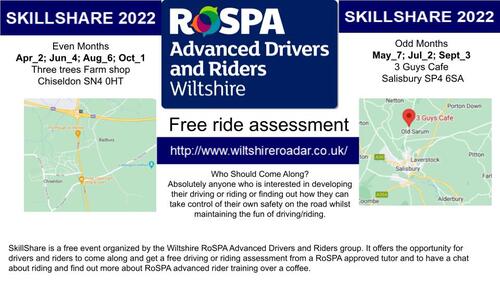 Have you been up to anything to do with Riding or Driving lately? If so, then please let us know as we would love to include it here; photos would be great too!
The monthly ride out
On Sunday 17 July, a group of intrepid motorcyclists set off from Severn View Services, on what was to be an extremely enjoyable and rewarding group ride to the Two Hoots Tea Rooms at the Devils Bridge station, Pontarfynach (Wales).
Unlike normal group rides this was a group comprising members from Wiltshire ROADAR and the Wilts and Bath IAM group, led by David B (Advanced Bike Tutor), with Peter Genet as TEC.
We met early (well 8.30am), to ensure there was sufficient time available for those important stops, for rehydration, bacon butties, cakes and other assorted refreshments. Particularly important on this ride as the temperatures rose… and rose, even when on the move the temperature gauge was nudging 32c
The first challenge was to identify our group from the many riders who were arriving at the services…. apparently, the Bristol IAM group were meeting for their ride to Aberystwyth. My fear was that we could be using a similar route and riders would end up following the wrong bikes and end up in Aberystwyth, but I needn't have worried as the last time we saw them was as we left the services
The first leg of our route was up to the Honey Café at Bronllys, but not using the obvious route up to Monmouth, instead we picked up the B4228 to Coleford, which was fabulous with lots of twisty's, before joining the A4136 into Monmouth. These roads gave us a flavour of the day ahead, lots of twisty's and not too much other traffic (probably decided that a tin box in the heat didn't have much appeal). From Monmouth we picked up another B road, this time the B4233, and then the B4347 which took us up to the Hay-on-Wye and then guess what… another B road (B4350) to our first stop of the day at the Honey Café.
Our stop gave the group an opportunity to enjoy a half hour off the bike, to stretch, get some hydrating drink, some food if required and most importantly chat about the route, and all things bikes.
After our break, two of our group as pre planned returned to Wiltshire (a special word goes to Natalie who came as Mike's pillion having only previously done a few miles on the bike), with rest of the group enjoying a progressive (and legal) ride north up the A470, where those with smaller tanks had a quick refill, before we continued up to Rhayader, which is where we joined the Aberystwyth Mountain road, circa 20 miles of biking heaven, which today was clear all the way to our destination and only a very small number of vehicles coming toward us. This gave us the opportunity to really use our skills as advanced riders to make progress through the valley road, dodging the sheep and practicing the use of acceleration sense through the tight largely single track twisty's (can you see the theme?... twisty's)
We arrived at our destination, the Two Hoots Tea rooms where our reserved table was waiting for us and where the friendly team welcomed us, took our orders and served us with a smile (see more about smiling later). To accompany our meal, we were entertained by a group of local musicians (although one of their number originated from Trowbrdge, which goes to show how small a world we live in), as you might guess we talked a lot about the mountain road and our skills in making progress…(legal).
Post lunch our route was across to Leominster, via a fuel and refreshment stop at Crossgates, using the A44, A470, A489 and A483, whilst A roads so a little wider they were of course….. "twisty". Then it was onward to our final stop at the OK Diner near Leominster, using the A44, the B4356, B4362 and the B4361. Our stop in Leominster was interesting…., service without a smile comes to mind (the opposite to the welcome we received at our earlier stop. But not deterred we enjoyed the break and refreshment. As time was ticking by, we decided to forgo our planned final stop in Gloucester, but rather continue back to Wiltshire and disperse on route along the A417, with riders peeling off and heading to Swindon, Chippenham, Calne, Trowbridge and Warminster.
Nevertheless, we had yet more great roads to experience, with our route being via the A44, A448. B4362, B4214, A438, B4208 and then onward via the A417, and guess what more twisty's
When I got home, I had travelled some 300 plus miles, had a massive smile on my face and from the comments posted by my fellow riders so had they!
We lost no one, the drop off system worked, we had no U turns, the Sat Nav worked, and no incidents or breakdowns, as the riders had done their pre ride checks and applied their advanced skills.
This is an image of the overall route
To all who were able to join me, for all or part of the ride, Thank you.
RAPID Training BikeMaster


Bob Fram attended the first part of the Rapid training BikeMaster course which was a track day at Blyton Park in Lincolnshire.   A hot ride up the night before to stay at the travel Lodge on Gainsborough – I am sure Gainsborough is great but it will not be on my ride out
destinations! despite the roads being lovely.
The aim of the day is to improve bike handling skills – this is not about speed and we were told to keep to 80% commitment to concentrate on learning.  We were split into groups of 3 per instructor who, for the first session, led us round the track for us to get used to the lines.  Blyton Park is a great little circuit with challenging chicanes and long sweeping turns with lots of run off, no gravel traps or armco – good for confidence I have to admit.
We then moved on to 3 more sessions where each of us took turns to lead with the instructor following the leader.  We were coached on our lines, throttle control and vision points.  Good to know as an advanced rider I was on point with all of this "as I expected" said my coach.  It was good to feel cornering speed improve during the day although my lean angles were less than I have used on the road.  It was good to give my tyre's left hand side (there was only one right hander) a good work out though – even if the evidence had worn of after the 140 mile journey home.
Bikes cooling!
After lunch we had 3 more sessions where we continued to practice what we had done in the morning.  I have to admit this has improved my cornering on the road.  It was a very hot day – see picture – and the importance of re hydration was all apparent – lots of water consumed.  It was also a tiring day so I was ready for bed when I got home at about 2100 hrs.
I was surprised we did not cover braking in the day – but I had been put in level 1 where I should have been in level 2 as a RoSPA gold holder.  This was a little disappointing as although I learnt a lot, I could have done with more coaching to improve all of my bike handling.
A great day none the less amongst Bike enthusiasts.  The Coaches are (nearly) all ex police motorcyclist and all share a passion for all things motorcycling.  The day was well organised and run with an emphasis o safety – there were no issues on the day.
I have my two days on the road in September with one-on-one coaching.  I will let you know how it goes.  These courses are not cheap. – this one is about £1000 so you may want to hear about the whole package before deciding on coughing up!  We know how to keep you engaged in this newsletter!
A quiet July, but its fixing to get busy.
As the summer break draws to a close, we are gearing up for the second half of the season.
Firstly, our next customer track day on July 29th. After one group pulled out we are reducing to one car for the other group of 4, all of whom are track day novices. John will supervise this group in our Cooper #265.
We plan to shake down the two Cooper S cars that day, after engine mount and drive shaft upgrades for #905 and a replacement engine in #887.
After the track day, both the "Esses" are racing on August 6th, and again on August 29th. On the 29th there is an open race, The Dave Allan Trophy, where two drivers can share a car. We will enter Gary in 905, and 887 will be shared by Steve, and another new driver to the team, Grant.
We are already making plans for the rest of this year and onwards into 2023. We hope to have more guest drivers to race with us. We are planning more track days too!
Gary Franks
Follow progress on Facebook @Driven.Ohm.Racing.
Please check the series website for the latest details:
Please let us know of any plans you may have; any road trips, any places to drive/ride to; maybe you have plans to unicycle the length of the UK - if you are planning this, please let us know as this would be great to read about!
Call for Bikers From Severn Freewheelers

Many of you will be aware of Severn Freewheelers, the blood bike charity that provides its free service to the NHS and specifically the Great Western Trust (GWH)  at Swindon. Partly as a result of the Trust's response to COVID and the service being better understood by the Trust, the workload now means we have two bikes serving the area. Last year we undertook over 2000 jobs for the Swindon Trust. Overall Severn Freewheelers did over 7000 tasks.
This is a request primarily seeking riders to help support our operation going forward. Naturally over time people fall away as their circumstances change, they move away or indeed decide this is no longer for them.
The service runs 1900hrs to 0700hrs weekdays and 24 hrs at weekends and public holidays. A typical duty is Wednesday evening till Saturday evening or Saturday until the Wednesday. You would keep the bike at home until you handover to the next rider. The bikes are the latest BMW RTs.
A new rider needs to have undertaken his or her advanced test in the last three years and is required to be retested every three years. In addition, there would be a check ride undertaken on joining and further periodic check rides with a nominated assessor. Managing the risks within the operation is a core value of the charity. There are of course other roles as coordinators and fund raisers and riders are expected to contribute beyond simply riding which is vital to maintain the service. From a response basis, riders need to live within 25 miles of the Great Western Hospital. Of course training is provided for all new members.
If this is of interest, please feel free to get in touch.
Promotional activities
SkillShare - 2022 - see poster above!
Wiltshire Police have the following dates for BikeSafe:

We will be supporting Wiltshire Police with BikeSafe both with tutors to make up the instructor numbers and to help promote the Group.  We do this in conjunction with WABAM so it is a great way to reinforce advanced riding and to gather new members.
Calne Bike Meet - 30 July 2022 -

Our stand cancelled!



I
f you have any ideas for events, then please get in touch with the committee using the committee email address
:
Look forward to hearing and discussing your ideas.
A generic set of slides has been created for use if you are asked about Wiltshire RoADAR and have the opportunity to present. This could be at a local club, workplace etc. Please send a mail to committee@wiltshireroadar.co.uk  
and the slides will be sent over to you.
We also have flyers and business cards so ask for these via the same means.
We continue to review these protocols at every Committee meeting and see no reason to change them at the moment for the next month espeically as there is an increase in cases.  Clearly with the changes in legislation some may feel these protocols are excessive; we continue to have your safety at the forefront of all we do - personal choice must lead the way. We will no longer insist on a lateral flow test as these will no longer be free of charge.    The responsibility is on us all to do what we think is right for us and our loved ones.  The bottom line is if you do not feel safe doing something then do not do it!!
Wiltshire RoADAR COVID Secure Car Tutoring Protocol 
This is a voluntary activity and both parties (Tutor and Associate) must be content to be in the same car as each other (normally the Associate's car).  It is recognised each individual has their own circumstances and acceptance of level of risk.  There will be no judgement of individuals who do not wish to conduct car training.
Wiltshire RoADAR have a written risk assessment which is available on request.  The mitigation factors listed below are to minimise the risk of coronavirus infection for the Tutor and the Associate.  These are the absolute minimum required and if individuals wish to add their own factors the this is up to them.
Essential Mitigation Measures
No training if either party has displayed COVID 19 symptoms within 7 days or is self-isolating in line with Government guidance (including Test and Trace protocols).

Associate and tutor requested to have conducted a lateral flow test within 2 days of the training session.  A positive test should be treated as per Government guidelines and precludes training.

Face covering to be worn by both tutor and associate.  These must be in place prior to entering the vehicle.

Ensure hands are clean (washed for 20 seconds and/or alcohol gel as a minimum) prior to fitting face covering.

Tutor and associate must not touch their face when in the vehicle or prior to washing/sanitising hands/ or removing gloves if worn.

Vehicle ventilation system to be on and drawing air from outside the vehicle (NOT on recirculation). Ventilation enhanced by opening rear windows to allow air flow over tutor and associate to go out of the vehicle.

Avoid face to face activity and conduct discussions outside the vehicle where safe and legal to do so.
Recommended Additional Mitigation Measures
Tutor wears disposable gloves when in the vehicle.

Any equipment taken into the vehicle by the tutor to be sanitised post the session (alcohol wipes or a bleach solution)

Associate to ensure vehicle interior is cleaned with sanitiser prior to tutor entering the vehicle.
Wiltshire RoADAR COVID Secure Bike Tutoring Protocol

We must ensure the safety of both the Associate and the Tutor.  The following protocol is to be followed:
Both parties must be happy to partake in the tutoring session – there is no penalty for not wishing to partake provided communication is clear.

No tutoring if either the Associate or the Tutor have displayed symptoms within the last 7 days or are told to self- isolate by the

Government

Track and Trace protocol.

It is srequested both the Associate and the Tutor conduct a lateral Flow test no sooner than 2 days prior to the session.  A positive test should be treated as per Government guidelines and precludes training.

All must follow Government guidelines on self-isolation and shielding.

Appropriate Social distancing must be rigorously applied. 

Follow Government guidelines for hand cleansing and personal safety – hand sanitiser useful at all times.

Avoid busy locations for meeting, follow the latest Government guidelines for the use of cafes and/or take own refreshments. 

Associates to be encouraged to bring their own copy of Roadcraft and the Highway code for ease of reference during briefing and de-briefing sessions.

Tutor explanations and diagrams to be suitable for understanding from 2 metres.
Advice will be updated as and when it is received. But, please follow government guidelines.
Media coordinator - Help us to broaden our reach

To help promote the group we have a variety of online media platforms, FaceBook, YouTube, Instagram and Twitter. To help make the most out of the opportunities that these outlets provide, we could use some help from someone who has experience of using such tools. Drop me a line at secretary@wiltshireroadar.co.uk  if you would be interested in helping promote our group.
These are available from the Group Secretary if any member wishes to see them. If you are interested in reading the minutes, then please send a mail to the Group Secretary whom will promptly forward them onto you.
Forum
Please could all Members use the 
Forum
 on the Website which can be used for any purpose but particularly coordinating events, hints, tips and general conversation.  It is easy to register on the website so please do log on and chat away.
Test results 
Reminder to let the Membership Secretary and your tutor know when you have taken your Advanced Driving/Riding Test and result. This is so our database is kept up to date; there is no need or pressure at all to have the result published on the website or in this newsletter if you wish to keep your result confidential.  
Gloucester RoADAR Newsletter
If you are interested in the Gloucester Group newsletter here it is.