---
---
Scotland Island Vegetation Collection
Monday October 10
Regular Vegetation Collection Guidelines Still Apply:
A maximum of 2 cubic metres of vegetation for each household
Leaf litter, grass clippings and prunings TO BE PLACED IN HARD SIDED CONTAINERS
Branches to be no longer than 1.2m and BUNDLED AND TIED TOGETHER WITH TWINE
No plastic, hessian or nylon bags
No cardboard, foam or polystyrene boxes
No soil or untied bundles
Any material not complying with collection guidelines will be left on the road side for residents to arrange private collection
---

Notice from Scotland Island Rural Fire Brigade
Before you light that Fire..


Thank You
Ian White
Captain SIRFB



---
Scotland Island Fire Shed Dinner
'Rocktoberfest'
Saturday 8 October at 7pm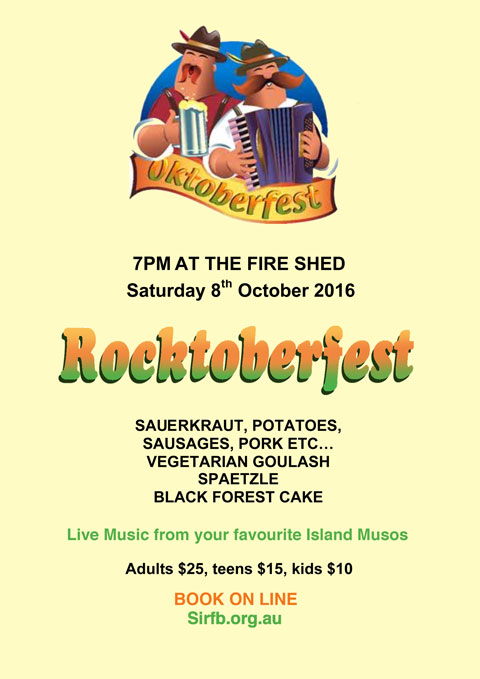 Online booking at
www.sirfb.org.au
---
Music afternoon for Young Musicians
Sunday, 4 December 2016
---
Nia Holistic Dance Fitness Classes TERM 4
Nia Holistic Dance Fitness Classes TERM 4
Tuesdays 6pm Healthspace, 1789 Pittwater Rd, Mona Vale (bookings essential)
Wednesdays 7pm Scotland Island Community Hall
Fridays 8am Healthspace 1789 Pittwater Rd, Mona Vale
Springtime is a time for renewal and we're starting this new term with a new routine called R1. It's more than dancing; this fun routine promises rejuvenation, conditioning, transformation and healing.

It will change you and change your body.



We also have a new class starting at Healthspace on Friday mornings at 8am. Start your day with fitness and feeling great in your body!

Email Mandy mindfulmovementpractice@gmail.com or call mobile 0411 645 389



---
Spring into Summer Ball
12 November - Royal Motor Yacht Club, Newport
---
A Comedy Night at the Hall
Friday 21 October & Saturday 22 October from 7:30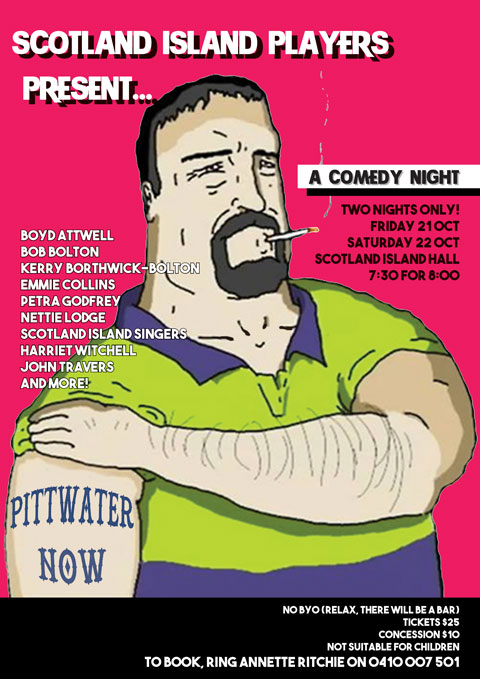 No BYO (

relax, there will be a bar)
Tickets $25
Concession $10
NOT SUITABLE FOR CHILDREN
To book, ring Annette Ritchie on 0410 007 501
---
Pittwater Offshore Wine Syndicate
Sunday October 23rd 2016 at 3pm.


Greetings,

Wine alert! The summer is approaching FAST and the supplies you hold are probably diminishing FAST. Now is the time to circle your virtual (or maybe even paper) diary for SUNDAY October 23rd 2016. The tasting notes and the order forms have arrived and you and yours are cordially invited to attend the pink home of Paul and Pamela (such alliteration!)

A quick look at the list of available wines made my mouth water in anticipation.

Bring friends, family, neighbours, a pen, a copy of the notes AND something nice to share in the way of food.

Remember the rules: We provide the wine to taste, you place an order if you wish quite independent of your little committee.



STARTS: 3pm





WHERE: Paul and Pamela's home, third jetty into Elvina Bay on the South side of the bay. Yes the house is painted pink and you are welcome to moor on the jetty if coming from the island or even 'the real world'





DATE: October 23rd. RAIN or SHINE





---
Tutor for Home Owners Building Permit
I am looking to engage a consultant who can guide me through the Home Owners Building Permit process.

Jan Murray
0408 689 733
www.janmurray.com
janm@janmurray.com.au



---
For Sale
Antique American solid cherry and tiger maple chest of drawers circa 1865.
Hand cut narrow dovetail drawers.
Dimensions
L: 1130x 500D 1380H.

Origin New York

Contact: Mary 0438632855



---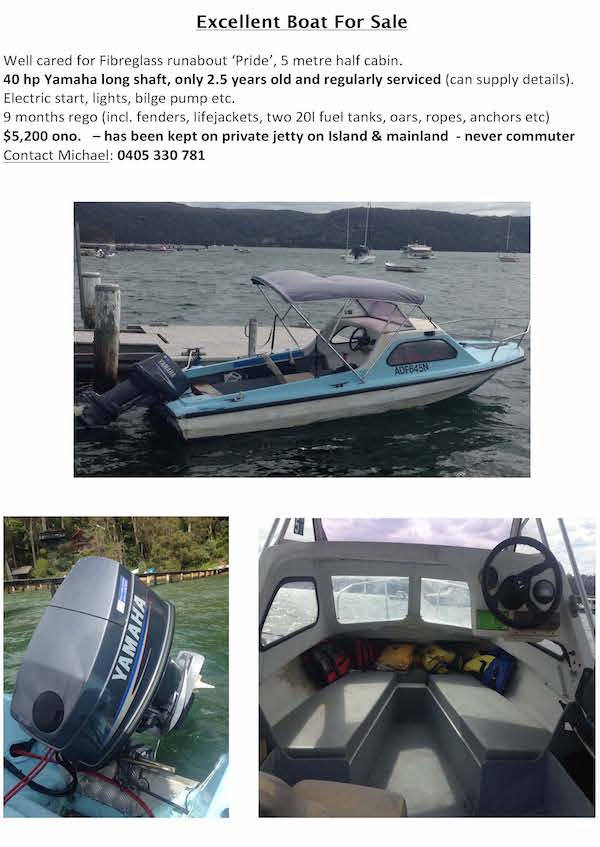 ---
---
---
A complete set of past electronic newsletters since May 2000 can be found and read at https://ymlp.com/archive_gesgjgm.php or by clicking here or by visiting the Mona Vale Library.

The Island website is at www.scotlandisland.org.au


---
To Contribute
If you would like to contribute to this newsletter it's easy!. Send an e-mail to the editor (editor@scotlandisland.org.au) or by clicking here. Type your contribution (100 words or so would be fine) and assuming it is of general interest to the community, does not include matter of a political nature and is not offensive, it will appear next month.
Subscription Information
To get on and off this newsletter,

click here

or got to:

http://www.scotlandisland.org.au/signup .


To change your address, click the 'modify' link at the bottom of this newsletter or send an email to the

editor@scotlandisland.org.au


---
Follow the PON
file
---
The Online Local Contacts Guide
Click HERE to load
---
The views expressed in this newsletter are not necessarily the views of the Scotland Island Residents Association (SIRA), or the Western Pittwater Community Association (WPCA)
---