---
Some reminders of what is on this weekend !
---
Scotland Island Annual Motor Vehicle Registration




SATURDAY, JULY 7, 2012




SCOTLAND ISLAND FIRE STATION 9AM TO 2PM





BACKGROUND:

In 1995, SIRA arranged for the removal of 15 unregistered vehicles, plus 1 truck! There was significant concern amongst members of the community about the lack of third party liability cover for these vehicles. To assist vehicle owners with registering their vehicles SIRA negotiated and obtained permission for the Fireshed to become a registered inspection station. Pink slips are issued annually and are valid until the registration date within the year. Warriewood RTA is aware of this arrangement and renewals are accepted with these pink slips.

SIRA supports the registration of all motor vehicles on Scotland Island. Residents with unregistered vehicles in use are putting the community at risk through the lack of third party liability cover. Should an accident ever occur that results in injury to the driver, passengers or pedestrians, it would devastate our community.

PLEASE BE RESPONSIBLE AND MAKE YOUR VEHICLES AVAILABLE FOR REGISTRATION. If your vehicle does not pass registration or you are currently the user of an unregistered vehicle SIRA requests that it be removed from the Island.



INSPECTIONS: SATURDAY, JULY 7, 2012




SCOTLAND ISLAND FIRE STATION 9AM TO 2PM





BRING: REGO PAPERS PLUS MOTOR VEHICLE




COST: $60.00 PER VEHICLE $10.00 S.I.R.F.B. $70.00 TOTAL



PLEASE NOTE: THIS WILL BE A ONCE ONLY INSPECTION!!
PLEASE HAVE VEHICLES IN ROADWORTHY CONDITION

REJECTION SLIPS WILL BE ISSUED FOR VEHICLES NOT CONFORMING WITH R.T.A. REGULATIONS



---
Scotland Island Winter Fire Shed Dinner
Saturday July 7th, 7pm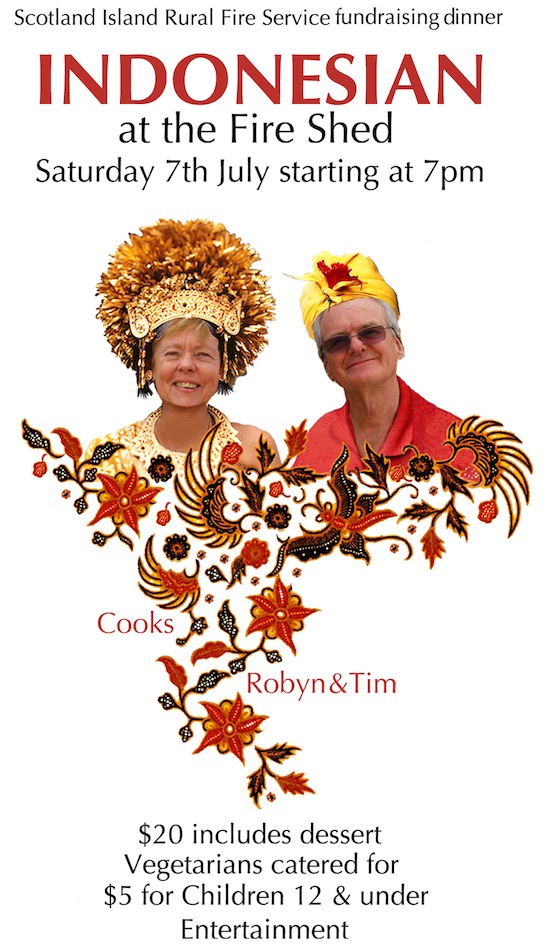 Indonesian Dinner by Robyn & Tim
Includes Dessert
Adults $20
Children under 12 $5
---
Pittwater Offshore Wine Syndicate
Wine Tasting Sunday 8th July 3-5pm



Greetings

Brrr...Winter Chills are best treated with a combination Paracetamol/Pseudoephedrine/Phenyephrine drug combination. What a load of rubbish!

Winter chills are best treated with one or two glasses of your favourite wine from the new tasting collection from the Wine Syndicate. You know that, I know that and so we are all keenly awaiting the latest collection.

The

next tasting is on Sunday 8th July 2012 from 3pm at the home of George and Deryn on beautiful Scotland Island

.

If you are new to the syndicate, download the tasting notes (see below), bring them with you as well as your tasting glass and a plate of nibbles to contribute to the afternoon, and have some fun.

Download Wine Tasting Notes HERE

Please enter this date in your diary this very minute.
See you there.



---
Pink Water Taxi Notice



Dear All,

As of 1st July 2012 I am no longer an owner in the Pink Water Taxi group.



The new owner is David Brady whom many of you would know.



David has been in the marine industry for over 30 years and has skippered everything from 300 passenger ferries on Sydney harbour, ammunition barges for the RAN, "down" to our 6 metre water taxis.

He has been with the Pink Water Taxis for 19 years, about a year longer than me. In that time he has taken a countless number of people about their business, through every sort of weather conditions.

Thank you for your patronage over the last 18 years, I know I am leaving you in safe and caring hands.

Geoff Leeson



---
Marine Area Command on Facebook



We have recently put up a page on facebook 'Marine Area Command'. Amongst other things it will have photos and details on stolen vessels and other crime issues. These may impact or be interesting to subscribers.

https://www.facebook.com/NSWPoliceMAC



---
Ladies who Knit
There is no Spotlight in DY, it used to be there but is now a Reject Shop (I should get out more to check all these changes)
The Reject Shop has a few odd balls enough to make a scarf or beanie but thats all
Was disappointed in the Lincraft Sale, only a few odd balls of any value
Does anyone have a pattern (easy) for a toddler 's cardigan? I can offer in exchange a 1960s pattern for crocheted berets and helmets.
Teresa - ALWK.


teresa_valenti@yahoo.co.uk





---
Warning !

Scotland Island Infiltrated by Bikers

They are holed up in the Pre-School
A timely warning from Annette Freeland
---
For Sale





Washing Machine

- Bosch WAE20262AU 6.5kg Front Loader


Fridge Freezer

- Samsung SR364MW White 365L Total Capacity 120L Freezer Capacity 245L Fridge Capacity

Both 10 month old, hardly used $400 each

Contact Gill
Little Lovett Bay
0459 214 783



---
Missed out on a Newsletter?




Go to the archives to download previous notices



A complete set of past electronic newsletters since May 2000 can be found and read at https://ymlp.com/archive_gesgjgm.php


---
The Online Local Contact Guide

Click HERE to load
The views expressed in this newsletter are not necessarily the views of the Scotland Island Residents Association (SIRA), or the Western Pittwater Community Association (WPCA)
---