SNUGGLE UP TO FALL WEATHER!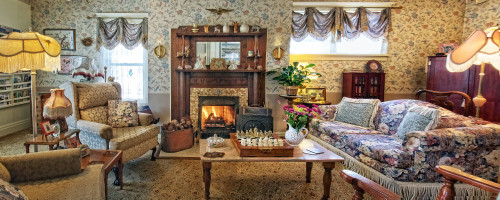 The inviting living room features an antique fireplace, perfect for quiet afternoon reading, playing a game chess or just relaxing with a cup of tea or cocoa on a fall weather day. Our six spacious guest suites feature queen or king beds, fireplaces, private baths and include a full complimentary gourmet breakfast, served in the formal dining room or in the privacy of your suite for an additional fee.
Remember that you'll get the best rates, specials, and packages only when you #BookDirect through the Holden House 1902 Bed & Breakfast Inn website. When booking online, be sure that you're on our "official" HoldenHouse.com website. While Holden House is also listed on 3rd party websites like Expedia and Booking.com, you will get the best rates and options for packages when you contact us directly. If you are within 48 hours of your proposed stay, contact us at 719-471-3980 to speak with an innkeeper or if you have other questions on availability.
---
IT'S A SPOOK-TACULAR MONTH!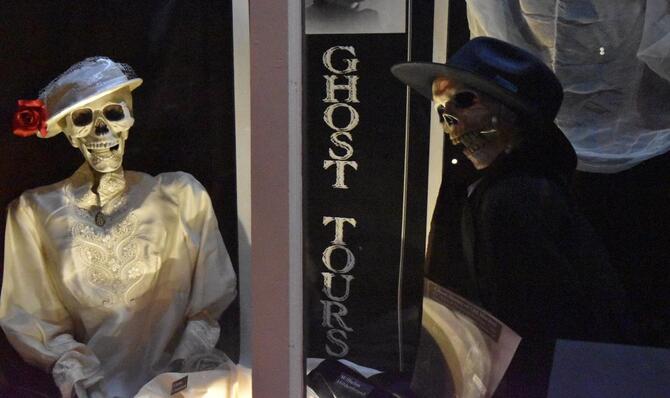 GHOST STORIES OF OLD MANITOU WALKING TOURS: These eerie yet fun ghost tours will walk you through long lost stories of real residents in Manitou Springs' history. This year, the ghostly spirits come back to visit for five weekends in October: Oct 1 & 2, 8 & 9, 15 & 16, 22 & 23 and 29. The Manitou Springs Heritage Center, along with THEATREdART, these evening tours that are thoughtfully scripted and brilliantly presented to provide a fun experience. The walking tours are outside rain or shine. Tours are approximately 45 minutes long and depart from the Manitou Springs Heritage Center (517 Manitou Avenue) starting at 6:00 pm. Each tour has a Spirit Guide who will recant the stories and guide you from scene to scene. Advance tickets are $15/person and day of tour tickets are $18/person. Reservations are suggested.
Planning ahead - other noteworthy events coming up:
October: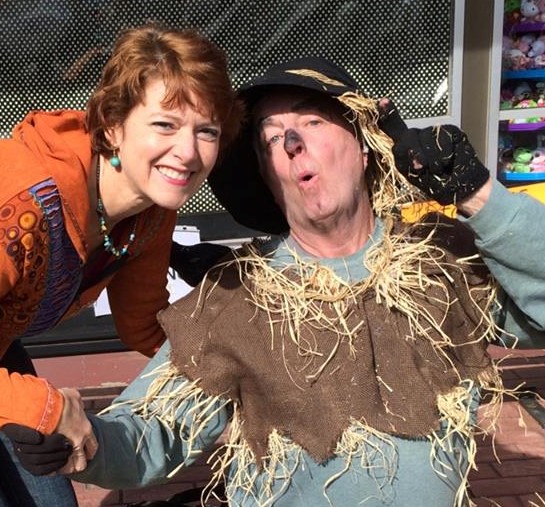 Holden House Innkeeper Sallie Clark greets October's Scarecrow Days in nearby Old Colorado City
November:
The Pikes Peak Area offers the opport
unities for an amazing vacation or staycation with a plethora of attractions, activities and adventures. From museums to arts and culture, live music to theatre peformances, outdoor recreation to historic sites, and scenic views to wildlife glimpses, there's something for everyone. We pride ourselves at helping our guests find the best activities to match their tastes. Here are a few of our favorite places to check out before you stay. Once you're at the inn, our innkeepers will be available if you have questions before venturing out.
A Few Great Local Outdoor Hiking Options:
More Pikes Peak Area Visitor and Event/Activity Links:
---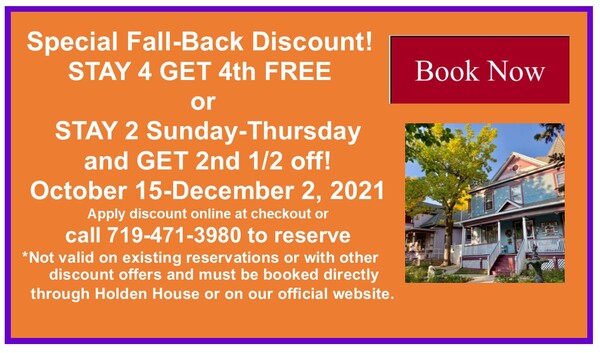 You'll want to reserve now for our special "Fall-Back" discount offers.
Stay 4 nights and get the 4th night FREE or
Stay 2 nights mid-week Sunday-Thursday and get the 2nd night 50% off
from October 15-December 2, 2021!
INN THE KITCHEN AT HOLDEN HOUSE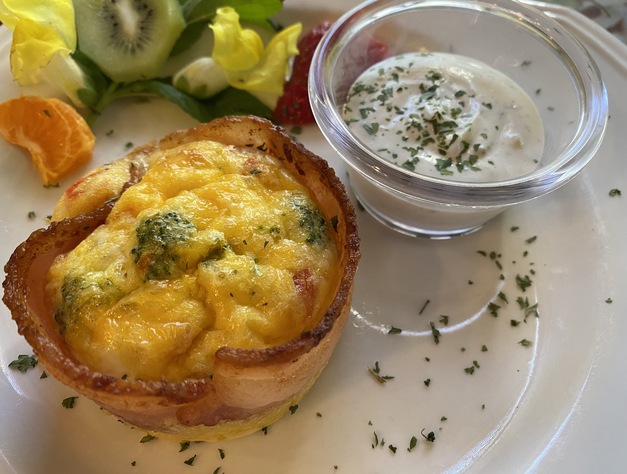 Bacon Wrapped Egg Cups
12 cup muffin tin or 12 small ramekins
Makes 12 cups, serves 6 people
Preheat oven to 350 degrees
4 oz. cheddar cheese, grated
3 oz. cream cheese, softened
12 strips bacon, partially precooked and save grease
½ tsp each garlic & onion powder
Pepper to taste (salt not needed)
Chopped veggies, if desired (i.e. peppers, onion, tomato, etc.)
Whip together eggs, cream cheese, 2 T bacon grease, & spices/veggies
Place bacon inside cup encircling edge of muffin tin/cup
Fill ½ - ¾ full w egg mixture
Sprinkle cheddar cheese on top
Remove from tin/cup and garnish with fresh herbs and a side of sour cream or salsa
Holden House is known for using fresh herbs from of the garden for a variety of signature dishes and garnishes. One of our favorites is our homemade pesto sauce that adds a zesty flavor to a variety of recipes. It's also a delicious and simple addition to any pasta dish you may want to create and serve in your own home.
Christmas and the holidays are coming...

Read our Holden House Blog

for inn updates,

recipes and more!

VIRTUALLY YOURS...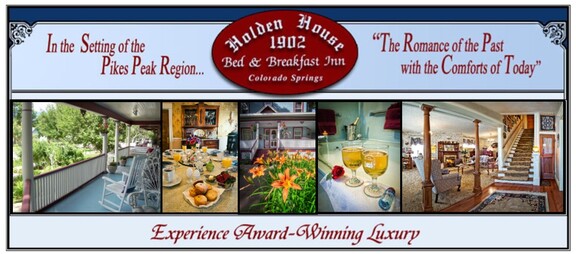 1102 West Pikes Peak Avenue
Colorado Springs, Colorado 80904