Theo Pascal, a Master of Arts, bassist, composer and pioneer producer in the Lusophone music with jazz influences is mainly known for his work with award-winning artist Carmen Souza. Now he leads QUAMUNDOS2, a powerful multicultural group that includes musicians of Portuguese/Lusophone origin and features CARMEN SOUZA and saxophonist Lenny Sendersky.
QUAMUNDOS, which means "union of people" in
Kimbundu-Angolan dialect, contemplates a world where differences are respected and valued, at a time when we need more cohesion and humanity.
Pascal, whose father was a missionary Pastor within the African communities in Portugal in the 70's, explores his DNA roots from the North and South of Portugal and his long-term connections with Lusophone Africa. His music is also an expression of how he perceives modern contemporary music.
QUAMUNDOS2 is a musical locomotive of infectious grooves, unexpected arrangements and improvised curves.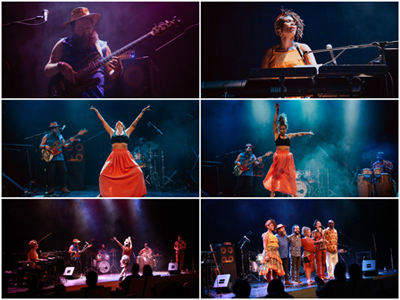 TAKING BOOKINGS NOW
2022-23
CONTACT:
patricia.pascal@carmensouza.com
00447799500179