---
---
SIRA

Notice
Community General Meeting
Sunday, June 28, at 10am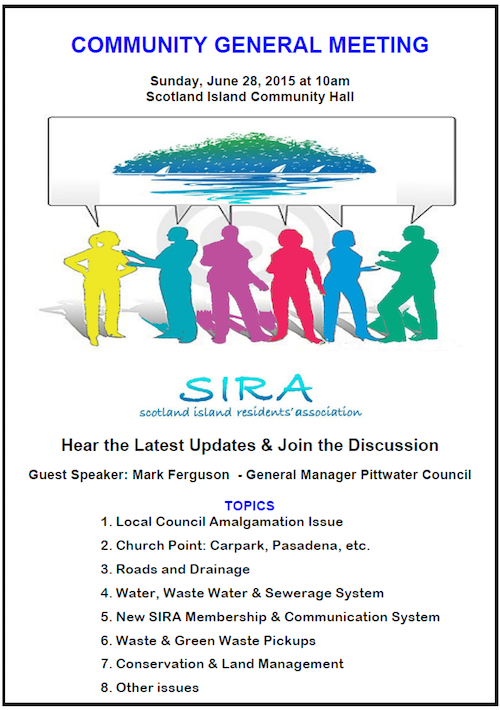 ---
Local Council Notice
Plant giveaway - Church Point - 20th June between 9am-11am
Native plant giveaway for offshore residents (Scotland Island Western Foreshores)



Replace your trees and shrubs that were lost during the recent storm with one of Council's native plant giveaways.



Venue: Church Point - opposite the waterfront shop.



Check our events calendar or our social media feed for other plant giveaways in June.

More information: call 9970 1367 or email.



---
Rabbits on Island
I am increasingly concerned about rabbits on the island. It is not the loved caged pets that are the (end) problem, it is the 3 separate sightings, in a fortnight, of 3 different rabbits, similar to those pictured, all hopping free.

Two sightings in the last 2 weeks were in my garden, up on Fire trail and the 3rd, up from Bells.


Palm Beach also has a big problem with rabbits, I do not like to imagine the outcome if those fluffy bunnies start to breed, and unlike Palm Beach, we cannot blame anyone for the problem other than ourselves.

Juliet HaC

http://www.pittwater.nsw.gov.au/environment/feral_animals/rabbits



---
SIRFB Fireman's Ball
In 4 weeks time we will holding our 60th Anniversary Fireman's Ball.
The Scotland Island Rural Fire Brigade was formed in 1955 and will be celebrating its 60th anniversary with a formal ball at the

Fire Station on Saturday 11th July 2015 commencing at 7:00pm.



This event will be fully catered with a great selection of gourmet finger foods, there will be live music and dancing. There will be complementary drinks on arrival after which the bar will be operating as usual for the sale of drinks.

This is a great opportunity to dress up and wear your best bling (this also means the guys as well).

Everybody is invited, but you must book and pay online in advance.

Go to the link to Book and Pay here



---
Offshore Commuter options
What are they for Mackerel ?
A subscriber, not a resident is writing to find out more about living offshore at Great Mackerel Beach in particular.

Basically someone might be able to shed some light on the commuting part of living at Great Mackerel.

For example;

How does the tie-up at the Mackerel Wharf work ? is the waiting list long etc ?
Real estate agents say the parking on beach is illegal however everyone does it - confusing ...
Also returning to main land what are the tie- up options - Palm Beach, Church Point or others ?
What Wharfs & what car parks are available ?
Can commuters go to Newport or Mona Vale .?
And anything else that may sound useful to know.
If any anyone can help here please send a note to the editor@scotlandisland.org.au and I'll pass on the contacts directly.

Ed..



---
---
Missed out on a previous Newsletters - HERE
A complete set of past electronic newsletters since May 2000 can be found and read at https://ymlp.com/archive_gesgjgm.php


---
To Contribute
If you would like to contribute to this newsletter it's easy!. Send an e-mail to the editor (editor@scotlandisland.org.au) or by clicking here. Type your contribution (100 words or so would be fine) and assuming it is of general interest to the community, does not include matter of a political nature and is not offensive, it will appear next month.


Subscription Information
To get on and off this newsletter, click here

or got to:

http://www.scotlandisland.org.au/signup .


To change your address, click the 'modify' link at the bottom of this newsletter or send an email to the

editor@scotlandisland.org.au


---
Follow the PON
---
The Online Local Contacts Guide
Click HERE to load
---
---
The views expressed in this newsletter are not necessarily the views of the Scotland Island Residents Association (SIRA), or the Western Pittwater Community Association (WPCA)
---
---