---
Carols at Tennis
Sunday 21 December from 5pm - 7.00 pm

Catherine Park
Carols at Tennis will be from 5.00pm-7.30pm Catherine Park (Tennis Wharf) on Sunday 21 December.
Santa will arrive around 6pm (parents bring a small gift for your child to put in Santa's sack)
This year we will have

Christmas Buskers

starting at 5 pm -

anyone

who can knock out a Christmas tune is welcome, BYO instrument (kids especially encouraged)


Bring a picnic and enjoy catching up with others celebrating Christmas.
---
Beach Science Talk at the Fire Shed
Tuesday 16 December 7pm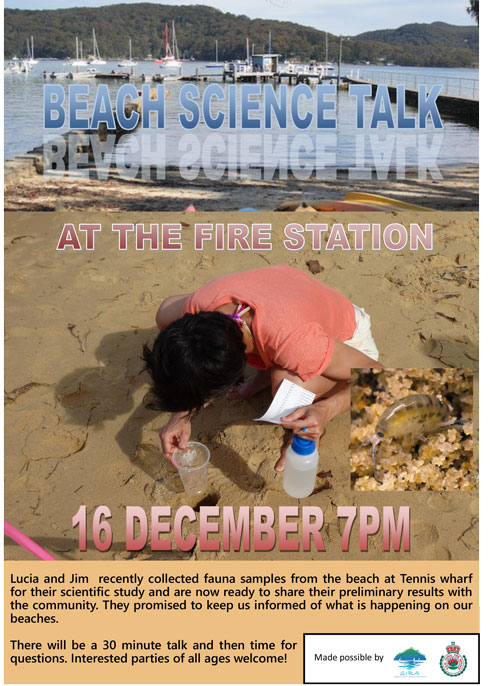 ---
Petrol Stolen at Tennis Wharf

Last night (Friday 5th December) a full tank of fuel was syphoned from the petrol tank of my boat moored at Tennis Wharf.

If anybody saw anyone hanging around or messing with boats can you please let me know so that I can inform the police.

Dan 0416 473466


---
Attention boat owners who park at Tennis there is a thief using our wharf
Yesterday I put a jerry can of fuel in my boat and left it with the intention of getting Trys to put it in as I can't lift it. This morning it has been taken! Now I know that this is not usually a good idea but Tennis has always been a safe wharf.

Emma
(courtesy FB)



---
Wanted urgently

A couple looking to rent a house offshore from early January

We have been renting offshore for the past 7 years and are looking for a rental property urgently, as we have to vacate by January 5th, 2015. Ideally we are looking for a long term arrangement, preferably with water access.

We are responsible, caring tenants, we have excellent references, and can be quite flexible about interim arrangements.

Unfortunately the owners of the property have decided to sell, so we need to vacate quickly.

Please feel free to contact us with any opportunities or plans you might have.

Donna & Allan
M: 0414 917 727 (Donna)
M: 0414 368 698 (Allan)



---
Boat Missing

My boat disappeared on Tuesday from the Pasadena wharf at Church Point.
It's a big silver tinny with a Yamaha 15 hp engine.

Please call Cath on 0424745208 if u have seen it.



---
Boat Bailler Wanted
Seeking boat-bailer for tinny at Commuter Wharf over Xmas and the New Year:



I'll be away visiting family at this time and I normally sling a near neighbour's son some pocket money for any bailing that must be done to keep my boat afloat. This year their family will also be away however.

I was wondering if any other boat-savvy kids from the Island or Western Shores might be interested? You'd obviously need to not be going away on holidays yourself - and be OK with potentially getting wet if bad weather stuck around.

More bails = more cash however.

Call Simon on 0417663332 for more info - cheers!



---
For Sale

BOAT AND MOTOR FOR SALE
Ideal commuter boat - but with only 100 hours of use. Both the boat and the motor have had virtually no use. 10 foot aluminium dinghy with a Tohatsu 8hp outboard. 2006 model.

Has never been moored and has been always kept in a boat shed.

$1850 ono


Ring Yvonne 0401 563 088







---
Downsizing...
Dear friends,

We have decided to try to get rid of some things, so if you are interested or know anyone who might be please pass this on to them.

Thanks
Marion and Michael


The following items are up for grabs.

Please call Michael on 0402 65 67 69

Brown leather 2 seater, 2 armchairs and 1 foot stool.
Fridge – ¾ size, good for second fridge or small kitchen.
Outdoor teak table.
Kitchen appliances:-
Electric orange/lemon juicer.
Blender – for soups, chopping, sauces, puréeing.
Coffee machine- old Sunbeam, makes great coffee.
Vegetable and fruit juicer. Not very old.
---
---
Missed out on a previous Newsletters - HERE
A complete set of past electronic newsletters since May 2000 can be found and read at https://ymlp.com/archive_gesgjgm.php


---
To Contribute
If you would like to contribute to this newsletter it's easy!. Send an e-mail to the editor (editor@scotlandisland.org.au) or by clicking here. Type your contribution (100 words or so would be fine) and assuming it is of general interest to the community, does not include matter of a political nature and is not offensive, it will appear next month.


Subscription Information
To get on and off this newsletter, click here

or got to:

http://www.scotlandisland.org.au/signup .


To change your address, click the 'modify' link at the bottom of this newsletter or send an email to the

editor@scotlandisland.org.au


---
Follow the PON
---
The Online Local Contacts Guide
Click HERE to load
---
---
The views expressed in this newsletter are not necessarily the views of the Scotland Island Residents Association (SIRA), or the Western Pittwater Community Association (WPCA)
---