Catch up on your reading with new Friday hours!
Saturday, April 14th, 8pm:
Join us f

or
"Dreams for Kurosawa" to celebrate the new arrow as aarow translation of Raúl Zurita's poetry with readings from Anna Deeny and Daniel Borzutzky
. @Read/Write Library | Details and RSVP on Facebook
Sunday, April 15th, 1:30-4pm:
Monthly volunteer meeting in the new space! 1:30pm for new volunteer orientation, 2-4pm general meeting! If you're a regular and want to get training in cataloging or staffing, come by from 1-2pm and Margaret will show you the ropes.
@Read/Write Library
Friday, April 20th, 7pm:
"Pecha Kucha: Invisible."
Pecha Kucha is a 6-minute-40-second spoken piece structured and accompanied by 20 images each shown for 20 seconds. Presenters include: artist Tim Nickodemus, Read/Write Librarian Nell Taylor, lawyer Valarie Blake, and director Tara Branham.
@Southside Hub of Production (SHoP)
5638 S. Woodlawn Ave
NEW HOURS! Every Friday, Saturday and Sunday, 1-5pm and Tuesday 6-9pm:
We now have regular hours! Visit us every weekend to browse the collection and stop by on Tuesday evenings 6-9pm to browse or catalog with Dave and the cataloging team.

Please help support our new library and community space in Humboldt Park! Read/Write Library is a 501(c)(3) nonprofit and even $5 helps!


Remember! Chicago Underground Library is now Read/Write Library!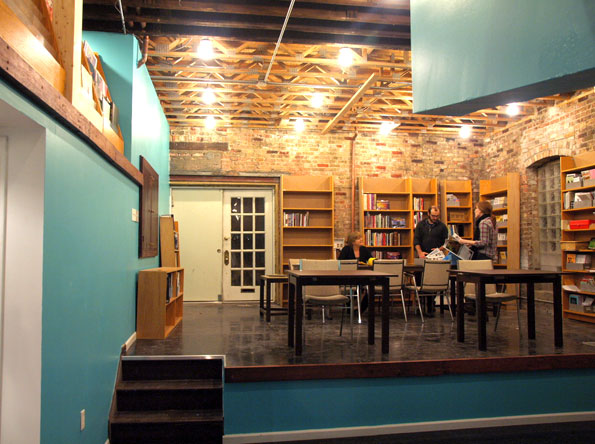 Thanks to
University of Illinois at Chicago University Library
for hosting our new site as part of their Great Cities Initiative and to the City of Chicago's CAAP Program and an anonymous donor for their assistance with our 501(c)(3).
Special thanks to our new landlord who put over $20,000 into building out our new home!

Stay updated with the CUL volunteers by joining our discussion list. We'll always let you know when our monthly volunteer meetings are, but go here to find out about everything going on behind the scenes! Blog meetings, programming plans, cataloging nights, and even cool unrelated events and job postings from the CUL community. See you soon!



Follow the Library-Copter!

Nell Taylor
Executive Director, Read/Write Library Chicago