THIRTEEN'S A CHARM... CRACKER & CAMPER VAN BEETHOVEN TO HOST THEIR 13TH ANNUAL THREE-DAY CAMPOUT MUSIC FESTIVAL IN PIONEERTOWN, CA AUG. 31 - SEP. 02!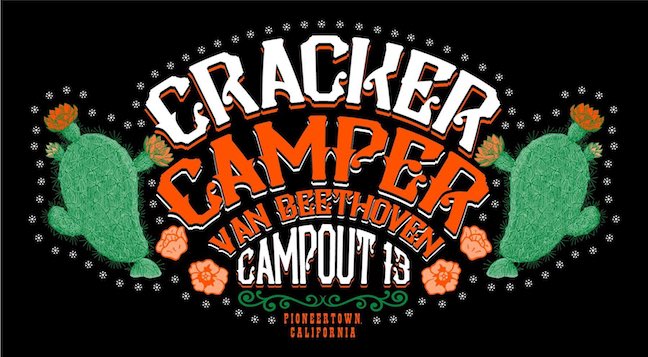 Cracker and Camper Van Beethoven, along with many other great acts, will once again be rolling into the Joshua Tree region of California later in August to co-host their 13th annual CAMPOUT music festival.

CAMPOUT 13 will take place August 31st, September 1st and 2nd at Pappy & Harriet's Pioneertown Palace in the High Desert of Southern California, where Cracker recorded their signature album Kerosene Hat back in 1993 in the now-closed movie soundstage next to the Palace.
Collectively both bands have released four albums in the last few years as their own personal odes to the north and south regions of California - Cracker's 2014 double album Berkeley to Bakersfield and CVB's last two studio efforts, La Costa Perdida from 2013 and El Camino Real from 2014. Along with performing a wealth of this more recent material, both bands will also be digging into their vast catalogs of radio staples, college favorites and deep cuts.

Bandmembers from both Cracker & CVB are currently available for interviews.
CRACKER / CAMPER VAN BEETHOVEN'S CAMPOUT 13 LINE-UP


Pappy & Harriet's Pioneertown Palace, 53688 Pioneertown Road, Pioneertown, CA
(760) 365-5956
Thursday August 31
Cracker Duo 10:30 - 11:15
Johnny Hickman 9:45 - 10:20
David Lowery 9:00 - 9:40
20 minute loop- 8:00 - 8:45
Doors 7:00
Friday September 1
Camper Van Beethoven 9:15 - 10:30 (outside)
Tribesmen 8:00 - 8:40 (outside)
Jonathan Segel 7:00 - 7:30 (outside)
The Dangers 6:30 - 7:15 (inside)
Thelma and Sleeze 10:45 - 11:30 (inside)
Doors 6:30 Doors

Saturday September 2
Cracker 9:20 - 10:35 (outside)
Black Marshmallows 8:10- 8:50 (outside)
Jake Houston and the Royal Flush 7:00- 7:45 (outside)
Indio Romero 7:45- 8:30 (inside)
Victor Krummenacher Band 10:45 - 11:45 (inside)
Campout 13 three-day and single-day passes are now on sale. $100 for all 3 days and signed poster, or $25 for Friday or Saturday single day passes.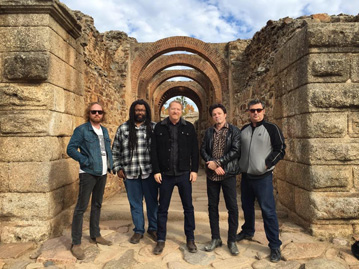 CRACKER (photo: Bobby Conner)
CAMPER VAN BEETHOVEN (photo: Jason Thrasher)
ADDITIONAL CRACKER 2017 TOUR DATES
Aug 4 Slowdown - Omaha, NE
Aug 5 Centennial Park - Dacono, CO
Aug 6 Sunshine Studios Live - Colorado Springs, CO
Aug 8 Grady's 66 Pub - Yukon, OK
Aug 9 Knuckleheads Saloon - Kansas City, MO
Aug 11 Bohemian Nights - Fort Collins, CO
Aug 12 Maddiepalooza - Castle Rock, CO
Aug 18 Deer Valley Resort - Park City, UT
Aug 19 Bit and Spur - Springdale, UT
Aug 20 Brooklyn Bowl - Las Vegas, NV
Aug 31 - Sep 2 Cracker & Camper Van Beethoven's Lucky Campout XIII, Pappy and Harriets - Pioneertown CA
Sep 23 Rhythm City Casino Resort Center - Davenport, IA
Sep 30 Kilbourn City Live - Wisconsin Dells, WI
Oct 1 Wooly's - Des Moines, IA
Oct 6 Gulfport Music Festival - Gulfport, MS
Oct 7 Verizon Wireless Amphitheater - Alpharetta, GA
FOR MORE INFO ON CRACKER:
http://www.pavementpr.com