Why not bookmark this AMPS Newsletter and read at your leisure!

AMPS Newsletter April 2015
AMPS member receives BKSTS award… changes to creative sector tax reliefs… WFTV Filmmakers Breakfast… ADR MasterClass… freelancing and the future of creative jobs… new AMPS member… Emanuele Costantini finds a new piece of gear… restoration of The Sound of Music… new AMPS Sustaining Member… news & comment…
AMPS Member Kevin Phelan Awarded BKSTS Fellowship

AMPS member Kevin Phelan was recently awarded a BKSTS Fellowship for outstanding service to the industry.
The BKSTS Fellowship commented, "This citation goes to Kevin Phelan for his long outstanding service to the film industry. As initially a projectionist, he was very involved in pioneering work with digital film, and is now a renowned film producer. He is also a very respected member of the BKSTS Council and The Cinema Technology Committee."
The event was attended by leading industry personalities; the guest of honour being Sir Sydney Samuelson CBE, Patron of the Society who presented the awards.
Chancellor Announces Changes to Creative Sector Tax Reliefs

In the recent Budget, the Chancellor announced a number of changes to the creative sector tax reliefs.

High-End Television tax relief
The minimum UK expenditure requirement will change from 25% to 10% and the cultural test for television will be revised to reflect previous changes to Film tax relief. Following the announcement of an informal consultation in the Autumn Statement last December, UK Screen CEO, Sarah Mackey, and MDs from post production and VFX members joined industry-wide meetings with HM Treasury and made a strong case for adopting the proposals. These changes are especially important to the facilities sector as they are intended to enable more 'culturally British' projects shooting outside the UK to bring their VFX, post and secondary shoot work to the UK.
The tax changes announced will be introduced from April 2015. The government is not required to notify these changes with the Commission. To ensure that there remains consistency between the television tax reliefs, the reduction to the minimum UK expenditure requirement will also apply to the animation and children's TV tax reliefs.
Film tax relief
The Chancellor also announced that the government will increase the rate of film tax relief to 25% for all qualifying expenditure. In the Autumn Statement 2013, the government removed the cliff-edge that existed in the film tax relief scheme by setting the rate at 25% for the first £20 million of qualifying expenditure for both large and small budget films and set out an ambition to increase the rate to 25% for all expenditure. This change fulfils that ambition by removing the distinction between small and large budget films completely. The change will be legislated for in Finance Bill 2015, to take effect on the later of 1 April 2015 or the date of receiving State aid clearance from the European Commission.
WFTV Filmmakers Breakfast: Sound Ideas
(l-r) -Anna Sulley, Susan Brand, Judi Lee-Headman & Pip Norton

In association with AMPS, Women in Film & Television UK held a breakfast meeting on 25 March at The Theatres Trust on Charing Cross Road in London.
After a light breakfast, the theme of the event was based around the statement - How can you record the great sound you need and use it to enhance the story you are telling? A beautifully created sound track adds high value to any film.
Judi Lee-Headman, Pip Norton and Anna Sulley made up the panel which discussed their relevant disciplines: Production Sound Mixing, Dialogue Editing / Sound Design and Re-recording Mixing.


Chair for the event, editor Susan Brand commented, "The overall purpose of the event is to enhance filmmakers knowledge about just how important and creative sound is. My aim is to send the audience away with a new perspective and a vow to give sound the creative space it needs in order to really enhance their films."
Chaired by AMPS' Paul Davies, Goldcrest recently hosted an ADR Masterclass in which ADR Mixer Peter Gleaves discussed why ADR is recorded in the first place, current ADR recording techniques and technology, mic placement and working with actors. Sebastian Rodens, Product Manager for Yamaha Commercial Audio later demonstrated the innovative capabilities of the 'ADR Taker' feature of Nuendo 6.5.
Steinberg sponsored the event and Yamaha Commercial Audio provided refreshments.
An audio recording of the event will soon be available at -
Freelancing and the Future of Creative Jobs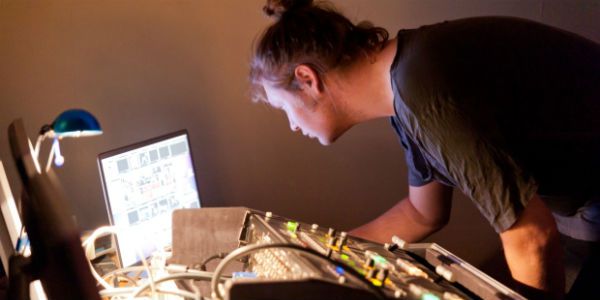 Self-employment in the creative industries is tipped to exceed the number of people working in the public sector by 2020. What is going on?
Joint CEO at Creative & Cultural Skills, Pauline Tambling CBE was recently speaking at the AQA Creative Education Conference and a question from the floor prompted some interesting discussion about the future workforce. Specifically, a lot of the jobs available in the ever-growing creative industries are freelance.

She continues," This is what the workforce looks like in the creative industries these days:

* 43 per cent of the current creative industries workforce is self-employed.
* Self-employment is where the growth is.
* 78 per cent of its businesses have fewer than five employees – so not small or medium-sized, but micro.

It's no wonder that the sector doesn't manage to make much of an impact within Government skills policy. The voice of the 'employer' is everything, but voices from the subsidised arts are seen as beneficiaries of public money rather than 'creators of wealth'.

Very few of the voices that understand the importance of educating the next generation of creative people are getting listened to. Where are the creative sector employers to which the Government is listening? One or two big digital companies perhaps."
New AMPS Member - Bruce Willis
I started my broadcast career as an engineer with BBC World Service at Bush House.

A sideways jump to BBC Ealing Film studios followed, as a boom swinger. I then headed west to BBC Bristol and a lovely mixture of drama and far flung documentaries.

In 1992 I jumped, before I would have been pushed, into the freelance world as the Birt/Thatcher era took hold. Based in Bath, I began with a mix of TV drama and documentary. By the end of the decade documentary sound work in the industry dwindled but I was able to add movies and commercials.

 
I spent 2012/13 in Sydney where I was directing and producing a series of short films for The Sydney Conservatorium of Music. Since returning to the UK I've upgraded all the kit and am back out there.
http://brucewill8.wix.com/bruce-wills-production
One Man's Quest for a New Piece of Gear

AMPS member Emanuele Costantini recently shared his experience after an Operating System update…
I use ADAT technology in my portable rig, and I own a couple of pieces that I love and don't want to throw away as they are serving me very well and are still top quality sounding for what I do: A Focusrite Octopre Platinum and RME ADI8.
After the loss of my sound-card M-Audio Profire Lightridge, due to OSX Yosemite, incompatibility, with which I was able to connect to my computer, I was on a hunt of a similar external sound-card (I didn't want M-Audio). I had a look at many units out there - from RME, MOTU, Focusrite and so on.
Finally, I came across the DirectOut Technologies EXBOX.UMA. I was initially very suspicious as I had never heard of the brand, but after some investigation, it seems that they are a well established third party German factory specialising in MADI technology and building equipment for the likes of RME.
Despite the EXBOX.UMA being on the market for a couple of years, I couldn't track down anyone who had experience of this unit. Finally, I decided to take the risk and invest the money to test it.
The name is far from being something easy to remember and spell, but it comes packaged in a plain white box, so none of my money went into useless fancy graphic design! Anyhow, the box always goes in the bin… or some dark place!

It has the essential external power supply and USB cable, ready to go out of the box. The PSU has two Hirose 4 pins inputs so it can run with external batteries and the second is a backup not to let you down for whatever reason. It doesn't have a ON/OFF swich, which may be helpful.

I downloaded the latest version of the driver (3.00b14) and despite the fact that it is not claimed to work on Yosemite (OSX 10.10.2), it has performed flawlessly so far and is recognised straight away by Pro Tools 11 and Nuendo 6.5.
So far I am quite happy with this little box; it does the job and keeps my beloved alive and kicking, it looks solid and is quite stable. USB technology means that it will be around and compatible with future systems and new generation computers.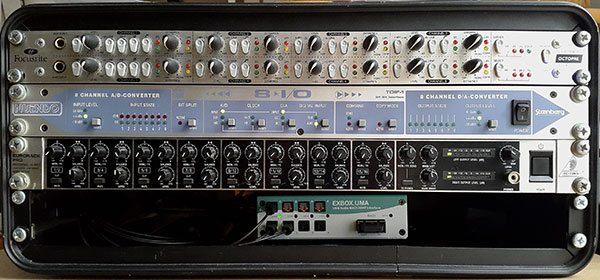 FotoKem Restores The 1965 Classic, The Sound of Music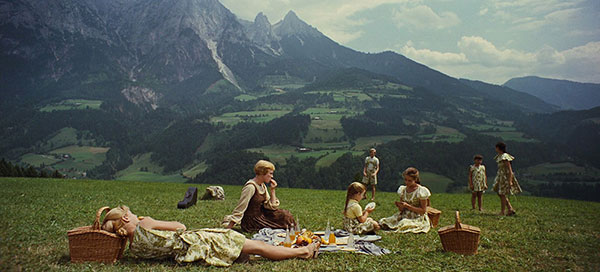 It's easy to forget that The Sound of Music was at one time the highest-grossing picture of all time. Adjusted for inflation, its US box office is still #3 all-time, behind only Gone with the Wind and Star Wars. Worldwide, #6 all-time.
It's easy to forget that The Sound of Music won the Oscar for 1965's Best Picture, among five in all, including Director, Sound, Score, and Editing. (In fact, The Sound of Music also won the ACE Eddie Award for Best Edited Feature Film.)

It's easy to forget that The Sound of Music was only Julie Andrews' third picture, after Mary Poppins and the overlooked masterpiece The Americanization of Emily, directed by Arthur Hiller from a Paddy Chayevsky script, and co-starring James Garner.

It's easy to forget that The Sound of Music's director Robert Wise had also done The Day the Earth Stood Still, and would later direct Star Trek: The Motion Picture.
Aside from all of that, and aside from the indelible classic songs (the final collaboration of Richard Rodgers and Oscar Hammerstein II, the film's soundtrack was for a time the best-selling album in history), it's impossible to forget just how gorgeous The Sound of Music looked.
Not just the famous opening sequence, either. All of it. Fantastic production design, striking costumes, and unforgettable European exterior locations cleverly wedded to interiors built on Fox's Hollywood lots, captured in Todd-AO's 65mm process: a spherical 65mm format printed to 70mm stock, to allow extra room for the soundtrack.
Sound Devices - New AMPS Sustaining Member


Sound Devices recently unveiled its next generation field mixer, the ground-breaking 688, which creatively combines innovative new technology with the finest aspects of its highly acclaimed predecessors—633, 664, and 788T—into an unrivaled portable audio powerhouse. The newest member of the 6-Series mixer/recorder product line incorporates multi-channel mixer, auto-mixer, 16-track recorder plus an optional integrated powering and wireless system called the SL-6. By consolidating these functions, cabling requirements are decreased, de-cluttering the sound mixer's bag, increasing performance and reliability, and improving ease of use.
When combined with the SL-6 and SuperSlot-compatible receivers, the 688 offers audio mixing, recording and wireless receiver control all from the mixer, with simplified power distribution and interconnection. Regarded as the industry's first non-proprietary, open wireless control and interfacing standard, SuperSlot™ is the result of Sound Devices' collaboration with a number of leading wireless manufacturers including Lectrosonics, Sennheiser, Wisycom, and Audio Ltd.
Audio professionals will love the 688's MixAssist™ feature, a "hands-free" 12-track auto-mixer that uses the most sophisticated algorithm on the market today to automatically attenuate redundant mics and inactive input levels. MixAssist also helps reduce phasing artifacts and comb filtering when multiple mics pick up the same sound, and also maintains consistent background sound levels regardless of the number of open mics.
In addition to the impressive mixer features, the 688 can also record 16-track polyphonic or monophonic broadcast WAV files or combinations of timecode-stamped WAV and MP3 files to SD and CompactFlash cards. With QuickBoot™, the 688 can power up and start recording in less than two seconds.  And PowerSafe™ circuitry provides extra peace of mind with an integrated 10-second power reserve for proper file operation shutdown in the event of a power loss.

Did you know that the Directory pages on the AMPS website are some of the most frequently visited?

 

Make sure that your profile is up to date - you never know where your next work enquiry will come from!

 

 
Can we help with your Professional Development?
We're keen to hear from you with ideas for seminars and training sessions which would contribute towards Continuing Professional Development.
We're very aware that keeping up with techniques and updates can be a full time job in itself, so if there's any way that AMPS can contribute towards maintaining and developing your industry knowledge and skills, please get in touch.
Change of AMPS Address & Phone Number
Please note that AMPS postal address and telephone number have changed. New contact details to use are -
27 Old Gloucester Street
London
WC1N 3AX
Tel: +44 (0)1753 669111
THE SHOOL OF SOUND INTERNATIONAL SYMPOSIUM

A unique series of masterclasses exploring the art of sound in film, the arts and media.
BECTU FREELANCERS' FAIR 2015
29 May 2015
Ravensbourne, London SE10
If you're based in and around Bristol, the last Wednesday of each month should be blocked out in your diary. Get to Beerd, 157-159 St Michaels Hill, Cotham, Bristol BS2 8DB for 7.00pm and meet up with other AMPS members and like-minded people! Apparently there's great craft beers and amazing pizzas!
… and finally, on the first Tuesday of every month

Make sure that you attend the AMPS Social at the De Lane Lea bar in Dean Street - be social with your AMPS members! The first Tuesday in every month - 6.30pm.
AMPS, 27 Old Gloucester Street, London, WC1N 3AX
www.amps.net / +44 (0)1753 669111