---



For those who were NOT able to attend the Wine Syndicate tasting and who don't want to miss out on some very good Pre-Christmas deals !!

The Wine Syndicate tasting, held at Greg and Louise's Pitt Point boatshed in perfect weather, was a very interesting and enjoyable occasion.

For those who couldn't make the tasting, and as this is the last opportunity to buy good quality, and very good value, wines through the WS before Christmas, we have attached the Order with the Tasting Notes.



Anyone is welcome to purchase any of these wines by filling in the form and posting/emailing, as indicated in the top right hand corner, to Jim Sutton by 21st October (that's pretty soon).





Download the tasting notes - price list and order form

HERE

For people who like the Whites, the time proven Wongaburra Verdelho is good tasting and terrific value.

The Watervale Riesling is true to the notes – good fruit and a sharp lemony dry finish.

The Pepperton 'bubbly' also impressed the tasters, especially with the festive season fast approaching. And at the price you won't hesitate to pop the top off one (it's equipped with the very clever resealable cap too!)

The stand out Reds, generally acknowledged by the tasters are the Lake Breeze 'Bullant' 2009 Shiraz, the Laterite 2009 Margaret River Shiraz, and the 2008 'Bernoota' shiraz Cabernet (which is outstanding!).

The tasting notes were considered to be pretty accurate, except perhaps for the 'bubbly', which while certainly very pleasant, is not quite as dry as indicated.

If you'd like to discuss any of these wines, please ring any of the following – Greg (9979 5228 – up until Wed evening), Paul (0403 442 764), Julian (9999 4449).



Just remember that the Order has to be sent & paid to Jim by Friday 21st Oct.



Happy Christmas!
The Wine Syndicate



---
Indigenous Interests Group
The Story of Bob Waterer and his Family 1803-2010 by Nan Bosler
The Indigenous Interests Group invites you to an afternoon tea with author Nan Bosler and her subject Bob Waterer
Scotland Island Community Hall
October 30 2011
4-6 pm
---
Paddle for Breast Cancer Research
29th October 7:30AM Launch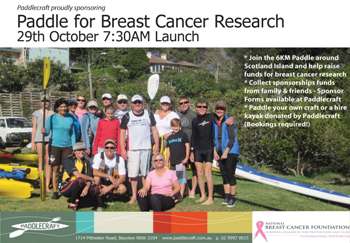 Proudly supporting the National Breast Cancer Foundation, Paddlecraft Kayaks at the Bayview Marina is hosting our annual fundraising paddle on October 29th, in sponsorship of October Breast Cancer Month.

Starting at 7:30am, this all weather Pittwater paddling event is open to all paddlers on either their own craft or Paddlecraft will provide a hire kayak free of charge!

Paddlers are encouraged to raise money by collecting sponsorship donations for their paddle – sponsorship forms available at Paddlecraft's Bayview Marina shop or email us at info@paddlecraft.com.au



click image to load flyer




---
"Lucky" directed by ex-islander Sama Ky Balson


6- 22 October




Tues - Sat @ 8 pm




Sun @ 5pm



Sama Ky Balson was raised on Scotland Island, at age 3 started Ballet classes with Trudy Engler who inspired the love of theatre, her first acting experience was with the Island Players, playing Rosalind in 'As You Like It' directed by Rod Charles. Sama has been back in Australia for one year now, after studying theatre in Paris for 4 years.

The costumes are by Azure Chapman (Sama's sister) also encouraged by Trudy to style and choreograph some island ballet dance sequences and who is now doing costumes and styling for theatre, TV and Rock clips ... she was part of the team for the Sydney Olympics and the Asian Games in Qatar.


click image to load flyer


Here is an invitation ... and a link to the Australian Stage theatre review http://www.australianstage.com.au/201110084858/reviews/sydney/lucky-|-ipan-and-the-spare-room.html

Carmen Ky



---
SI Family Day Care Centre Survey



I, Rebecca Tringham, resident of Scotland Island for 26 years, would like to set up my own licensed (CCB approved) Family Day Care Centre here on the Island.

I live between Bells and Carols wharves, and to make the care provided as user friendly as possible, I need some information from families interested in, or in need of child care on Scotland Island.

I plan to open the service in January 2012. I can care for another 4 children along with my own son Mackenzie, for 3-4 days a week. The hours of operation are flexible, but I suspect the demand for longer days, about ten hours, is going to be high. I have no intention to take any business from our wonderful Scotland Island Kindy, which I attended so many years ago. I also understand that the hours of operation of Scotland Island Kindy can make it hard for working parents to place their child in care there.

I have been a professional Child Care teacher, caring for children of all ages in a variety of settings. My roles have ranged from an assistant, to my latest position, second in charge of a 90 place centre. I have been planning, and looking forward to opening my own family day care for a very long time.
With over ten years experience I have pulled knowledge from many different places and personal experiences to develop a passion for the highest quality of care, along with a professional attitude, consistent communication, and last but certainly not least to have fun with children in a small intimate environment getting to know their personalities, their challenges and strengths.

To fill out the quick 10 question, multiple choice survey follow the link

http://www.zoomerang.com/Survey/WEB22DD32LDSZV

If you have any questions or want more information please contact me
phone: 0421 526 434
e: rebecca.tringham@yahoo.com.au
Rebecca Tringham.



---
Piano Teacher Wanted



I am looking for a piano teacher on the Island.

Mike Molloy
www.molloydop.com
61 (0) 409 121 112



---
Trolley borrowed from Tennis




Please return it !


Can the person who borrowed my trolley from Tennis this week, please return it or call me on
0416 473466 so that I can collect it.

It is a green bunnings bucket style trolley with a red T bar pull handle.

Thanks, Dan Humphrey


---
Free Couches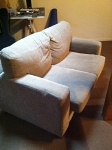 We have two couches for free on the island.
In good condition black and grey checker material.


Call Ineka on 0424 299 984






---
Follow the PON
---
Missed out on a Newsletter?




Go to the archives to download previous notices



A complete set of past electronic newsletters since May 2000 can be found and read at https://ymlp.com/archive_gesgjgm.php



---
The Online Local Contact Guide

Click HERE to load
The views expressed in this newsletter are not necessarily the views of the Scotland Island Residents Association (SIRA), or the Western Pittwater Community Association (WPCA)
---