Newsletter Headline Here...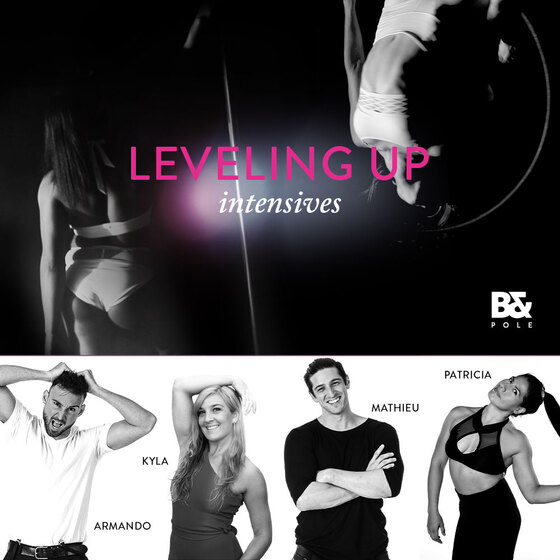 POWER & FLUIDITY INTENSIVES
 POLE POWER LEVELING UP INTENSIVE 
LEVEL 1 WITH ARMANDO GONZALEZ
SATURDAY, 10/16 • 4:30 - 6:30 PM
COST: $50 • ONLY 14 SPOTS
 HOOP FLUIDITY LEVELING UP INTENSIVE 
SUNDAY, 10/17 • 12:00 - 2:00 PM
COST: $50 • ONLY 10 SPOTS
 HOOP POWER LEVELING UP INTENSIVE 
LEVEL 1 WITH MATHIEU LEOPOLD
SATURDAY, 10/23 • 4:30 - 6:30 PM
COST: $50 • ONLY 10 SPOTS
 POLE FLUIDITY LEVELING UP INTENSIVE 
LEVEL 1 WITH PATRICIA YNDIGOYEN
SUNDAY, 10/24 • 12:00 - 2:00 PM
COST: $50 • ONLY 14 SPOTS
Feel like you need some personal attention to take your practice to the next level? These two-hour Leveling Up Intensives are designed to get you ready and feeling more confident with Power, Fluidity, and our higher-level classes.
We will give you the tools to improve your overall strength and technique through drills, lecture, and analysis. In this process you will enhance your overall movement quality and practice.
BONUS OFFER
Anyone who participates in a Leveling Up Intensive will receive a discounted and exclusive class package (3 classes for only $75) to continue your Power, Fluidity, & Higher Level Practice.
Must be able to Invert, and have attended 3-5 Level 1 classes. 
LÁSZLÓ MAJOR (POLE)
MON, TUE, SAT, SUN 
...TO THE BODY & POLE TEAM!
Don't miss the opportunity to train with these amazing instructors!
SATURDAY, OCTOBER 9TH
EXCLUSIVE 10 - 25% DISCOUNTS
Stop by the studio this Saturday to enjoy super rare MilaKrasna discounts on the new collection (not even online yet) as well as EVA, VIVIANA, ZARJA set, and TEJA bodysuit.
Paypal or cash acception.
SUBMISSIONS OPEN NOW
UNTIL 10/8
Our Work-Study Program has four track focuses so you can develop as a Producer, Performer, Instructor or as Operations.
The Body & Pole Work-Study Program is a one year professional development program where work-studies are nurtured, supported and empowered to discover and achieve their unique goals.
WORK-STUDY OF THE MONTH 
🗓
Our Work-S
tudy of the month for September was Jay! Jay brings so much joy to the studio, while also working hard and generally being a badass. 
To show our appreciation, Jay will receive a free private lesson with the instructor of their choice! Thank you for everything!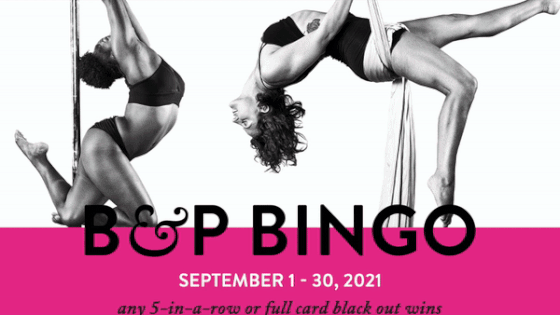 ..... DON'T FORGET TO REDEEM YOUR PRIZE
OFFER EXPIRES AT THE END OF THIS MONTH (10/31)
You can redeem by texting us at 💬 347-899-4760, or emailing customerservice@bodyandpole.com.
🤳🏽 B&P ONLINE: LIVE ARCHIVE 🤳🏽
70+ LIVE CLASSES IN 22+ COUNTRIES
We are steadily adding classes to the Live Archive. Every week teachers from around the world bring their knowledge and talent to the B&P Online community, and we are making this available to view even if you cannot make the Live class.

Please note, not all Live classes will be available in the Live Archive.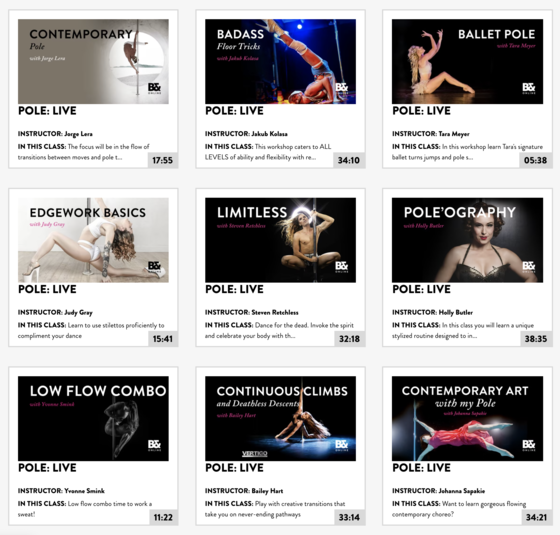 You can sample the LIVE ARCHIVE now for one free view!
SPINNY FLOWY
WITH MINNIE KIM
WEDNESDAY, 10/6 4:00 - 5:00 PM EDT
CONDITIONING & COMBOS
WITH SKITTLES POLE DANCER
FRIDAY, 10/8 7:30 - 8:30 PM EDT
Available only for our B&P Online Members! Enjoy these limited-run, exclusive live classes with your favorite B&P Online instructors and now, special guest instructors! Classes are capped to maintain an intimate class environment.
If you are a B&P Online Member, you will receive sign up details this week.
B&P Online is there for you - streaming & live anytime.
- Live Classes For Our Members
- Workout With Your Favorite B&P Instructors & Your Favorite Classes, Now & Anytime!
- Quality In-Studio Experience For Everday Use
- Over 500 Classes, Search By Class Or Technique
- New Favoriting Feature
elevatED TEACHER TRAINING
In the elevatED Level 1 Pole teacher training, you will learn how to cultivate a rich classroom experience your students will enjoy and appreciate. 
You will learn how to apply training secrets from dance, gymnastics, and yoga to your beginner class with 90+ dance movements, strength techniques, floor skills, climbs, dismounts, spins, and basic inversions.
We are honored to help you own your unknown.
- The Team at Body & Pole
Body & Pole, 115 West 27th Street NY, NY 10001
 You can text us 7 days a week (10 AM - 8 PM)!