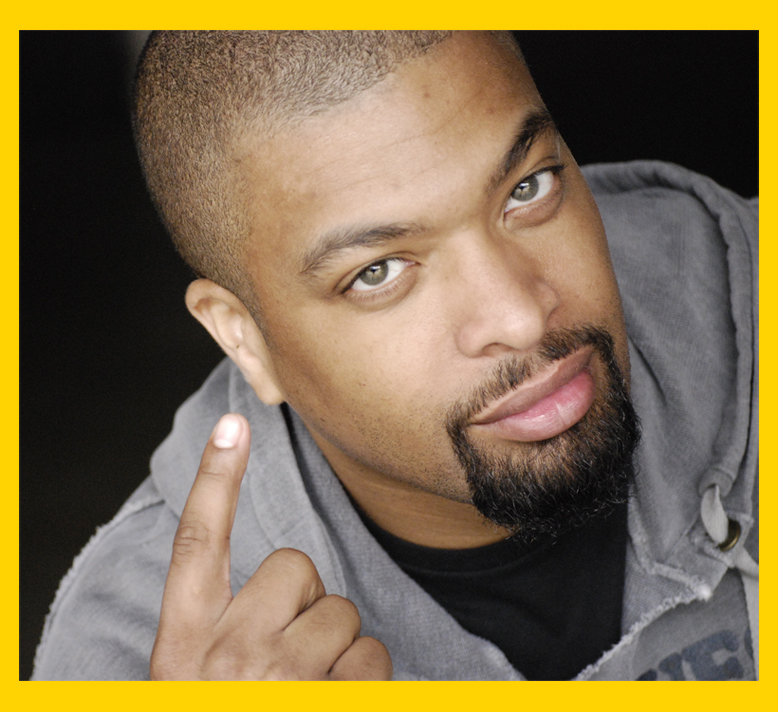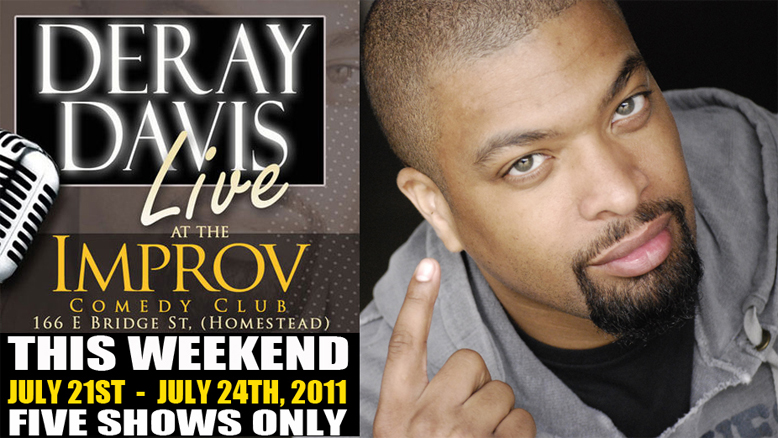 America's Premiere Comedy Showcase and Restaurant
Be a part of a premier Comedy Venue and see the funniest comedy acts.
FIVE SHOWS - JULY 21ST THROUGH JULY 24TH, 2011
Check out DeRay Davis Live At the Improv
Call 412.462.5233 to purchase your tickets.
Order Tickets Online At www.Improv
ABOUT DERAY DAVIS
DeRay Davis is quickly killing Hollywood with his hilarious humor and persona. DeRay is the star of Lions Gate's DVD feature Frankenhood, released May 5, 2009 and can be seen starring opposite Eddie Murphy in the June 12, 2009 Summer release Imagine That. DeRay also stars in Warner Brothers License to Wed opposite Mandy Moore and Robin Williams, Dimension's School for Scoundrels, Swap Meet , and New Line Cinema's Code Name: The Cleaner. DeRay's film credits also include the Hustle Guy in Barbershop and Barbershop 2, the Will Smith-produced The Seat Filler, Fox's Johnson Family Vacation, Jiminy Glick in Lalawood, and Disney's Frank McKlusky. DeRay is best known for his role as Spooner in Revolution Studios John Carpenter's remake of The Fog. You can also catch DeRay on MTV's "Wild N Out", from the first to last season and Aaron Magruder's Boondocks on the Adult Swim channel; doing several different character voices per episodes. On the small screen Davis appeared in HBO's "Entourage", Comedy Central's "Reno 911", ABC's "My Wife and Kids", Fox's "Cedric Presents...", VH1's "Love Lounge", NBC's "Late Friday", VH-1's "Play'd", Comedy Central's "Premium Blend" and BET's "ComicView". On the recording side, DeRay wrote and performed the comedy skits on Kanye West's LPs "Late Registration" and "The College Dropout" and he is the only Comedian to date to perform at the Grammy Awards (2006) with Kanye and Jamie Foxx. Furthermore, Davis is currently re-writing the feature Sons of the Hammer with Patrick T. Gorman and Jason Major for Strike Entertainment. A born hustler from Chicago's South Side, DeRay began his career in the comedy clubs and was first noticed by Hollywood at Atlanta's Laffapalooza Festival. Shortly after moving to Los Angeles, DeRay won the Comedy Central Laugh Riots Competition and was a standout on the Cedric the Entertainer Tour and at the Montreal Just for Laughs Festival. He continues to tour the country coming to a stage near you so check his calendars and updates at www.myspace.com/deraydavis and twitter him at www.twitter.com/DeRayDavis. DeRay currently resides in Los Angeles where he continues to host his own Monday nights going on 8 years now at the Improv on Melrose in Hollywood Mo' Beta Mondays.
Tell them you saw it on Brotha Ash Productions!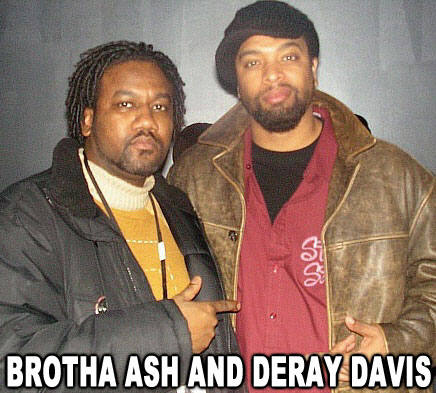 SHOW LISTINGS:
July 21, 2011 (1 Show) @ 8pm
July 22, 2011 (2 Shows) @ 8pm & 10pm
July 23, 2011 (2 Shows) @ 7pm & 9pm
July 24, 2011 (1 Show) @ 7pm

PURCHASE YOUR TICKETS TODAY


Call 412.462.5233 to purchase your tickets
Or Order Tickets Online At www.Improv.com