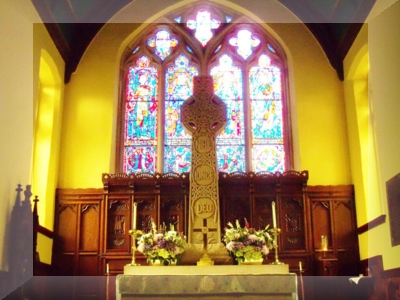 If we were to ask a person standing on a street corner, "What is a Christian?" what would the reply be? Would the answer vary depending upon whom we ask? Surely it would. Let's see if we can guess what some of the answers would sound like.
This may be the reply from an atheist: "A Christian is someone who believes in something they cannot see. They do not believe we came from monkeys and they profess one thing on Sunday and do something else the rest of the week. They have an infallible pope and have caused many wars in the name of religion."

A professing Christian might answer: "A Christian is someone who has been born again. Someone who accepts Jesus as Lord by saying the sinner's prayer. Once said, the person enters the family of God and is covered by the blood of Jesus. He cannot be lost. There are no abortions in heaven."

A Seventh-day Adventist might answer: "A Christian is someone who accepts Jesus Christ as Savior and has been baptized. After which, the righteousness of Christ covers all sins that the person did or will do. At some point after a period of backsliding, the person could lose his salvation. But, the person is not saved or lost by his deeds."
What would you answer? Can you define a Christian according to Scripture?
If not, then when Pastors Wilson and Finley call for revival and reformation, how could you know what revival and reformation ought to look like? If we do not know what a Christian is supposed to act like, then how can we answer the call for revival and reformation? We cannot. Let's look at what the Bible says about being a Christian.

The very best place to begin is with what our Savior said. He spoke some very pointed words to Nicodemus, a ruler in Israel who thought he was
"rich and increased with goods and in need of nothing."
Jesus loved him too much to allow him to remain deceived about his condition. Jesus wants Seventh-day Adventists to hear these words spoken to Nicodemus, for the church as a whole is in the very same condition as was Nicodemus, unconverted, but believing it is
"rich and increased with goods and in need of nothing."
Jesus said to Nicodemus,
"Except a man be born again, he cannot see the kingdom of God,"
implying that Nicodemus was not converted. This was a shock to a ruler in Israel who all knew was a "good man". Jesus met Nicodemus' objections with what we are looking for, a description of what a real Christian is.
"Verily, verily, I say unto thee, Except a man be born of water and of the Spirit, he cannot enter into the kingdom of God. That which is born of the flesh is flesh; and that which is born of the Spirit is spirit." John 3:5, 6.
It is very good when we can hear the Words of Jesus in answer to a question. Do any doubt His Word? One must be "born of the Spirit."

Are we satisfied as to what a Christian is? No, we need a little more information. We have our foundation. Now we need to know what it means to be born of the Spirit. Whose Spirit? All Christians can answer this, God's Spirit. He is the third Person of the Godhead, the Holy Spirit. Can we tell a Christian from a non-Christian? Can we tell if one is born of the Spirit? Some would say no, we cannot tell. That would be judging another. Then, how can we reform if we cannot tell what we are to do or be like? And, when a church votes to accept a new convert into membership, how can the church know how to vote? Or, does the church always vote all into church membership? Then why vote?

The pastor, before presenting a name to the church, ought to have made a determination as to the condition of the applicant for church membership. But, the authority rests with the church. How are the pastor and the church to know if the person is a true Christian? Is profession all that is required? Jesus told Nicodemus what must be done to enter heaven. One must be changed, he must be born of the Spirit. Therefore, before baptism, representing death to self and a new life in Christ, one must be born again of the Spirit. The pastor and church ought to understand that one has experienced the new birth. How are we to know this?

Jesus said,
"Enter ye in at the strait gate: for wide is the gate, and broad is the way, that leadeth to destruction, and many there be which go in thereat: Because strait is the gate, and narrow is the way, which leadeth unto life, and few there be that find it. Beware of false prophets, which come to you in sheep's clothing, but inwardly they are ravening wolves. Ye shall know them by their fruits. Do men gather grapes of thorns, or figs of thistles? Even so every good tree bringeth forth good fruit; but a corrupt tree bringeth forth evil fruit. A good tree cannot bring forth evil fruit, neither can a corrupt tree bring forth good fruit. Every tree that bringeth not forth good fruit is hewn down, and cast into the fire. Wherefore by their fruits ye shall know them. Not every one that saith unto me, Lord, Lord, shall enter into the kingdom of heaven; but he that doeth the will of my Father which is in heaven." Matthew 7:13-21.
Jesus tells us that we can indeed judge a man by his fruits. And, He went on to tell us how and why it is so. Bad fruit does not come from a good tree, and good fruit does not come from a bad tree. Can we tie this truth that came from Jesus a little more closely with the truth He told to Nicodemus? Absolutely. This is such and important matter that Jesus did not restrict the truth to just a few statements in Scripture. Let's tie together the new birth, being born of the Spirit, with the fruit that Jesus said whereby we may know the good from the bad.


The Holy Spirit inspired the Apostle Paul to give us just what we need to know in order to be able to judge the fruit seen in the life. We are not talking about judging the final state of a sinner, but being able to tell the false disciple from the true. It is not always possible to know immediately. It often takes time to see if the sinner manifests the fruits of the flesh or of the Spirit. And, even if one manifests the works of the flesh, that does not mean that he has never been converted, or will not repent. Character is seen by the trend of the life, not by an occasional good or evil deed. Bad fruit will signify that at the moment one is not in the Spirit, but that does not mean that he was not in the Spirit before or after. Paul's statement given here further explains the meaning of Jesus' words to Nicodemus.
"Now the works of the flesh are manifest, which are these; Adultery, fornication, uncleanness, lasciviousness, Idolatry, witchcraft, hatred, variance, emulations, wrath, strife, seditions, heresies, Envyings, murders, drunkenness, revellings, and such like: of the which I tell you before, as I have also told you in time past, that they which do such things shall not inherit the kingdom of God. But the fruit of the Spirit is love, joy, peace, longsuffering, gentleness, goodness, faith, Meekness, temperance: against such there is no law. And they that are Christ's have crucified the flesh with the affections and lusts." Galatians 5:19-24.
Many will reject these truths, but those who are seeking truth, will not. We must be born of the Spirit to enter heaven. If we are born of His Spirit, we will manifest the fruits of His Spirit - all of them, not one is missing.
"'He that abideth in Me,' said Jesus, 'and I in him, the same bringeth forth much fruit: for without Me ye can do nothing.' When we live by faith on the Son of God, the fruits of the Spirit will be seen in our lives; not one will be missing." DA 676.
Does this mean that there is no growth? No, not at all. When a good tree is young, it produces the same fruit that it does when it is mature. What is the difference? The amount of fruit. A mature Christian manifests the same fruit as does the baby Christian. The difference is knowledge increases and strength increases. But, the baby Christian has a pure heart, just as does the mature Christian. All of the thoughts, words, and deeds are pure and holy in regards to motives. And both the baby and the mature Christian have love, joy, peace, long-suffering, gentleness, goodness, faith, meekness, and temperance which is self-control. God has promised to both the new convert and the mature Christian, to not allow us to be tempted beyond what we can bear. The difference being the mature Christian will be tempted at a higher level. The end result is the last group of living saints upon this Earth who will stand without a mediator and be without sin.
How can such a thing be?

Looking upon the crucified Redeemer, we more fully comprehend the magnitude and meaning of the sacrifice made by the Majesty of heaven. The plan of salvation is glorified before us, and the thought of Calvary awakens living and sacred emotions in our hearts. Praise to God and the Lamb will be in our hearts and on our lips; for pride and self-worship cannot flourish in the soul that keeps fresh in memory the scenes of Calvary. He who beholds the Saviour's matchless love will be elevated in thought, purified in heart, transformed in character.

Now, understanding what a true Christian looks like, can we now know how to respond to the call for revival and reformation? Can we see the need for revival and reformation in the church? Does the message from Jesus that tells us our condition as a people make more sense when we understand that a true Christian manifests all of the fruits of His Spirit? Having a correct understanding of the plan of salvation and that it is designed to restore the image of God in us sinners helps us to see our continual need of Jesus moment by moment, day by day.

Let us participate in the revival that is now underway in the Seventh-day Adventist Church. The shaking has begun and all who will allow Christ into their hearts will be a part of this great revival that will end in the outpouring of the Latter Rain. As we study our weekly Sabbath School lesson on Revival and Reformation we will be strengthened by what we are learning day by day. Pastor Finley has done a wonderful work in preparing the lessons. They point us to our need of Jesus and the precious promises we have been given in Scripture. We are learning that our only hope is found in Christ Jesus.

The call for revival and reformation will succeed. Evidence surrounds us that the end is near. The only thing that keeps Jesus from coming is that we have not done our work. The church is not ready to receive the harvest that is ripe and waiting. We have the sure Word of God that the church will do her work and be raised from the dead.
"Thus saith the Lord GOD; I do not this for your sakes, O house of Israel, but for mine holy name's sake, which ye have profaned among the heathen, whither ye went. And I will sanctify my great name, which was profaned among the heathen, which ye have profaned in the midst of them; and the heathen shall know that I am the LORD, saith the Lord GOD, when I shall be sanctified in you before their eyes. For I will take you from among the heathen, and gather you out of all countries, and will bring you into your own land. Then will I sprinkle clean water upon you, and ye shall be clean: from all your filthiness, and from all your idols, will I cleanse you." Ezekiel 36:22-25.
And for those who are weak in the faith and do not see how God can bring life to a dead church, God repeated His promise to modern day Israel.
"The hand of the LORD was upon me, and carried me out in the spirit of the LORD, and set me down in the midst of the valley which was full of bones, And caused me to pass by them round about: and, behold, there were very many in the open valley; and, lo, they were very dry. And he said unto me, Son of man, can these bones live? And I answered, O Lord GOD, thou knowest. Again he said unto me, Prophesy upon these bones, and say unto them, O ye dry bones, hear the word of the LORD. Thus saith the Lord GOD unto these bones; Behold, I will cause breath to enter into you, and ye shall live: And I will lay sinews upon you, and will bring up flesh upon you, and cover you with skin, and put breath in you, and ye shall live; and ye shall know that I am the LORD. So I prophesied as I was commanded: and as I prophesied, there was a noise, and behold a shaking, and the bones came together, bone to his bone. And when I beheld, lo, the sinews and the flesh came up upon them, and the skin covered them above: but there was no breath in them. Then said he unto me, Prophesy unto the wind, prophesy, son of man, and say to the wind, Thus saith the Lord GOD; Come from the four winds, O breath, and breathe upon these slain, that they may live. So I prophesied as he commanded me, and the breath came into them, and they lived, and stood up upon their feet, an exceeding great army. Then he said unto me, Son of man, these bones are the whole house of Israel: behold, they say, Our bones are dried, and our hope is lost: we are cut off for our parts. Therefore prophesy and say unto them, Thus saith the Lord GOD; Behold, O my people, I will open your graves, and cause you to come up out of your graves, and bring you into the land of Israel. And ye shall know that I am the LORD, when I have opened your graves, O my people, and brought you up out of your graves, And shall put my spirit in you, and ye shall live. Ezekiel 37:1-14.
And, if some who are still full of "unbelief" need someone to confirm that this Word of God applies to the last of the seven churches, then listen to the prophet sent to the Seventh-day Adventist Church. Ellen White was shown a "shaking" that would take place in the church. Speaking of that shaking she said,
"I asked the meaning of the shaking I had seen, and was shown that it would be caused by the straight testimony called forth by the counsel of the True Witness to the Laodiceans. This will have its effect upon the heart of the receiver, and will lead him to exalt the standard and pour forth the straight truth. Some will not bear this straight testimony. They will rise up against it, and this will cause a shaking among God's people. The testimony of the True Witness has not been half heeded. The solemn testimony upon which the destiny of the church hangs has been lightly esteemed, if not entirely disregarded. This testimony must work deep repentance, and all that truly receive it will obey it and be purified." 1T 181.
And lastly, some may still need further explanation from the inspired prophet exactly what this straight testimony of the True Witness is. God does not leave any without light on the matter.
"And unto the angel of the church of the Laodiceans write; These things saith the Amen, the faithful and true witness, the beginning of the creation of God; I know thy works, that thou art neither cold nor hot: I would thou wert cold or hot. So then because thou art lukewarm, and neither cold nor hot, I will spue thee out of my mouth. Because thou sayest, I am rich, and increased with goods, and have need of nothing; and knowest not that thou art wretched, and miserable, and poor, and blind, and naked: I counsel thee to buy of me gold tried in the fire, that thou mayest be rich; and white raiment, that thou mayest be clothed, and that the shame of thy nakedness do not appear; and anoint thine eyes with eyesalve, that thou mayest see. As many as I love, I rebuke and chasten: be zealous therefore, and repent. Behold, I stand at the door, and knock: if any man hear my voice, and open the door, I will come in to him, and will sup with him, and he with me. To him that overcometh will I grant to sit with me in my throne, even as I also overcame, and am set down with my Father in his throne." Revelation 3:14-21.
I was shown that the testimony to the Laodiceans applies to God's people at the present time, and the reason it has not accomplished a greater work is because of the hardness of their hearts. But God has given the message time to do its work. The heart must be purified from sins which have so long shut out Jesus. This fearful message will do its work. When it was first presented, it led to close examination of heart. Sins were confessed, and the people of God were stirred everywhere. Nearly all believed that this message would end in the loud cry of the third angel. But as they failed to see the powerful work accomplished in a short time, many lost the effect of the message. I saw that this message would not accomplish its work in a few short months. It is designed to arouse the people of God, to discover to them their backslidings, and to lead to zealous repentance, that they may be favored with the presence of Jesus, and be fitted for the loud cry of the third angel. As this message affected the heart, it led to deep humility before God. Angels were sent in every direction to prepare unbelieving hearts for the truth. The cause of God began to rise, and His people were acquainted with their position. If the counsel of the True Witness had been fully heeded, God would have wrought for His people in greater power. Yet the efforts made since the message has been given, have been blessed of God, and many souls have been brought from error and darkness to rejoice in the truth.

God will prove His people. Jesus bears patiently with them, and does not spew them out of His mouth in a moment. Said the angel: "God is weighing His people." If the message had been of as short duration as many of us supposed, there would have been no time for them to develop character. Many moved from feeling, not from principle and faith, and this solemn, fearful message stirred them. It wrought upon their feelings, and excited their fears, but did not accomplish the work which God designed that it should. God reads the heart. Lest His people should be deceived in regard to themselves, He gives them time for the excitement to wear off, and then proves them to see if they will obey the counsel of the True Witness.

God leads His people on, step by step. He brings them up to different points calculated to manifest what is in the heart. Some endure at one point, but fall off at the next. At every advanced point the heart is tested and tried a little closer. If the professed people of God find their hearts opposed to this straight work, it should convince them that they have a work to do to overcome, if they would not be spewed out of the mouth of the Lord. Said the angel: "God will bring His work closer and closer to test and prove every one of His people." Some are willing to receive one point; but when God brings them to another testing point, they shrink from it and stand back, because they find that it strikes directly at some cherished idol. Here they have opportunity to see what is in their hearts that shuts out Jesus. They prize something higher than the truth, and their hearts are not prepared to receive Jesus. Individuals are tested and proved a length of time to see if they will sacrifice their idols and heed the counsel of the True Witness. If any will not be purified through obeying the truth, and overcome their selfishness, their pride, and evil passions, the angels of God have the charge: "They are joined to their idols, let them alone," and they pass on to their work, leaving these with their sinful traits unsubdued, to the control of evil angels. Those who come up to every point, and stand every test, and overcome, be the price what it may, have heeded the counsel of the True Witness, and they will receive the latter rain, and thus be fitted for translation.

God proves His people in this world. This is the fitting-up place to appear in His presence. Here, in this world, in these last days, persons will show what power affects their hearts and controls their actions. If it is the power of divine truth, it will lead to good works. It will elevate the receiver, and make him noblehearted and generous, like his divine Lord. But if evil angels control the heart, it will be seen in various ways. The fruit will be selfishness, covetousness, pride, and evil passions.

The heart is deceitful above all things, and desperately wicked. Professors of religion are not willing to closely examine themselves to see whether they are in the faith; and it is a fearful fact that many are leaning on a false hope. Some lean upon an old experience which they had years ago; but when brought down to this heart-searching time, when all should have a daily experience, they have nothing to relate. They seem to think that a profession of the truth will save them. When they subdue those sins which God hates, Jesus will come in and sup with them and they with Him. They will then draw divine strength from Jesus, and will grow up in Him, and be able with holy triumph to say: "Thanks be to God, which giveth us the victory through our Lord Jesus Christ." 1T 188
If you know of one who would benefit from our newsletter,