---
Roadworks and Road Closures Continue...


Council staff will be on the Island carrying out emergency maintenance in certain locations after storm damage, weather permitting. The work is anticipated to continue for approximately two weeks.

Locations: Carol's Hill, Cecil Street, Hilda Avenue, various drains and pits Island-wide. Please try to avoid these areas if driving a vehicle so work is not unnecessarily interrupted.

Drainage works have been carried out on Robertson between Cargo and the "Yamba" corner under the scheduled Capital Works Program.

Please use an alternative route during this time.



---
Scotland Island RFB Fire Shed Dinner
Saturday 13 June 2015 from 7pm
---

Important Notice
Your offshore committee have decided NOT to hold a mid-winter wine tasting this year, 2015. For a number of reasons. The late arrival of the information. The absence overseas of some organisers and the incapacity of others (no - not alcoholic incapacity). The cold weather.

We are going to put a lot of effort into the Spring 2015 tasting so please stay tuned.

In the meantime here is an interesting video....
http://digg.com/video/why-you-should-buy-cheap-wine

Best Wishes

The POT group (Pittwater Offshore Tasters)

Friends signup HERE



---
Barking Dogs
Please be considerate of your neighbours.
Could we possibly ask people who leave their dogs at home while at work to consider their neighbours.
Where we live dogs bark all day at any thing that moves, that is until the owners get home.

Dave Walsh



---
Car for Sale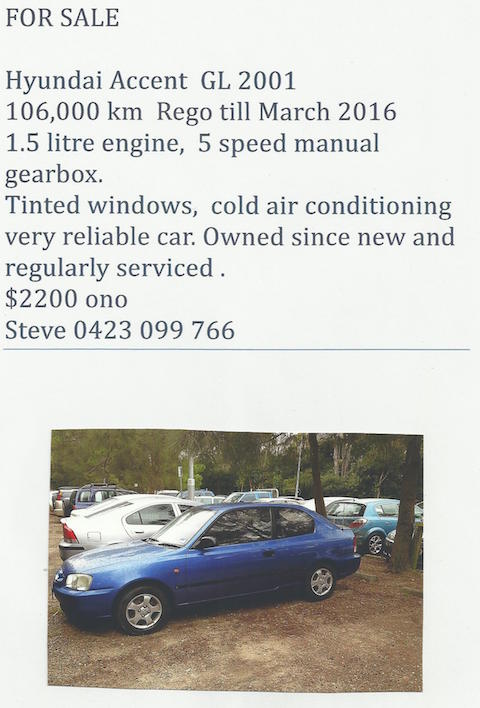 ---
Wanted
Commuter boat

Ready to buy commuter/runabout motor boat with wheel steering, canopy.

Please contact David 0411221913



---
Found
Kids Ski jacket
A brand new child's ski jacket at Tennis Wharf yesterday and that I have it in my possession.

Skyler Fields
0402 810 996
mail@skyesfairymagic.com.au



---
---
Missed out on a previous Newsletters - HERE
A complete set of past electronic newsletters since May 2000 can be found and read at https://ymlp.com/archive_gesgjgm.php


---
To Contribute
If you would like to contribute to this newsletter it's easy!. Send an e-mail to the editor (editor@scotlandisland.org.au) or by clicking here. Type your contribution (100 words or so would be fine) and assuming it is of general interest to the community, does not include matter of a political nature and is not offensive, it will appear next month.


Subscription Information
To get on and off this newsletter, click here

or got to:

http://www.scotlandisland.org.au/signup .


To change your address, click the 'modify' link at the bottom of this newsletter or send an email to the

editor@scotlandisland.org.au


---
Follow the PON
---
The Online Local Contacts Guide
Click HERE to load
---
---
The views expressed in this newsletter are not necessarily the views of the Scotland Island Residents Association (SIRA), or the Western Pittwater Community Association (WPCA)
---
---