| | |
| --- | --- |
| BHAF Newsletter | April 2017 |

Thank-you to all that attended our AGM last month. It was a good meeting attended by about 80 people and we were treated to an excellent talk regarding the importance of pollinating insects in growing food, from Laurie Jackson from Buglife (The invertebrate conservation charity). I never realised the importance of hoverflies in polination, and will be building a 'hoverfly lagoon' on my plot to help them.

Beth Nicholls from Sussex University was also there to promote their ongoing project 'Team Pollinate'

"Scientists at the University of Sussex are looking for allotment growers in Brighton to volunteer to become 'Citizen Scientists' and help us learn more about which insects are pollinating the food you grow. Sign up to volunteer with Team PollinATE today and the data you collect will help scientists understand more about pollinator behaviour and how best to protect these important insects."
https://www.teampollinate.co.uk/
sign up here;
https://www.surveymonkey.co.uk/r/teampollinate

Contact: 01273 873377 teampollinate@gmail.com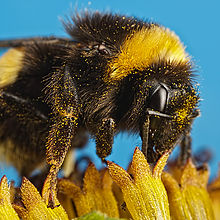 Water Costs
Our Annual water bill for the allotments comes to around £30,000 a year! Together with the Council we are trying to help lower this cost by finding leaks and trying to make people aware of the cost. If we want to try and keep our rents as low as possible we should also try and keep our water usage to a minimum as well. Site Reps at Roedale Valley have come up with a simple and effective way of reminding people to save water, they have put laminated notes on all the sites taps. This is a great idea which we encourage all sites to adopt.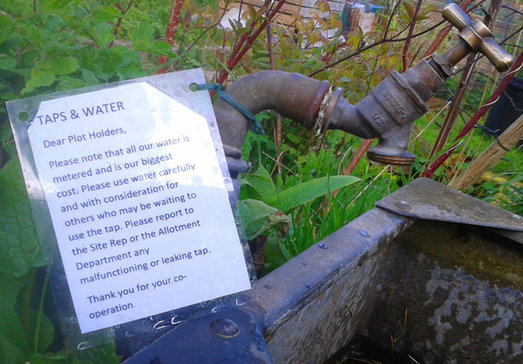 ---
Creating and Surveying Hoverfly Lagoons
The Buzz Club
Anyone who came to our AGM to hear Laurie Jackson's talk will have come away knowing how important our many species of hoverflies are for pollinating our crops. A hoverfly lagoon is perfect for encouraging and helping them onto our plots. This video shows how.
https://www.youtube.com/watch
Are we still Digging for Victory?
The National Allotment Society would like to encouragemembers and all plot-holders to engage with the https://myharvest.org.uk/ project and record their allotment haul this season. The information gathered will reinforce our message about the many benefits of allotment growing and help us to continue to grow the allotment movement.
'Solace in Sorrel' the plot of land that healed my soul
Brighton and Hove Council Open Spaces Strategy
Paul Campbell from Brighton and Hove City Council talked briefly about the recent Open Spaces Strategy at our AGM last week. Some Allotmenteers asked to see the responses document and Paul has kindly sent it to us. Follow the link below
http://www.bhaf.org.uk/page/open_spaces_strategy
The Brighton and Hove Allotment Federation is run by volunteer allotment holders. All plot holders are members of the Allotment Federation.
Best Regards,
Mark Carroll
for
BHAF Committee.