ELECT WILLIAM ANDERSON
FOR PENNSYLVANIA STATE LEGISLATOR DISTRICT 24
Y2K14 FOR THE NEXT GENERATION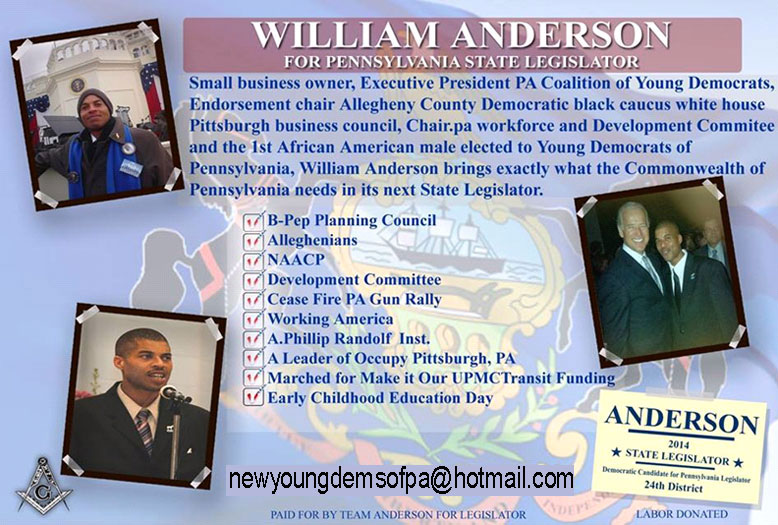 Will works for you!
No. 1 on the Ballot & No. 1 in the Community
Vote May 20, 2014 7am-8pm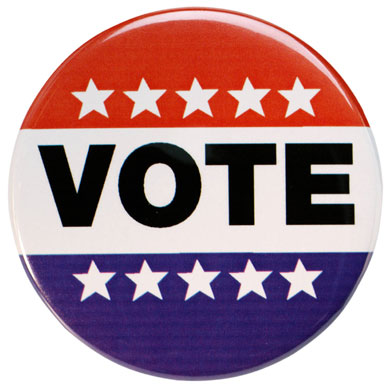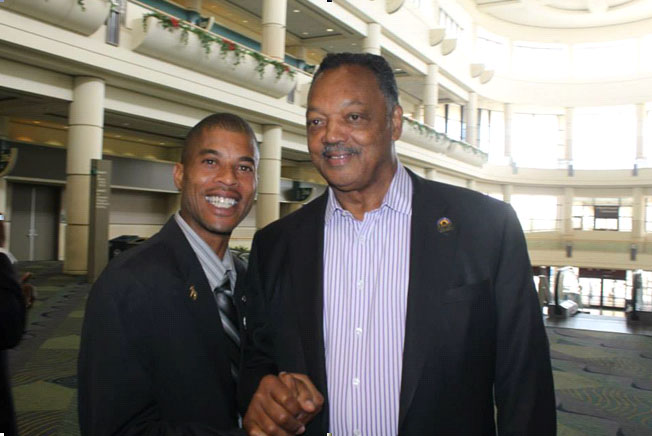 B-Pep Planning Council
Alleghenians
NAACP
Development Committee
Cease Fire PA Gun Rally
Working America
A. Phillip Randolph Inst.
A Leader of Occupy Pittsburgh, PA
Marched for Make it Our UPMC Transit Funding
Early Childhood Education Day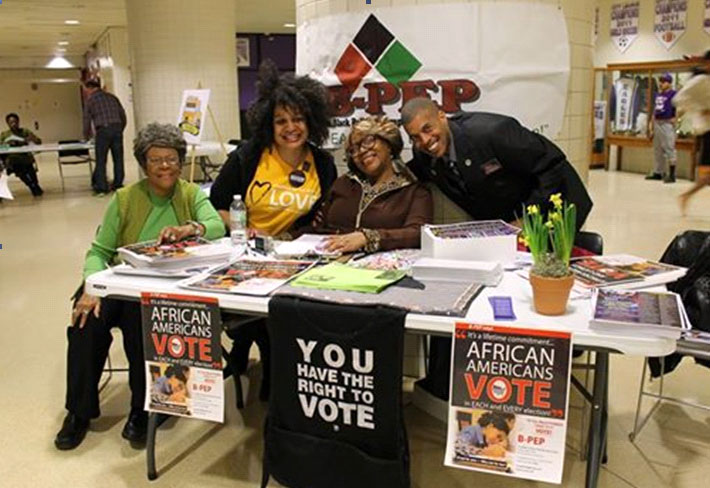 William Anderson is a community leader and advocate who stands up for the interest of his community. He is a small business owner of Pittsburgh's Finest Auto and a lifelong resident of Homewood who attended Pennsylvania State University. Throughout his life, he has been involved in the political process, first through his grandmother, Evelyn D. Richardson, the senior Democratic delegate in the nation who has been recognized by presidents, including President Barack Obama, who took him to all her political events when he was an infant into adult hood. He has honorably served his community by being involved in the grassroots level. "Homewood is the blood that runs in my veins. It is the greatest place in the world. It is my home." He is Executive President of the PA Coalition of Young Democrats. He is a constant servant to others because of his love for people. He advocates for those who would not otherwise be served, from raising funds for families who could not afford the costs of funerals, to using his relationships with other leaders to present strategies to improve the community.
William Anderson is the endorsed chair of the Allegheny County Democratic Black Caucus White House Pittsburgh Business Council. He is the Chair of the Pennsylvania Workforce and Development Committee and the first African American male elected to the Young Democrats of Pennsylvania. He has endlessly worked on coalition building in the community through organizations such as B-Pep Planning Council, the Alleghenians, the NAACP, the Development Committee, Cease Fire PA Gun Rally, Working America, the A. Phillip Randolph Inst. He was a leader of Occupy Pittsburgh, PA, marched for Make it Our UPMC Transit Funding and Early Childhood Education Day.

William Anderson brings exactly what the Commonwealth of Pennsylvania needs in its next State Legislator. He is a leader and advocate who works tirelessly for others. He is also involved in street service where he talks to young men and encourages them to get on the straight path. They can relate to him because he is young and speaks their language. William Anderson is running for State Representative in District 24 in order to bring in jobs, educate our youth, and stop the violence. He wants to make sure that the lifelong residents are not displaced by gentrification, and that some of these new businesses in our community hire and retain people from the community.
newyoungdemsofpa@hotmail.com
PAID FOR BY TEAM ANDERSON FOR LEGISLATOR