---
---
Notices
NOTICE OF PROPOSED WORKS
DRAINAGE UPGRADE
Robertson Road, Scotland Island
(between 16 and 22 Robertson Road)
Attention:
- Scotland Islands Residents
- Northern Beaches Police (Traffic Officer)
- Fire Service (Station Commander)
- Ambulance Service (Operations Manager)
- Roads & Maritime Services (Road Network Officer, North)
- Mona Vale Chamber of Commerce
Please be aware that the Northern Beaches Council has scheduled to commence the above works on:



Monday 20nd June 2016



Works are likely to take 2 weeks, between the hours of 7am and 5pm.

Due to the nature of the works Robertson Road will be closed between No. 16 and 22 Robertson Road however Council will endeavour to accommodate for emergency vehicles and public transport whenever possible.

Although every effort will be made to minimise any inconvenience to your service while the works are proceeding, your cooperation and patience will be greatly appreciated.

Please note that inclement weather may require deferment of the work.

Yours faithfully

David Munday
PROJECT ENGINEER
Urban Infrastructure

Ph: (02) 9970 1248


---
Recovery Program on the Northern Beaches Underway
06 Jun 2016



Northern Beaches Council is hard at work cleaning up the trail of debris from the storm that wreaked havoc at the weekend.



General Manager Mark Ferguson assured residents that Council has upgraded its clean up services for those affected and will work closely with State Emergency Services, contractors and volunteers to clear large trees and other debris, as quickly as possible.

"While safety for residents remains our first priority, we are focused on providing clean up support and services to displaced people and all our affected residents.

"The clean-up is a mammoth task and I would like to thank residents in advance for their continued patience, as this major undertaking will take some time to complete.

Council will be running additional clean ups of green waste and household furnishings damaged by the storm.

"Residents can call Council for additional waste services and may also take storm debris to Kimbriki Resource Recovery Centre for free disposal.

To access free services at Kimbriki, residents will need to show a valid driver's licence with current address or a valid parking sticker that shows they are a Northern Beaches residents (in the former 'Pittwater', 'Warringah' or 'Manly' areas). Residents will also need to quote 'Storm Damage' when passing the weighbridge.

Over the weekend several Council staff were in the field during the height of the storm and flooding activity. There were also a number of SES volunteers assisting with fallen trees, damaged property and evacuation of residents.

"I would like to sincerely thank all Council staff, emergency services and volunteers who worked through the weekend to help protect local residents, our environment and infrastructure.

Extra waste services will be put in place over the coming weeks. Council will endeavour to clean up the waste as soon as possible. Please follow these guidelines.


Vegetation clean up services
Assistance and additional services for vegetation clean up will be provided for Northern Beaches residents:

Please use existing green-lidded bin services for vegetation waste where possible
Call Customer Service for additional collections if needed
Leave vegetation on the kerbside in manageable stacks or in vegetation bins (no plastic bags please)
Larger branches will be collected separately from the kerbside
Take excess vegetation waste to Kimbriki Resource Recovery Centre for free disposal. Residents will also need to quote 'Storm Damage' when passing the weighbridge and show proof of residence.


General Waste Services
Assistance and additional services for other storm damage (household materials) and general waste disposal will be provided for Northern Beaches residents.


Please use existing re-lidded bin services for small general waste items and food where possible.
For excessive amounts of spoiled food due to flooding or power outages call customer service to arrange a collection.
For disposal of larger items, such as water damaged furniture, carpet and other household material residents can:

- place items on the kerb and call customer service to arrange a collection, or
- take items to Kimbriki Resource Recovery Centre for free disposal. Residents will also need to quote 'Storm Damage' when passing the weighbridge and show proof of residence.
Please call the Northern Beaches Council by 14 June 2016 to book your waste pick up


Former Manly (02) 9976 1500
Former Warringah (02) 9942 2111
Former Pittwater (02) 9970 1111




Storm Emergency Information
Northern Beaches Council will continue to update the website and social media channels with information as our emergency response and clean-up continues. Visit: www.northernbeaches.nsw.gov.au or visit your local branch's website.

For those experiencing electrical wires down in your street or near your home, please contact Ausgrid Emergency on 13 13 88.

To report fallen trees on public land that are posing a risk to safety; flooding as a result of drainage issues on public land or damage to public buildings or Council infrastructure, please call one of our Customer Service Centres by phone or via our social media channels:

Residents are advised to contact the SES on 132 500 for emergency assistance for property damage on private land or for trees on private land causing damage.

Contact: Community Relations
Phone: 9970 1119



---
Warning Dangerous Tree at Fitzpatrick Reserve.
Above the steps on Fitzpatrick Reserve on Scotland island (the steps that lead up from just above Cargo Wharf ) a very large branch fell last night from the semi-dead massive tree that is eaten by termites adjacent to our home. The branch is hanging precariously up in the air above the track and is threatening power lines. It made a terrible noise last night when it cracked so I think the whole tree is at risk of collapsing so please everyone walking up there be careful. I have advised the Council and Ausgrid.

Thanks to Colin and Adriana - 2 Robertson Road



---
Letters to the Editor...
Thank you
Dear friends

I would like thank each and everyone of you for joining in the celebration of Bills life.

I am sure he felt the warmth in the room as I did.

Jacqueline Lee


---
Bill Lee
Dear Editor,

I was very sorry to hear Bill passed away, I didn't know he was sick. I met Bill at a CFU training day 4/5/2014. On that day I was so excited to be there I took pictures of the occasion, albeit not good ones but I thought I should share them with you anyway.



I remember Bill was one of the first people I met, we sat next to each other in the truck on our way to a location for training. It struck me how intelligent, polite, friendly and passionate he was about helping the community by being a CFU member. He and Penny took on a leadership roll after that day.

I send my sincerest condolences to his family, the CFU and the island community. He was a gentlemen with great heart.

Yours sincerely,
Sylvia Tuz



---
Missing Kayak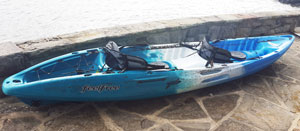 Following last weekend's recent storm we our two identical kayaks were washed away from our property on the north-western point of Scotland Island.

We found one beached in McCarrs Creek but we have yet to locate the other.

If anyone has found a stray kayak that looks identical to the one pictured could you please ring 0431018279

Toni Pengelly



---
Washed Up Storm Damage Material
Storm damaged collateral
Floating past on the night of Sunday/Monday on the Eastern side of the Island.:

5 tread set of timber stairs
1m Sq white "rescue" raft.
Please come and collect.

Marjolyn Batt
0404 066 403



---
Scotland Island Fire Shed Dinner Reminder

Saturday 11 June
---
Australia's Largest Selling Wine Syndicate Newsletter
All the Wine that's fit to Drink :)
Greetings,

Your committee is pleased to advise that the next tasting will be held at the sunny and flood free home of Greg and Louise Roberts, at 'Pittpoint'. on the Northern tip of Scotland Island.

DATE: Sunday 19th June 2016
TIME: 3pm
WHAT TO BRING: A tasting glass, a copy of the order and tasting notes (download below) and a plate of something for us all to share as we consider the quality and value of the wines chosen for us by the syndicate.
COST: Free, as always.

By all means bring friends and neighbours. Remember - there is no obligation to buy any wine. In fact nbo one ever knows whether you order wine! It is all up to you to order your choice when you get home. No order - no worries!

See you on Sunday week.



---
Moving House Sale
Sunday 12th and Monday 13th
First come - first serve....
4 ft Fish tank and stand with accessories, including fish books. $50
Pine chest of drawers with mirror 43 X 105 X 112 high $50
5 piece rush lounge setting 2 side tables, coffee table, lounge and chair $150
1970's bentwood rocking chair in good condition except for some scratches $40
Vintage dressing table and mirror and stool. Needs re-polishing $50
Vintage/antique rosewood dining setting with table, 6 chairs and sideboard $300
Prices are negotiable.


Lots of other items too numerous to detail:


Books, CD's, videos, vinyl records, glassware, kitchenware, pictures and frames, and an original Fabia Tory painting etc.



Lots and lots of free stuff as well.

Please contact Lizzie Brand on 0424341458 or 99972026 if interested, or just rock up on Sunday 12th June, or on Monday.



---
Office Furniture For Sale
---
ASHA'S Tutoring is Back
and ready to help boost your ATAR and Assessment marks!
Are you finding it hard translating your classwork into concise sophisticated essays and exams?

I have extensive experience tutoring all high school levels up to HSC English Standard, Advanced, Extension 1 and 2.

I specialise in:

- Essay writing
- Textual / critical analysis
- Argument building
- Exam preparation
For enquiries call 0478 155 583



---
House Cleaning
Fast and thorough cleaning for Island residents!
$35/hr

Call Asha on 0478 155 583



---
Wanted: Postie bike
Any condition considered

Please contact Andy
0406680324



---
---
The views expressed in this newsletter are not necessarily the views of the Scotland Island Residents Association (SIRA), or the Western Pittwater Community Association (WPCA)
---