Contents
ISA Hamilton sponsors 4 McMaster University Students to attend ISA Student Competition


Save the Date: ISA Hamilton Expo Tradeshow: Tues, March 22, 2016

Save the Date" ISA Hamilton Golf Tournament: Fri, May 27, 2016

Volunteers needed to help with ISA Hamilton!

ISA Hamilton Sponsors 4 McMaster University Students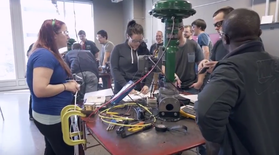 ISA Hamilton ISA Hamilton is pleased to announce the co-sponsorship, with McMaster University, of a team of four undergraduate students to participate at the 2016 ISA Instrumentation Games at the South Alberta Institute of Technology (SAIT). The Games, organized by the ISA-SAIT Student Section, bring together Instrumentation Engineering Technology students from several North American colleges and universities. It is an excellent opportunity for students to collaborate, network with industry professionals, and be challenged by situations that are not typically explored in the lab environment at school.

This year, the 4th of the Games, is the first time a team from McMaster is participating. Four students from the Process Automation Technology Program of the McMaster-Mohawk Bachelor of Technology Partnership, two from the 2nd year and two from the 4th year of studies, will visit Calgary, along with a faculty member, from March 10 to March 13. There, they will meet similar delegations from SAIT Polytechnic, NAIT Polytechnic, University of Alberta, BC Institute of Technology, SASK Polytechnic, Red River College, Lambton College, Bellingham Technology College, and Francis Tuttle Technology Centre. Over the two days of challenges, students will be placed in teams with students from schools other than their own and compete in four tasks: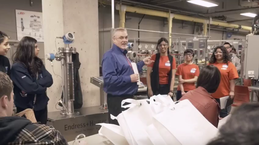 Cascade Loop Tuning, Multi-Instrument Calibration, Delta V Fieldbus Commisioning, and "MacGuyver 101" (creating an AC/DC rectifier from given electronic components and then use it to calibrate a digital valve positioner). As showcased by the teams' formation, the event is not a competition, but, rather, a community-building occasion. Students will collaborate and problem-solve with peers they have never met before, ask industry professionals, sponsors and instructors from all schools for advice, and have fun solving intriguing challenges.

ISA Hamilton is very pleased to have facilitated McMaster's participation to this year's Games through raising awareness for the event and offering financial support. We are confident that this is will be an extra-curricular activity that students will cherish for years to come. Canaan, Michael, Jordan, and Simran have a nice trip, good luck in your challenges, and make sure you make lots of connections; they are valuable! We look forward to hearing of your perspective upon your return.
ISA Hamilton Expo Tradeshow - Key Note Address: Internet of Things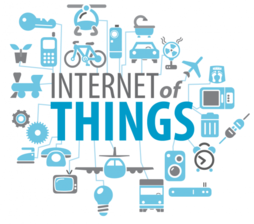 ISA Hamilton is pleased to announce that the keynote for our 2016 Expo Tradeshow will be a talk entitled "The Internet of Things (IoT) for Manufacturing" presented by speakers James Taylor and David Jirku. James is a 10 year veteran of the automation sector who works for Rockwell Automation. David has been active in the field of networks and cybersecurity for the past 17 years with Cisco Systems.

As with past years, the Expo begins with the 9am keynote followed by the exhibit hall being open 10am-5pm. Admission is free and includes a no-charge catered hot lunch. This year's ISA Hamilton Expo Tradeshow and Conference is being held on Tues, March 22, 2016 at RBG Centre at Burlington's Royal Botanical Gardens.


The Internet of Things (IoT) for Manufacturing
Speakers: James Taylor, Business Development Leader, Connected Services – Rockwell Automation
& David Jirku, Consulting System Engineer, Internet of Things – Cisco Systems
ISA Hamilton Expo Tradeshow - Tuesday, March 22, 2016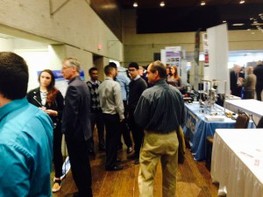 ISA Hamilton will be holding it's annual trade show on Tues, March 22, 2016 starting at 9:00am at the RBG in Burlington Ontario.The day will feature a keynote address, a technical speaking program, and exhibitor booths from a wide range of automation suppliers.
As always there is no pre-registration required, and all attendees are treated to a catered lunch and door prizes.
Royal Botanical Gardens
RBG Centre – Main Exhibit Hall
680 Plains Road West
Burlington, Ontario
Free parking on site! Free Lunch! Door Prizes!

Come and learn about the products and services from over 50 local automation suppliers. Show includes a instructional program with technical presentations on a variety of automation topics.
Keynote Address starts at 9:00am
Exhibit Hall Hours 10:00am to 5:00pm

Save the Date: ISA Hamilton Golf Tournament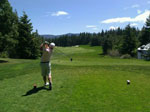 Our 2016 ISA Hamilton Golf Tournament will be taking place on Friday, May 27, 2016. 12noon tee-off
Our golf tournament will be taking place at Chippewa Creek Golf Club, which is about a 15 minute drive from Hamilton (via Hwy 6 south or Upper James Street). The tournament is played in foursomes with "best ball" in the Scramble Format, plus a few interesting house rules for fun.
Registration will open in January. Stay posted for information in our next eNews!
New this year! We are now able to accept both Online and Credit Card payments. Check out our website for details!
Call for Volunteers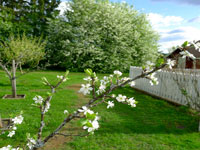 ISA Hamilton is looking for a few additional volunteers to help us run our programs. In the past couple years, we had a few of our long-time exec members step back when they retired, so we are looking for some fresh blood. Like what we do as a section? Please consider offering a few hours of your time each month to help us with our expo, golf tournament, student programs, and dinner meetings.
Running our local ISA section does not take a lot of work, but it helps if we can spread it amongst a few more volunteers. Interested? Please contact our section president Brent Killins at (905)-812-2247 or president@isahamilton.com

Thanks for reading,
ISA Hamilton
You are receiving this message because you opted in to receive messages from ISA Hamilton Section.
ISA Hamilton is a non-profit Canadian association for automation professionals and a local section of the ISA.