PENINSULA MUSIC CLUB PRESENTS


JEWELS OF THE BAROQUE



The Early Music Dance Consort
The Rameaunes, (a Speculative Baroque Orchestra)
Corinne Parker soprano

Discover a treasury of gems from the Baroque era, with an evening to delight both the eye and ear in our 2nd concert for 2009. It will combine music, song and court dance from the 17th and early 18th centuries. Works by Vivaldi, Corelli, Lully, Campra and Handel.

Friday 17th April, 2009, 8pm

Loquat Valley Anglican School
1977 Pittwater Road Bayview

Tickets for 5 concert series subscription $55
Single tickets $20, con. $15,
School Students free (all payable at the door)

A sparkling wine supper will be served after the performance

Enquires please phone Janice Tuynman 9999-1937 or Wendy Reading 9938-1545

Doors open at 7.15pm for AGM before concert



---
AUTHOR TALK on Thursday 23 April
Elvina Bay Author Michelle McDonald talks about her book

"The Kiss of Saddam"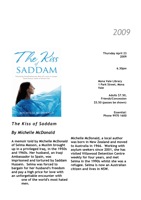 Mona Vale Library will be hosting an Author Talk on Thursday 23 April
with writer Michelle McDonald.



The Elvina Bay author

will speak on her memoir "The Kiss of Saddam",
which focuses on the remarkable story of Selma Masson, a Muslim brought
up in a privileged Iraq in the 1950s and 1960s.

Selma Masson's husband, at one time the Iraqi Ambassador to Spain, was
imprisoned and tortured by Saddam Hussein.

Selma is forced to bargain for her husband's freedom and pay a high price for love with an unforgettable encounter with one of the world's most hated men.

It is 1991 and the Iraqi invasion is in its first year. Selma Masson, a mother of two and wife of a Baath party diplomat and human rights activist Mohammad al Jabiri, is worried. Her husband has disappeared and securing his freedom from prison and torture will mean courage and sacrifice.

The book also covers the heartbreaking aftermath when Mohammad comes home a changed man, with further tragedy to come when her son commits suicide.

Author Michelle McDonald was born in New Zealand, moving to Australia in 1966. She has worked with asylum seekers since 2001 and it was during her work at Villawood Detention Centre that she met Selma.

The book also movingly captures the experience of life in Australia for political asylum seekers.

The Author Talk will begin at

6.30pm at the library in Park Street, Mona Vale

. Books will be available for purchase and signing by the author. Bookings are essential and can be made by phoning 9970 1600.

The admission fee which includes light refreshments is $7.50 or $5.50 concession (friends/pensioners/students) – cards must be shown



---
Local Council Notices





EASTER HOLIDAY FUN FOR KIDS ON THE COAST


Places are now available for primary school aged children to attend the Easter school holiday activity program at Pittwater Council's Coastal Environment Centre.
The school holiday program, which runs between 14 and 28 April, offers some great activities aimed to entertain and stimulate young minds. Children will learn skills they can apply in their daily lives on the coast.

Pittwater Council's Natural Environment and Education Manager Mia Dalby-Ball said the program offered a combination of art, craft, adventure, discovery and learning and will focus on the wide variety of plants, animals and sea creatures that are abundant in Pittwater's coastal environment.

"One of our popular activities on offer is the Junior Fishing Clinic, an introductory fishing workshop that supplies all the facts and tips about fishing and lots of free gear as well!"

Other activities include the 'Horses and Dragons Under the Sea' session, where children take a walk along the coast and learn about the mysterious underwater world of sea horses.
There is a session on Humpback Whales called 'Whale Song' in which children will learn about these mammals as they travel to warmer waters for the winter.

"For children who like plants, the 'Magic of Forests and Gum Trees' session is ideal", said Ms Dalby-Ball. "They discover how the lungs of the earth work and join in making a tree of life and bush craft," Ms Dalby Ball said.

The Kids on the Coast program runs every day throughout the school holidays, offering two-hour activities between 10am-12 noon and 1pm-3pm for $20 per child per session. For children wishing to attend two sessions the cost is $55 per day (10am-3pm) which and includes care between sessions.

Each activity is led by an enthusiastic and experienced educator. The Coastal Environment Centre is located at Lake Park Road, North Narrabeen.

For more information or to book a place go to www.pittwater.nsw.gov.au/environment/cec/kidsoncoast or call the Coastal Environment Centre on 9970 1675.

Media Contact: Sonja Elwood 9970 1675




'ARTZPACE' SEEKING LOCAL ARTISTS


Pittwater Council has set aside space at Avalon Recreation Centre for established and emerging artists to exhibit during January each year – and is now looking for artists to exhibit in 2010.

Known as 'ArtZpace,' the project is now in its third year, having been developed as part of Pittwater Council's five year cultural plan.

Council's community development officer Susan Machar said the primary goal of ArtZpace is to encourage artistic expression in the local community, by offering young and emerging artists the chance to display and sell their work in a professional setting.
"Artists can also draw upon the expertise of an art show coordinator during the planning, hanging and marketing of their work

"In 2008, the inaugural ArtZpace attracted four professional artists and twelve emerging and young artists. ArtZpace saw thirteen young and emerging artists participating in the week-long exhibition," said Ms Machar.

"In 2009 all artists were successful in making sales and promoting their works to a wider audience. A number of artists were also approached by private galleries and buyers, said Ms Machar.

Applications for ArtZpace 2010 are now open and will close on 1 May 2009. Exhibition space will be available from Friday 8 January to Thursday 14 January 2009.
Application packs and further information on the ArtZpace 2010 project can be obtained from Council's customer service centres and libraries or visit www.pittwater.nsw.gov.au

For more information call Susan Machar at Pittwater Council on 9970 1171.




COUNCIL HOLDS WATER CRAFT SALE IN APRIL


Impounded water craft ranging from small sailing boats through to dinghies will be up for sale on Saturday 18 April.

The water craft can be viewed between 8am and 10.30am at Pittwater Council's Depot at 1 Boondah Road Warriewood. The impounded items have been held by the Council while attempts were made to track down their owners.

The Council's Reserves & Recreation Manager Les Munn said the abandoned craft were usually found on beaches and at other waterside locations and owners were given several weeks to claim them.

"What we do in the first instance is try and trace the owner through various means and ask them to collect the item," he said.

"If we can't trace the owner, we'll hold on to the item for a further month to give them a chance to get in touch with us before we take steps to dispose of it."

Mr Munn said that for residents who wanted to keep a craft near the water, there were a number of storage options.

"The Council has storage facilities at Palm Beach, Clareville, Bayview and Newport at a number of locations in these suburbs."

The sale on Saturday 18 April will begin at 8am at the Council's Depot in Boondah Road, Warriewood. Items can be viewed between 8am and 10am by which time sealed bids must be placed in the specially marked box. All bids will be announced from 10.30am and the highest offer accepted.

Items can be purchased by cash, credit card or cheque and all items purchased at the sale must be taken away by 12 noon on the day. For enquiries about storage facilities or the sale of impounded water craft contact Tanya Carmont on 9970 1353.
ends

Media contact: Les Munn, Pittwater Council Ph: 9970 1354




FEDERAL FUNDING FOR PITTWATER ROADS


Pittwater Council will receive $1.4 million over the next five years as part the federal government's Roads to Recovery program.

Council General Manager, Mark Ferguson said the money was a welcome boost for Pittwater to assist in maintaining and upgrading local roads.

"The money will go towards resurfacing, repatching or rebuilding local roads, depending on the severity of the work required," he said.

"While the money is to be allocated over the next five years, we have already assessed which roads are priorities for the next financial year."

The proposed program for 2009/2010 includes the following roads:

Lumeah Avenue, Elanora Heights
Mitala Street, Newport
Garden Street, Warriewood
The Serpentine, Bilgola Beach
Ocean Place, Palm Beach.

Parliamentary Secretary for Government Service Delivery, The Hon. Mark Arbib MP said a total of $7.7 million for councils in the Wentworth, Mackellar and Warringah electorates had been allocated from 2009/10 to 2013/14.

"This is a significant investment in the safety and condition of local roads," said Senator Arbib.
For more information about maintenance of Pittwater roads visit www.pittwater.nsw.gov.au

Media contact: Paul Davies, Pittwater Council Ph: 9970 1177



---
IN MEMORY OF HELEN


The mother of Ex Islander John Jarratt , died 31 March.
Helen helped John build the A frame house on the Eastern side of the Island.

"Auntie Helen (Mum of John, Brian, Barry) gave up today & died in a Nowra retirement home after speaking with her son Brian in America. She hung up, smiled and away she went"



---
You Asked..




SEEKING ACCOMODATION..


Looking for any accommodation on Scotland Island? I am working at the marina in Akuna Bay but living 1.5 – 2 hours drive away and would love to move closer to the area, having lived at Avalon/Palm Beach for many years, love Pittwater and the whole Northern Beaches lifestyle and would love to try living on Scotland Island this time.

Amanda Scheltema
akuna@dalboramarinas.com.au
9486 3000



---