---
All pictures at the woww-pics site are downloadable
August 15 - Austin, Texas by Sheri Haltom
August 16 - Waco, Texas by Sheri Haltom
September 28 - Jackson, Michigan by Darlene Bakken Perez
Welcome to the Fan Zone Page
Janis Campbell, Connie Womack, Scott Wikle, Denny Wells, Julia Bellinger, Pam Mattingly, Russel & Rhoda Kelly
---
Notes on September with Wade on the road
September 11 Santa Ynez, California at the Ranch and Riata Roadhouse
This is the beginning of Wade's three day California stand playing acoustic. The Ranch & Reatta Roadhouse in Santa Ynez is a small intimate venue, that plays very well for an acoustic artist. Managers of the venue were very taken with Wade and there was some conversation about future content concerts at other venues they own. Wade did a dozen of the songs that he had recorded plus Wichita lineman and a new one that he's been working on called Love Knew Better. Delightful show.
September 12 at Buck Owens Crystal Palace in Bakersfield California.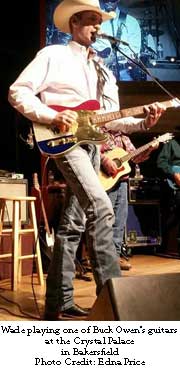 A sold out, enthusiastic crowd made for a lively evening. Again Wade performed songs that he had recorded, a variety from each of the albums that he has released. After Wade's acoustic set was finished, the house band played several songs. – they asked Wade to come back onstage. He came striding out with a telecaster, one of buck Owens guitars. Wade did lead vocals and lead guitar on a couple songs that I haven't heard him do before. The new ones included Streets of Bakersfield, and Little Sister. He did several cover songs with the band, including Slide Off Your Satin Sheets, Silverwings, Make Up and Faded Blue Jeans, I Think I'll Just Stay Here and Drink, and That's the way Love Goes. I have been keeping records of how many different songs I've heard Wade sing since 2009. The list is closing in on 140 different titles.
September 13 Sacramento California, Stoney Inn Rocking Rodeo
Again a full house - lots of music, lots of dancing and lots of good food. A great evening. Lots of dancers and you know how Wade loves to see the crowd dance when he plays. At this event, there was a VIP meet and greet before the show. Wade did several of the songs that he has released. Also performed Wichita lineman. And in recent shows he has been covering one from Alabama's catalog, Old Flame. After performing one of his reality tunes, I'm Getting Too Old for This, Wade commented - "Don't bet on it. He's not ready to retire and we don't want him to. This evening at the Crystal Palace was very special.
September 18 at the Opry Backstage Grille.
This is another one of those Nashville venues where you find good music and good food. Wade was the guest artist/songwriter for Brassfield Aly, a new group that is establishing a strong fan base in Nashville and just recently signed a recording contract. The group is composed of the two Brassfield brothers, Chadley and Bradley and Aly Cutter. Aly is a member of Storme Warren's Nashville Navy. The "Navy" consists of those artists who have performed on the Travelin' Inc cruises or beach shows. Again, Wade was very well received by a full house.
September 23 in the Ford theater of the Country music Hall of fame.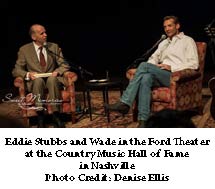 Once a month WSM a.m.'s well-known air personality, Eddie Stubbs, presents a program entitled an Intimate Evening with Eddie Stubbs. These two hour shows are always delightful. Eddie is such a professional and is recognized nationally for his deep, deep knowledge of country music. Eddie introduced Wade with these comments. "He's an amazing man with a great voice, a fine songwriter and an amazing survivor." The format of these two hour shows includes an interview and a lots of music from the artist. During the commercial time for this radio show, the artist does meet and greet with the audience, row by row. Artists are given the opportunity to play live if they wish. Wade did several of his songs.
Fortunately, if you weren't there, WSM-650 AM has archived the show.
---
Social Media - Wade's Facebook Fan Page, Friend's Page and Twitter link