---
---
Bush dance at the next Fire Shed Dinner
Saturday 14th October from 7.00pm
***
If you want to dress up, you're most welcome! 
Classic wide skirts, bib and braces dungarees, flannelette shirt...
Interlace Costume hire has numerous outfits!
***
---
A NIGHT AT THE MOVIES
Special Namatjira Project Screening
Saturday 28 October, 7:30pm Community Hall
A special screening of the Big hArt Namatjira Project, brought to you buy the Scotland Island Kindy, SATURDAY 28 OCTOBER, Scotland Island Community Hall.
TICKETS SOLD ONLINE ONLY, MUST BOOK BY 16 OCTOBER.
Limited seats available, so book now at : https://fan-force.com/screenings/namatjira-project-scotland-island-community-hall-nsw/

Mingle before the film with a drink and a slice of our scrumptious vegetarian quiches, Italian sausage rolls, cheese and other nibbles on the deck overlooking Tennis Park.

RAFFLE:

FREE $100 NAKED WINE VOUCHER when you book a film ticket ONLINE BEFORE 16 October and buy a 5$ raffle ticket on the night of the screening or buy raffle tickets only directly from Scotland Island Kindy 8am- 6pm Mon-Thurs before 27 October


Prizes:
First prize:

$500 voucher towards an ANTI-FOUL at Lovett Bay Boat Shed

Second prize:

$150 Pittwater RSL voucher

Third prize:

$50 Ecodownunder voucher and an Ecodownunder towel set


With thanks from the Scotland Island Kindy to our generous supporters: Naked Wines, Lovett Bay Boat Shed, Pittwater RSL and Ecodownunder

For more information, contact Nicole: 0410 701 643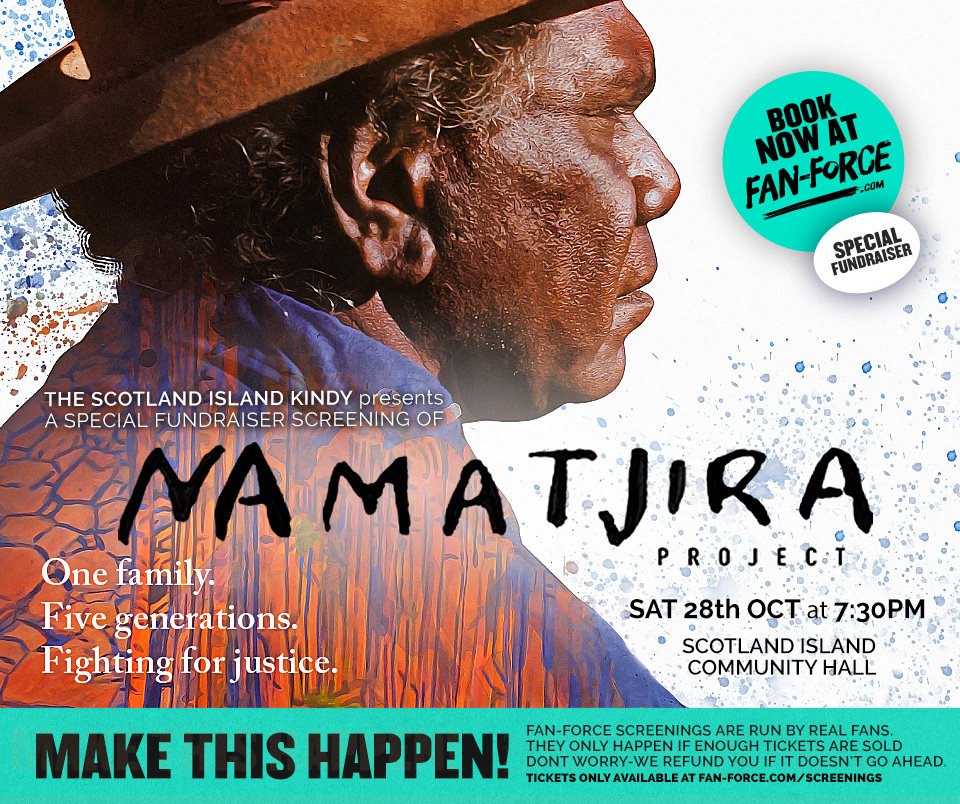 ---
Spring into Summer
Come and Enjoy
DRU YOGA
in The Community Hall, Scotland Island
Tuesdays, 9 am to 10.30 am
$ 20 per class, $70 for 4 classes. 

Through graceful sequences of movement, pranayama asanas, relaxation and meditation, you can release tension and experience the full joy of life.

Suitable for all fitness levels and ages.
Bring a mat, blanket and a bottle of water.
Beginners welcome.
First class is complementary
 
Ring Katya on 0414 187 916

---
Help required.
Someone to spend half a day a week with eighty five year old Rick Croft who lives, with his wife Gill, in Little Lovett Bay next door to Marg Molloy..  

He needs help showering and getting dressed as well as getting his breakfast.  
He is very deaf but good tempered and perfectly lucid.  
He is a big man. Excellent pay to the right person.   

Anyone interested, please contact Gill
040585686
9999 4632.



---
Boat for Sale

Bluebird Yacht
Fiberglass - Baker built mid 70,s
22 foot (6.7m)
Clean, light, dry boat with open plan interior
Cheap family boat, twilight racer, day sailer or overnighter
Full set of sails
Tohatsu 5 HP outboard
Mooring off Cargo wharf, tackle included
The boat is in good nick but does need antifouling.
We are leaving the Island so would like to sell.
 
$3000.00
 
Please contact Richard or Ann on 0438799159




---
---
---
A complete set of past electronic newsletters since May 2000 can be found and read at https://ymlp.com/archive_gesgjgm.php  or by clicking here or by visiting the Mona Vale Library.

The Island website is at www.scotlandisland.org.au



---
To Contribute
If you would like to contribute to this newsletter it's easy!. Send an e-mail to the editor (editor@scotlandisland.org.au) or by clicking here. Type your contribution (100 words or so would be fine) and assuming it is of general interest to the community, does not include matter of a political nature and is not offensive, it will appear next month.
Subscription Information
To get on and off this newsletter,

click here

or got to:

http://www.scotlandisland.org.au/signup .


To change your address, click the 'modify' link at the bottom of this newsletter or send an email to the

editor@scotlandisland.org.au


---
Follow the PON
---
The Online Local Contacts Guide
Click HERE to load
---
---
The views expressed in this newsletter are not necessarily the views of the Scotland Island Residents Association (SIRA), or the Western Pittwater Community Association (WPCA)
---