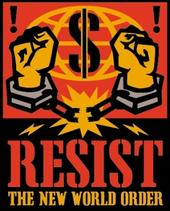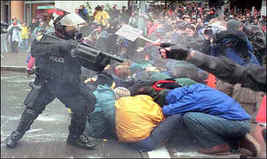 IAHF List:
Here is the link for the soon-to-be-famous 1979 CBS 60 Minutes episode concerning the 1976 swine flu pandemic in USA and the massive vaccination that followed. Note that this episode was banned after its first showing on television. You will be shocked by the unmitigated evil exposed in this news program. It is now being released publicly on the internet for the first time, after 20 years!!! http://loveforlife.com.au/node/6636
Its easy to see why this 60 Minutes Episode was banned after its first showing, and we can do a lot to shoot holes in the ruling elite's current global genocide plans by mass forwarding it! I predict that anyone who sees this video will want to take serious steps to defend themselves against the ruling elite's attempts to be "helpful" and to "protect" us.
Incorporated into this 60 Minutes Episode were
pro vaccine propaganda ads
intended to scare the hell out of people so they would accept the Swine Flu vaccine.
I appreciate the statements on the Love For Life site by Ghislaine Lanctôt, author of
The Medical Mafia
who was wrongly stripped of her medical license in Canada for writing this book which exposes the fraudulence of vaccines and many other aspects of Big Pharma.
You will see the fascinatingly evil reaction of the Quebec Medical Board to her anti vaccine views when she attempted to defend herself by using this 60 Minutes piece in her defense. The Medical Board denied the reality of everything shown in this 60 Minutes piece.
HOW YOU CAN USE THIS 60 MINUTES PIECE TO FIGHT BACK
Forward it to everyone you know: neighbors, friends, family, the media along with the message that Louis Pasteur, who originated the Germ Theory of Disease on which vaccines are predicated rescinded his entire theory on his death bed when he made this simple statement:
"The GERM is NOTHING, the TERRAIN is EVERYTHING!!"
When Pasteur made this simple, but profound statement he very honestly capitulated to his biggest critic, Antoine Beauchamp- but the wrong man was remembered by history because there is so much money being made off vaccines, and because they fit so nicely into the ruling elite's genocide agenda as a biological weapon for culling the herd.
THE KEY TO OUR SURVIVAL: UNDERSTAND WHAT PASTEUR MEANT BY "TERRAIN"
Pasteur was referring to the acid/alkaline or "Ph" balance in our bodies which determines how much oxygen our cells are able to absorb. (By maintaining a slightly alkaline Ph, we're able to absorb an optimal amount of oxygen, and we can best do this by eating raw uncooked foods, especially organic vegetables which contain plenty of sulfur. Sulfur increases the permeability of cell membranes allowing for optimal transport of oxygen to the cells. A simple book that explains this is
The Battle for Health is Over Ph
by Gary Tunsky
http://www.amazon.com/Battle-Health-Over-pH/dp/0972063617
We can also directly ingest organic sulfur. Don't confuse MSM sold in health food stores with organic sulfur. MSM sold in health food stores contains an anti-caking ingredient called silicon dioxide which keeps the sulfur powder from clumping together in the container due to moisture, but it interferes with the absorption of sulfur.
I am only aware of one source of organic sulfur. The man who sells it saved his son's life with it when his son had Testicular Cancer, one of the hardest to treat types of cancer. Mainstream doctors basically told his son to "go home and die" when their "treatments" hadn't worked, but my friend did some research and learned something rather fascinating about sulfur:
He learned that in the early 1950s, the Rockefeller family made the connection between sulfur and health. They realized that if they could only break the sulfur cycle by getting farmers to stop using manure as fertilizer that they could trigger off a huge increase in degenerative disease that would enable them to get filthy rich off the sale of patented Rx drugs.
So they did something remarkably despicable: they got farmers to stop using manure as fertilizer (it puts sulfur into the soil which then get into our vegetables) and they got them to INSTEAD use synthetic fertilizer derived from IG Farben's Coal Tar Dye. (IG Farben was the huge chemical and pharmaceutical conglomerate that fueled Hitler's rise to power and which ran the concentration camps inside Nazi Germany.)
WHAT ELSE YOU CAN DO TO PROTECT YOURSELF AND EVERYONE AROUND YOU
Sheriff Richard Mack won a Supreme Court decision in which the Court affirmed that not even the President of the USA or a State Governor can tell a sitting Sheriff what to do within his jurisdiction.
Mack has a program to get copies of his booklet titled
"The County Sheriff- America's Last Hope"
out to every Sheriff in the country, and you can donate to this program via
www.sheriffmack.com
where you can also get copies of this booklet yourself. I am assembling a team of people in my county to meet with our local County sheriff in order to give him this book and to ask that he honor his oath to the Constitution. Mack has started a group that all of us must actively encourage all Sheriff's, police, and military to join called
The Oath Keepers
. This groups purpose is simple. They will oppose all illegal orders including orders to force killer vaccines on us, orders to engage in warrantless searches including door to door weapons searches, orders to round us up to force us into concentration camps etc.
Please see this inspiring You Tube about this group
http://www.youtube.com/watch?v=Zf2K4-BQYAI
, but don't just watch it, make sure you make it go viral and get it into the hands of as many Sheriffs, police and military as you possibly can because if we don't proactively do this, we are toast. We either hang together, or we'll be hangin' separately.
Prayer is in order, and we must reach out to our family, friends and neighbors to warn them of whats heading our way.
HOW TO GET ORGANIC SULFUR AND GET OTHER KEY INFO WHICH CAN SAVE YOUR LIFE THIS FALL AND WINTER WHEN THE NEW WORLD ORDER MAKES THEIR MOVE
I have prepared a special report that includes my source for organic sulfur, my source for Food Grade Hydrogen Peroxide (also excellent for oxygenation purposes) as well as an E-Book that explains complete details, plus many links for survival food and other valuable information that I'll be glad to send you for a minimum donation of $25. which you can send me either via paypal through this link
http://www.iahf.com/index1.html
or by sending a check or money order to
IAHF 556 Boundary Bay Rd., Point Roberts WA 98281 USA.
Disclaimer: IAHF does not subscribe to all views espoused on the "Love for Life" site. We were unable to find the 60 Minutes video anywhere else in cyberspace.