Why not bookmark this AMPS Newsletter and read at your leisure!

AMPS Newsletter March 2015
Excellence in Sound for a TV Drama award nominations… Oscar for Whiplash crew… AMPS AGM… AMPS at BVE… Cinema Jam… Nordic discounts… new products… HHB becomes new Sustaining Member… events… industry news…
Nominees for The AMPS Award for Excellence in Sound for a Television Drama - 2014
Augmenting the 'Excellence in Sound for a Feature Film' award, AMPS is extremely happy to announce the nominations for the inaugural 'Excellence in Sound for a Television Drama - 2014' award.
The ballot among all AMPS Voting members will soon open to decide the winning title. AMPS Voting Members may vote for themselves under rule in this final ballot.
Trophies will be awarded to the senior sound technicians responsible for Production Sound Mixing, Dialogue Editing, Sound Effects Editing and Re-recoding Mixing on the winning Drama.
The nominees are -
Cilla
Grant Bridgeman, Keith Marriner, Simon Gershon & Richard Davey 

Game of Thrones

Ronan Hill, Jed M. Dodge, Tim Kimmel & Onnalee Blank

Happy Valley

Dave Sansom, Elizabeth Cresswell, Mark Ryder & Mark Briscoe

The Honourable Woman

Glen Marullo, Lee Crichlow, Linda Murdoch & Nigel Edwards

Sherlock
John Mooney, Paul McFadden, Doug Sinclair & Howard Bargroff

Good luck to everyone!
And while we're on the subject of awards… Did you realise that both AMPS Film Sound Award winners (Gravity/2013 and Whiplash/2014) were subsequently honoured with a BAFTA and an Oscar. Hopefully, we can carry on with this tradition in years to come!
Whiplash Wins Oscar for Sound Mixing

Following on from AMPS' members educated decision to vote for the Whiplash sound crew as winners of the 2014 'Award for Excellence in Sound for a Feature Film', they only went on to bag an Oscar for Sound Mixing also!
Thomas Curley (left), Ben Wilkins & Craig Mann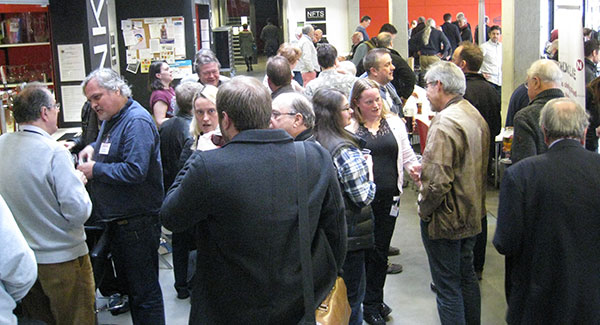 Strong-hearted AMPS members once again 'went without' their Sunday morning tea and toast in bed and attended the AMPS AGM at NFTS on 15 Feb.
And well worth it, it was, as members of The Council independently detailed an increased membership (as well as a simplified membership procedure), a healthy bank balance (and confirmation that subs will stay the same for a futher year) and Peter Hodges gave us his Chairman's Report -
which is available to read in full here…

Matthew Gough then offered a glimpse of the new AMPS website which is still in early days of design, but will ultimately still offer full Membership access to post profiles, articles for sale… and a whole lot more!
Peter Hodges undertook the satisfying responsibily of handing over a £1000 cheque to AMPS supported charity Hearing Dogs for Deaf People who in turn presented AMPS with a certificate.
Huge thanks to all the Sustaining Members who attended and displayed their products and services - Richmond Film Services, Ambient, Raycom, HHB, CB Electronics, Micron, Nordic and Hearing Dogs for Deaf People.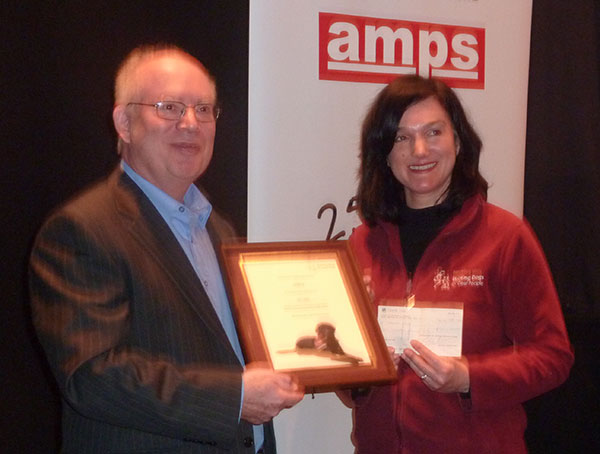 Peter Hodges reports, "AMPS had a presence at the show on all three days. The show had a good number of visitors on Tuesday and Wednesday but was a bit quieter on the Thursday. The best day for visitors to our stand was the Wednesday, we handed out the flyers and a number of potential new members asked about joining. Suprisingly the take up of free drinks was quite low - we had water, fruit juice, coke, larger as well as coffee and tea."
 

This 'community' recently appeared on our radar - thought that it may be of some interest…

 

They say, "Working in film is fun, but it can make your social life irregular at best. That's where Cinema Jam comes in. We are a community of directors, producers and film freelancers centred around a private monthly event - the Jam Session. We also run semi-regular public events to bring together our professional community and the film-loving public."

 
"But we are much more than our events. As a network of professionals, we provide educational and job opportunities through our social media channels and we publish an online magazine The Spread.

We are now currently accepting applications for new members as well as submissions from filmmakers and composers."
Special Discounts from Nordic Clothing for AMPS Members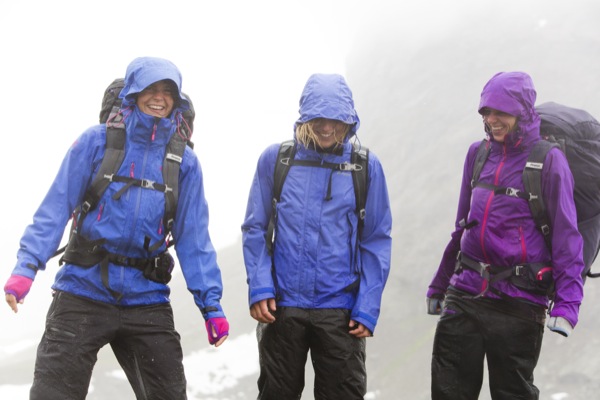 Welcome to Nordic Life! We bring you the best clothing and equipment the Nordic countries have to offer! Our mission is to kit you out to handle handle what ever mother nature throws at you… wherever you are.

We are giving AMPS members the following discount:
20% off retail
BRYNJE OF NORWAY
A small, but highly technical base layer brand from Norway who's base layers were worn by Hillary and Tenzing in the famous 1953 expedition.
https://www.brynje.no/
40% off retail
BERGANS OF NORWAY
Leading Norwegian outdoor clothing brand. Responsible for kitting out some of the most famous Polar explorers from Amunsden to Rune Gjeldnes.
http://bergans.eu/
20% off retail
HESTRA
Swedish glove maker of 75 years making, making some of the most sort-after ski and outdoor gloves available toda.
20% off retail
WIGWAM

Dedleg Breaks the Back of Breaking Backs

 

AMPS member Kiff McManus is quoted on the Dedleg website -

 

"Back injuries are becoming a big problem in our industry with bags growing to spine crushing sizes. And the muddy fields that are our playground means putting the damn things down is often more trouble than it's worth so we end up carrying them for hours at a time. The Dedleg means that as soon as you stop walking you no longer have to support that weight but with the mixer still in position. It's so simple it's beautiful."

 
CB Electronics TMC-1 Remote

CB Electronics has launched the TMC-1 Remote for Avid's Pro Tools XMON analogue monitoring unit, providing input selection, listen back, talk back and output selection for up to 8 audio channels via three easily accessible screens.

 

Colin Broad, founder of CB Electronics said, "XMON is a powerful monitoring solution provided you have Pro-Control, Protools' hardware interface. Our new TMC-1 allows you to use the XMON unit where you are working with a DAW alone, or with a different console when you need a comprehensive monitoring solution."

 

 

 
BECTU Freelancers' Fair 2015

The 2015 BECTU Freelancers' Fair will happen on Friday 29 May and will be returning to Ravensbourne where the event was a marked success last year.
They say, "Work on the programme (debates, advice sessions, workshops and an exhibition aimed at freelancers working in film, tv and content production) is well underway to build on the success of last year's event."
The School of Sound International Symposium 2015
A unique series of masterclasses exploring the art of sound in film, the arts and media taking place from Wednesday to Saturday, 8-11 April 2015 at the Purcell Room, Southbank Centre, London.
Recently confirmed is a lecture by film editor, sound designer and AMPS Honorary Member Walter Murch.
HHB Communications Ltd. - New AMPS Sustaining Member

| | | |
| --- | --- | --- |
| Since 1976, HHB Communications has been dedicated to supplying the most innovative pro audio equipment solutions to the world's top broadcasters, post facilities, systems integrators, music production and educational facilities. Specialist division Scrub serves the needs of the television and film post production industry from a premises in the heart of London's Soho. |   | |
Both HHB and Scrub provide technical support, with a strong focus on Avid Pro Tools as well as other Apple and PC based DAW's. They are also the UK's leading authority on loudness technology, with a portfolio of products to help meet EBU R128 loudness standards as prescribed by the Digital Production Partnership. 
HHB's Technical Department is comprised of an experienced team of specialists and offers the services of three Avid Certified Service Representatives (ACSR). These highly-trained engineers are the UK's foremost support and maintenance personnel with expertise in presales workflow and integration consultation, predelivery and onsite configuration and set up and after-sales support and training. This legacy is backed by an extensive list of customers who have enjoyed HHB's high levels of specialist advice and technical support, including the BBC, Sky, CNN, Abbey Road, Molinare, The Farm Group and many more.
HHB is extremely adept at supplying multi-facility installations and upgrades during critical times in the working year. Our sales and technical staff have the experience and knowledge to deliver the best results quickly and accurately. This strong commitment to outstanding service has been recognised by the industry at large and HHB has won several awards for after-sales support and named Avid's EMEA Audio Top Channel Partner in both 2013 and 2014.
For more information, please visit
www.hhb.co.uk
.
Did you know that the Directory pages on the AMPS website are some of the most frequently visited?

 

Make sure that your profile is up to date - you never know where your next work enquiry will come from!

 

 
Can we help with your Professional Development?
We're keen to hear from you with ideas for seminars and training sessions which would contribute towards Continuing Professional Development.
We're very aware that keeping up with techniques and updates can be a full time job in itself, so if there's any way that AMPS can contribute towards maintaining and developing your industry knowledge and skills, please get in touch.
Change of AMPS Address & Phone Number
Please note that AMPS postal address and telephone number have changed. New contact details to use are -
27 Old Gloucester Street
London
WC1N 3AX
Tel: +44 (0)1753 669111
THE SHOOL OF SOUND INTERNATIONAL SYMPOSIUM

A unique series of masterclasses exploring the art of sound in film, the arts and media.
BECTU FREELANCERS' FAIR 2015
29 May 2015
Ravensbourne, London SE10
If you're based in and around Bristol, the last Wednesday of each month should be blocked out in your diary. Get to Beerd, 157-159 St Michaels Hill, Cotham, Bristol BS2 8DB for 7.00pm and meet up with other AMPS members and like-minded people! Apparently there's great craft beers and amazing pizzas!
… and finally, on the first Tuesday of every month

Make sure that you attend the AMPS Social at the De Lane Lea bar in Dean Street - be social with your AMPS members! The first Tuesday in every month - 6.30pm.
AMPS, 27 Old Gloucester Street, London, WC1N 3AX
www.amps.net / +44 (0)1753 669111