---
What a pity the Gone Fishing Gallery had to close. I suppose we all knew it was always going to be a temporary arrangement but it still came as a nasty surprise when the notice came through and everything had to be cleared out so quickly.

It seemed that having the gallery there really enhanced our Church Point gathering point considerably, not only because it housed a great deal of our communties artwork but because it provided a real focal point for special events and gatherings that was very accessable. I think as a whole we all benefited from this enterprise and would like to have seen it continue if possible.

A lot of people put a great deal of time and effort into the venture and whatever they gained from it is well and truely deserved.

Onto this issue, and this month we continue with the occasional series telling us of the history of our beautiful corner of the world. Guest contributor and well known journalist Leister Warburton has an interesting piece below that you will find interesting!

Enjoy!




Contents
---
Gwyn's Drawing




People Who Wave

To download a full version (A4 size) of the drawing, ready for printing, just click on the calendar image.

You can contact Gwyn Perkins by email at g.perkins@gwyn.com.au


The file is quite large and in PDF format. To view PDF documents you will need the Adobe Acrobat Reader installed on your computer.

To download Acrobat Reader please

click here

---
Farewell Lhasa


Lhasa, from a roadside dump in Taiwan to Scotland Island, left us last Saturday.

This beautiful photo was taken on the Friday. Lhasa was 14 years old and had been very ill for a month with a suspected stomach tumor.



We miss him. Shona, Boyd, Asha, Joel and Emile




---
Scotland Island Residents' Association


Church Point Plan of Management



At SIRA's recent AGM, Pittwater Council's General Manager, Mark Ferguson and Mark Eriksson, Landscape Architect working on the Church Point Plan of Management, which includes the Commuter Wharf Upgrade, addressed the meeting, gave a presentation and answered a series of resident questions. These questions and answers are attached (PDF) for those who were unable to attend the meeting.
AGM Resident Questions & Answers from Council.pdf

Here are the relevant links on Pittwater Council's website: Pittwater Council Website-Church Point; Pittwater Council Website-Church Point Commuter Wharf;

Bill Gye, SIRA President, has written a series of articles about Church Point and were distributed to the community. For those who may not have received them, these articles are on the Scotland Island Website for viewing: SIRA - Scotland Island Community Website



---
SIRA – The Island Community in Action


SIRAC and the Roads and Drainage Project Team



The Scotland Island Residents' Association (SIRA), through the efforts of its Management Committee (SIRAC) and various Project Teams, has been working to help achieve benefits for the Island and our Community at large.

A recent example is the long-awaited Masterplan for Scotland Island Road Reserve and Stormwater Strategies, adopted by Pittwater Council last July, which explicitly recognizes the unique nature of the Island. This was a culmination of many years of effort by SIRA's Roads and Drainage Project Team working with Council to achieve an acceptable plan. In addition, the Special Rate Variation provides a guaranteed level of funding for capital improvements on the Island. This enables Council to apply for government grants for additional funding.

SIRAC and the Roads and Drainage Project Team have been working closely with Council to identify urgent measures for immediate action. Council has welcomed our suggestions and the following projects have been approved and scheduled for work in the coming months:

Survey Sector 1 (Richard Road between Cargo Wharf and Bell Wharf) to prepare for detailed engineering plan;
Reconstruct drainage pit at Florence Terrace and Elsie Street;
Reconstruct drainage pit at 73 Florence Terrace;
Reconstruct drainage pit at bottom of Harold Avenue;
Reconstruct drainage pit at Richard Road and Cecil Street;
Upgrade water bars on Thompson Street, above Kevin Avenue;
All projects will be subject to survey and appropriate engineering plans.
At last, the talk has ended and action has begun!

SIRAC realizes there are many areas that require attention and full implementation of the Roads and Drainage Plan will take time, however, at least works are commencing and, with the real prospect of additional funding, will continue until completed. Pittwater Council has been very responsive to our input and will continue to consult with us as the work commences.

SIRAC will actively lobby to seek additional funding and continue to work closely with Pittwater Council to achieve this aim.

http://www.pittwater.nsw.gov.au/council/documents_on_ex/completed_exhibitions/2011/Scotland_Island

Alan Gaines
SIRAC
Roads and Drainage Project Team



---
Gone Fishing Gallery



Curlew Paintings


Following our sad GFG closure we now have all the paintings that the kids did for the CURLEW event. All the paintings will be taken to the to the Kindy (when it resumes) and the kids can pick them up from there if they want them, I also have a cd of photos of all the individual kids and their paintings which I will also leave at the Kindy with the paintings if the parents want to make a copy or whatever?
The paintings are so lovely we couldn't bear to throw them out.

Nettie



---
History Corner


Do you know Stokes Point on the eastern shore of Pittwater at the southern entrance to Careel Bay?



Of course you do.

But did you know that it was once called Stripe Point. The reason for the early name has been lost in the mists of time. But who was Stokes?

Stokes was described as a tall, handsome man who lived on the beach near the point and who became a boatbuilder of some renown. Oddly enough he had been, of all things, a ladies' shoemaker in London, a business which required very careful work which, it is said, he translated into his boats.
So why did he have a criminal record like most of the residents at that time? His story was that in London he had been seized in a crowd and searched. A handkerchief which he claimed he had never seen before had been found in his pocket, put there by a pickpocket who thus saved himself from apprehension. As Stokes could not give a satisfactory account of how it came in his possession, he was convicted and transported to Australia, one of many innocent men - and women - who each did their share in the country's development.

In time, given his freedom, Stokes managed to move some of his possessions to Sydney. These included a stylish bottle green coat he treasured highly. Even as a courteous old man he was a dapper figure. It was reported that every Sunday he wore his treasured bottle green coat with large buttons and a remarkably tall hat - remnants of his bygone London city days when they were the latest style. One morning he arrived, a vision of bottle green splendour with hat well brushed and buttons glistening in the sunshine, to visit a neighbour. When he enquired where the husband was he was told he was at work.
"On a Sunday! At work!" he said.

"But," the wife replied. "Today is not Sunday. It's only Friday!"

"Well! Well!," said the old spark. "Dash my buttons! Time does go slow on Pittwater!"
And isn't it still the truth?

Leicester Warburton
March 2004



---
Fundraiser for Palliative Care Centre at Mona Vale Hospital


Tarrangaua Open House



We are having an

Open House at Tarrangaua on March 24 & 25

to raise money for extensions and upgrades at the Palliative Care Centre at Mona Vale Hospital.

It will be the usual event - tea, coffee and cakes, as well as light lunches or people can bring a picnic. We are charging an

entry fee for the first time - $10

.

It is such a good cause and the centre, which was closed for a number of years, is in desperate need of work so the more we raise the better.

Penny will be running a special ferry service from Church Point on both days and anyone in need of transport can book online from Monday, February 6 at:

www.rotarypittwater.com

Michael and Marybeth Rich have kindly and generously offered locals the option of tying up at the Lovett Bay Boatshed on both days.

If anyone has any questions about the cause, call Gail (from Rotary Pittwater) on 0417 228 294

Bob and Susan



---
Last Ferry Home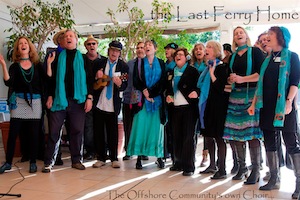 the offshore community's own choir



Come and join us Saturday arvos 2:30 til 4:30 at the hall starting 4th Feb.

We sing pop, blues, reggae, spirituals and made-up stuff.

All welcome!
Cost: $20 a week or $150 for the 10 week term.

Call Wendy on 0425 807 262


Click image to load flyer



---
Church Point Parking Precinct




Council wishes to advise that changes have recently been implemented to the parking restrictions on McCarrs Creek Road



Note: There will be no bookings by the Rangers for the month of February, after that they will start to implement fines.


Church Point Parking Permits are available for purchase at Pittwater Council's Customer Service Centre located at Village Park, 1 Park Street Mona Vale.


Alternatively contact Pittwater Council on 9970 1111



Click image to load pdf flyer



---
You are invited to the Sydney launch of

....




Life Without Money: Building Fair and Sustainable Economies





Friday 10 February, 6 pm, at Gleebooks at Dulwich Hill*


Pluto Press (London) distributed by Palgrave Macmillan in Australia, RRP $39.95

Green Ban and Australian Greens activist Jack Mundey will launch Life Without Money, with co-editors Anitra Nelson and Frans Timmerman, and contributors Ariel Salleh and Terry Leahy. This book engages with today's big economic, environmental, democratic and social challenges:

'Life Without Money is an essential guidebook for the great debate now unfolding and around which our hopes for a worthwhile future unfold.' Joel Kovel, Enemy of Nature



Please RSVP at the Gleebooks events page or ring Gleebooks at Dulwich Hill, 02 8080 0098

.

*536 Marrickville Rd. Take a 426 bus from Sydney Central station or walk 10 to 15 mins from Dulwich Hill station.

Read more about the book and its ten contributors at

www.lifewithoutmoney.info



This is an open and free event so feel free to pass this invitation along your networks.

Ariel Salleh



---

Local Council Notices

OVER 200 COMMUNITY CENTRE ACTIVITIES NOW ON OFFER!



Got a secret longing to try salsa dancing? Or how about some stress release with African drumming?

These are just some of more than two hundred activities on offer to the public this year at Pittwater's seven community centres.

Community centre coordinator Pat Rudgely said the centres were hosting activities from early morning to late at night seven days a week.

"This year our centres are busier than ever, with lots of new activities to try," she said.

Some of the new activities on offer include a fitness class called Abs, Butts & Thighs With Healthy Lifestyle and Sporty Little Munchkins for children.

Other popular courses making a return in 2012 are Italian Language and Cake Decorating.

A brochure with all the activities and classes on offer will be delivered to Pittwater residents in early February. The brochure is also online at http://www.pittwater.nsw.gov.au/

Ms Rudgley said that bookings should be made directly with the class and course tutors listed in the brochure.

"Some of our more popular activities do book out early so we recommend residents contact the tutors as soon as possible if they're interested in something."

Pittwater's community centres are located in Avalon, Newport, Mona Vale, Elanora Heights, North Narrabeen and Warriewood.

Lindsay Godfrey, Pittwater Council Ph: 9970 1166


---
A CLOSE ENCOUNTER OF THE VENOMOUS KIND!



Confront your fears and learn about some of Pittwater's more misunderstood creatures in February.

Snakes, lizards, ticks and spiders will be the subject of a free workshop at the Coastal Environment Centre, which will teach residents how to co-exist more peacefully with these venomous animals – but also how to save someone's life if bitten!

Natural Environment & Education Manager Mark Beharrell said the Council had decided to offer the free workshop to the public, after it held a similar session for its field staff late last year.

"Feedback from employees was that they got a lot out of the workshop and came away much more aware about how to prevent bites and what to do if bitten," he said.

"We thought residents would also benefit from a similar experience."

Mr Beharrell added that landscapers, gardeners or keen bush carers would be ideal participants at the workshop.

Participants at the workshop will be shown live snakes, spiders and lizards by an expert handler, who will discuss how they hunt, breed, camouflage themselves and their reactions to disturbance.

Techniques focussing first aid, what NOT to do when bitten and the correct way to apply compression will be taught at the workshop. A free identification reference guide will be given to each participant and compression bandages available to purchase.

The workshop is on Wednesday 29 February between 6.30pm and 9pm at the Coastal Environment Centre, Lake Park Road North Narrabeen. Entry is free but bookings are essential; call 1300 000 232 (CEC) or book online at www.pittwater.nsw.gov.au/cec/ bookings/community_events

Sonja Elwood, Pittwater Council Ph: 9970 1308


---
ECO-EVENTS IN FEBRUARY



Timed to coincide with World Wetlands Day, the Council's Coastal Environment Centre will host several events in February to introduce residents of all ages to the wonders of Pittwater's environment.

First up is a Twilight Discovery Walk on Thursday 2 February between 6-8pm, highlighting the nocturnal animals, plants and insects of the Warriewood Wetlands and learning about their importance in the past, present and future.

Council staff and local experts will share their knowledge and history of the wetlands, plant and animal biodiversity and the importance of water and catchment management.

On Saturday 4 February the Centre is hosting a bird-spotting walk in the Warriewood Wetlands. This early morning walk, between 7.30am and 9.30am, is guided by an ornithologist with detailed knowledge of the bird life of the wetlands - so binoculars are a must!

On Sunday 5 February a family fun day aimed at increasing awareness of creeks and catchments will be held at the Winnerremy Bay reserve at Mona Vale between 10am and 12.30pm. Have fun with the whole family learning about how to keep local waterways clean and healthy. Staff from the Coastal Environment Centre will demonstrate the art of dip-netting, revealing the secret life teeming in the creek's waters. Learn some basic water monitoring skills and help plant native vegetation that will keep the creek's habitat healthy.

All events are free of charge and suitable for children and adults, although children must be accompanied by an adult. Bookings are essential for all the eco-events; book online at www.pittwater.nsw.gov.au/cec or by phoning the Coastal Environment Centre at 1300 000 232 (CEC). Full details of each event, plus what to wear and bring with you, are also available at www.pittwater.nsw.gov.au/cec

Bianca Springford, Coastal Environment Centre Ph: 1300 000 232


---
2012 NATIONAL YEAR OF READING


Residents are invited to be part of Pittwater's celebration of the National Year of Reading in 2012.

Pittwater Mayor Harvey Rose will launch the Year of Reading at Mona Vale Library on 14 February from 11am to 1pm.

As part of the launch, residents are invited to a morning tea with lively entertainment from David Hall. David describes himself as a 'fanatical adventurer' who originally trained as an actor. He will share his love of reading on the day.

Mayor Rose will also launch two competitions at the event. The first competition - 'Win a good night's sleep' - invites readers to write a brief review of a book that has kept them up all night.

Event organiser Heather Thomson said that the winning entrant would receive two free nights accommodation at beautiful Barrenjoey House at Palm Beach.

Entries to the competition will close on 4 April, with the winner announced at the library on Thursday 5 April at 10am.

The second competition gives every borrower at Mona Vale Library a chance to find a 'golden ticket' concealed within selected books.

"We have modelled the competition along the lines of the golden ticket featured in the book 'Charlie and the Chocolate Factory', with golden tickets randomly placed in books at the library," Ms Thomson said.

"If you find a golden ticket, you can redeem it at the desk for an instant prize."

The National Year of Reading 2012 is a collaborative project joining public libraries, government, community groups, media and commercial partners as well as the public.

For more information on the National Year of Reading 2012 visit www.love2read.org.au

For more info about the National Year of Reading in Pittwater call 9970 1600 or visit www.pittwater.nsw.gov.au/library

Mona Vale library is located at 1 Park Street, Mona Vale.
Heather Thomson, Mona Vale Library Ph: 9970 1614



---




AUTHOR TALK




Healthy Heart for Life




By Andrew Cate



This book presents a practical six-week plan to reduce your cholesterol and blood pressure levels naturally, without medication. It features sections on food, exercise and lifestyle, along with 42 vital tips for managing, preventing and even reversing heart disease.



Author Talks 2012




Date:

Thursday 16 February 2012


Time:

6.30pm


Venue:

Mona Vale Library
1 Park Street, Mona Vale


Cost:

$8.00 Adults
$6.00 Concession - Pensioners and Students (passes must be shown)


Phone:

9970 1600
Bookings essential!
Payment within 3 days of booking



---
Honey for Sale
I have for sale some very delicious honey, from the same supplier as last time, who keeps his happy little bees very close to here, traveling with them as far south as Robertson and as far north as Mangrove mountain, often allowing the bees to feast in large gardens that he tends in Turramurra and Wahroonga.

I have Kulnura forest and this year's amazing Orange Blossom.
Large 1 kg jars $15, Medium 500gm $9.

I have plenty, and I can certainly deliver so please do just get in touch either via email kathando@yahoo.com or call or text your order to me on 0405 097 424.
Cheers everyone and happy festive times
Kath Anderson



---
Dru Yoga


Come and Enjoy DRU YOGA in The Community Hall, Scotland Island





Tuesdays, 9.00 to 10.30 am




$ 17 per class, $60 for 4 classes.



Through graceful sequences of movement, pranayama asanas, relaxation and meditation, you through graceful sequences of movement, pranayama asanas, relaxation and meditation, you can release tension and experience the full joy of life.

Suitable for all fitness levels and ages.
Bring a mat, blanket and a bottle of water

Ring Katya on 0414 187 916



---
Wanted




Regular lift to Ryde


My name is Ishbel Cullen and I'm going to be studying at Macquarie Uni and also Ryde TAFE (near main Ryde shopping centre) this coming semester. I do not have a car and am in search of lifts with others commuting to this area.

I need to be in Ryde by 8.30am Monday to Thursday and 9.45am on Fridays. I am happy to contribute to petrol costs.

If you are in a position to take me it would be much appreciated if you could get in touch. My e-mail address is: ishbel_@live.com.au
My home phone is 9997 8536 and mobile 0406 940 914.
Ishbel



---
For Sale




Blue Hills Childrens Slide for Free.



Must be able to take away.

Please contact Melissa: 0405 260 266
Melissa Wardell


---
Outboard Motor


25hpYamaha CV 2-stroke outboard for sale. Brand new propeller, serviced by Ben Johnson. Reliable and goes well.

Must sell $1500 o.n.o
Pickup from Morning Bay, please call 0404 159 763.



---
Found


Triceratops


Large friendly triceratops roaming roadside lane in Church Point Carpark...

Please contact Jane Kirby 0414978793.



---
The Local Guide
Community Information
---

Transport
---
Real Estate
---
Services, Clubs & Accommodation
---
Island Classes (Fitness, Dance, Art etc)
Pilates, Meditation and Group Fitness with Patrice

- 0406 483 036 patrice.corrie@gmail.com
Anusara Yoga

- Thursdays - 0421762236 dominiquemarill@gmail.com or floydcbg@ozemail.com.au
Art with Max

- Watercolour classes. Phone Max on 9997 4527
Art Classes

- drawing and painting in oils, acrylics and mixed media- Marion 9979 3993 or 0431 457 431
@ Nathalie's Table - Cooking Classes

- Mediterranean cooking fortnightly - Nathalie - 9999 4449
---
Groups
Gurdjieff / The Forth Way

- Call John on 9979 5584, Marion on 9979 3993 or Anne on 9999 3478
Island Kinesiology Clinic

- Mondays on SI Phone Jen Cudmore 0425 212 849
Green Group For Catherine Park

- Run by SIOCS - Emmie Collins on 0405 330 781
WOW - Women on Water

- second Wednesday of the month - contact Nila on 9999 2445
Parents & Kids Groups Playgroup

- Run by SIOCS - email Emma trysemz@tpg.com.au
Scotland Island Players

- contact Bob or Kez on 9999 4092
Catherine Park Bush Care Group

, 2nd Sunday @ 9.30am, Sharon Kinnison @ 9997 6017
Elizabeth Park Bush Care Group

, 1st Saturday @ 9 am, Bob Bolton @ 9999 4092
Island Thinking Group -
Roy Baker, 9999 6891, roybaker99@yahoo.com
Offshore a capella choir

– Saturdays at 2:30 pm, SI Community Hall. Call Gordon on 9997 2035.
---
Government Organisations
---
Airlines, Buses and Railways
---
Weather
Scotland Island Tides, Moon phases, Sun rise & set
Local Weather Forecast

Radar weather for Sydney (128k circle)
---
Emergency Contact Numbers
ALL EMERGENCIES (Police - Fire - Ambulance)
000
Police Assistance Line & Information
13 1444 or 9281 0000
Broken Bay Water Police
9910 7899 or 0412 162 093
Marine Rescue Broken Bay - Weekend

(02) 9999 3554 - (02) 8411 1121

Marine Rescue Broken Bay - VHF Radio channel

VHF Radio Channel: VHF 16
27MHz Radio Channel: 86 or 88

Scotland Island Rural Fire Brigade
9999 4404
NSW Fire Service General Information 9265 2999
9265 2999
Rural Fire Service General information
9450 3000
State Emergency Service, Warringah/Pittwater SES
9486 3399
National Parks & Wildlife Service: 000, general information
9457 9322
Dept of Community Services: general information
9977 6011
Sydney Water
132 090
Energy Australia
131 388, (ah) 131 909

---
Join SIRA
You can now join the Scotland Island Residents Association by
clicking here.
Please print the page and return the completed form to SIRA at this address:
The Treasurer, SIRA, PO Box 70, Church Point 2105.
Please NO CASH.

Contact SIRA at
sirapittwater@gmail.com
Join WPCA

To join the Western Pittwater Community Association, contact Michael Wiener at
m2wiener@bigpond.net.au
---
Archived Newsletters


A complete set of past electronic newsletters since May 2000 can be found and read at https://ymlp.com/archive_gesgjgm.php or by clicking here or by visiting the Mona Vale Library.

The Island website is at www.scotlandisland.org.au


---
To Contribute


If you would like to contribute to this newsletter it's easy!. Send an e-mail to the editor (editor@scotlandisland.org.au) or by clicking here. Type your contribution (100 words or so would be fine) and assuming it is of general interest to the community, does not include matter of a political nature and is not offensive, it will appear next month.

Subscription Information


To get on and off this newsletter,

click here

or got to:

http://www.scotlandisland.org.au/signup .


To change your address, click the 'modify' link at the bottom of this newsletter or send an email to the

editor@scotlandisland.org.au


---
Follow the PON
---
The Online Local Contacts Guide
Click HERE to load
The views expressed in this newsletter are not necessarily the views of the Scotland Island Residents Association (SIRA), or the Western Pittwater Community Association (WPCA)

---